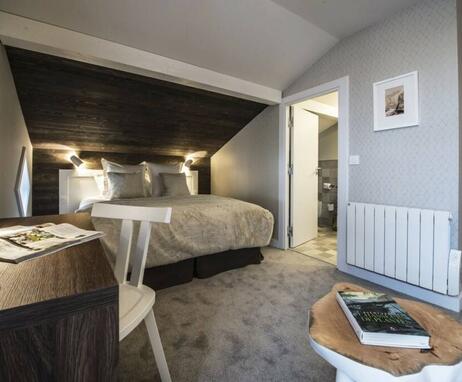 Le Whymper - Chalet & Spa
in Chamonix-Mont-Blanc
Car park
Wifi
Washing machine
Private balcony
Presentation
Further information
Chalet Whymper is the perfect place for your group up to 22 : exclusive use of the property.
Chalet Whymper is a bed and breakfast with all the services of a hotel. It was completely renovated and at the end of 2017 in a chic and warm style. Exclusive use of the Chalet on request : perfect for a big family, friends or a corporate event.
Book a room in this Bed & Breakfast or book the whole Chalet for an exclusive use (320 sqm).
Located in the very heart of Chamonix, its 10 rooms (en-suite bathroom) can accommodate up to 22 people: you will feel at home!
Come enjoy the spa, the jacuzzi on the terrace and the comfortable living room on the first floor with its fire place.
From the Chalet, everything is at walking distance.
Location
Le Whymper - Chalet & Spa
76 Impasse de l'Androsace
74400 Chamonix-Mont-Blanc