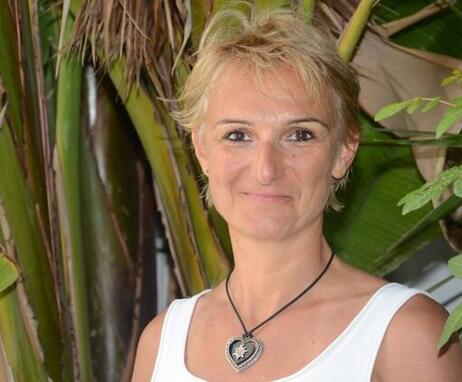 Mont-Blanc Naturopathie
in Chamonix-Mont-Blanc
Presentation
Naturopathic practitioner since 2017, I consult in Chamonix and all over the Arve Valley. I am also a sophrologist, iridologist and lithotherapist. I give courses on essential oils.
I have been practicing as a physiotherapist for more than 25 years at the Sancellemoz rehabilitation clinic in Plateau d'Assy (74). Throughout my career, I have trained in different approaches and techniques to respond to the well-being and health of people.
I am also a sophrologist and an aromatherapist which allows me to accompany people on an emotional and psychological level.
Since 2017, I am a naturopathic practitioner.
Naturopathy is the art of maintaining or regaining good health, of being an actor of one's well-being and of taking care of oneself. It is a philosophy, a science, based on principles that use a methodology, means, tools and practical applications.
I was seduced by the global and personalized approach that it proposes, with this concern to seek the causes and origins of a disorder or suffering. Naturopathy is not opposed to allopathic medicine but accompanies it on various levels by following the path of nature.

Thus, I have become a "Health Educator" to allow everyone to take their health in hand. Preventive or curative, for children, teenagers, adults, seniors, athletes... and at all stages of life, Naturopathy is for everyone.
The main indications are (non exhaustive list):
- Optimizing a healthy lifestyle to stay healthy
- Weight problems
- Digestive and transit disorders: constipation, diarrhea, intestinal disease, gastroesophageal reflux, stomach pain...
- Stress, fatigue, overwork, depression, anxiety, nervousness
- Sleep disorders: difficulty falling asleep, insomnia, waking up and night terrors, nightmares
- Migraine, allergies, arthritis...
- Skin problems: eczema, acne, psoriasis, shingles, herpes...
- Repetitive infections: cystitis, sinusitis, bronchitis, arthritis, tendonitis...
- Female disorders: premenstrual syndrome, painful periods, menopause
- Prevention of aging
- Accompaniment at the end of life
- Preparation, recovery and nutrition for athletes
- Support for smoking cessation
- Support for exams, operations, driving tests... thanks to sophrology
- Support for heavy medical treatments
Like any naturopath, I do not diagnose, I do not cure (but I participate in the improvement of health) and I am subject to professional secrecy and the code of ethics.


Among the tools available to the naturopath, I propose :
- Food hygiene: "Let food be your first medicine" HIPPOCRATE.
It is not a question of diets of any kind, but of putting in place a healthy and quality diet in coherence with the needs of our organism and our health.
- Psychic hygiene and well-being: it is no longer necessary to demonstrate that the psyche, the psychological and the emotional have a major impact on our health.
To accompany people in pain, to manage stress, anxiety, nervousness, to overcome certain phobias, present or past traumas, mourning ..., I offer relaxation, sophrology, EFT sessions (Emotional Freedoom Technique). The Bach Flower Remedies also have an interesting potential; I often advise them in synergy.
- Breathing techniques: they are useful in stress management and to fill up with energy.
- Manual techniques: The non-therapeutic massage of well-being with vegetable oils brings physical and psychological comfort.
- Phyto-aromatology: plants, essential oils, gemmotherapy, have very effective active ingredients that I advise in different galenic forms according to the needs.
- Energy techniques: I sometimes use lithotherapy. There is nothing magical about stones, but they are full of minerals, colors and energy that can help you feel better.
The first consultation lasts about 2 hours. It consists of a complete questionnaire (or anamnesis) which allows us to establish, together, a general assessment of vitality. It is a real investigation on the physical, dietary, energetic, emotional, mental, spiritual and socio-cultural levels.
This assessment can be completed by a measurement of the urinary pH, an iridological assessment and an impedance assessment (measurement of fat, muscle and bone mass, hydration rate and caloric needs).
A personalized and adapted program will be set up with precision. Short, medium and long term proposals will be advised. The follow-up will be done by a second consultation within 8/10 days and then by telephone contacts.
I consult in Chamonix and at home in the Arve Valley or via Skype and Whatsapp for people living further away.
I am a graduate of the Faculté Libre de Naturopathie de Dijon, a school affiliated to the FENA, the French federation of naturopathic schools.
I am also a member of OMNES (Organization of Natural Medicine and Health Education).
I look forward to meeting you.
Location
Mont-Blanc Naturopathie
Emilie COTTAIN
95 H Descente Joseph Marie Couttet
74400 Chamonix-Mont-Blanc