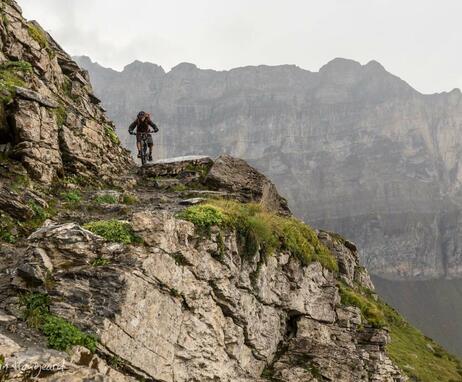 HighhillsMtb MTB guides and school
in Servoz
Presentation
Chamonix Mont-Blanc Mountain (E-)MTB Biking school and guiding. Created in 2017 by a local guide, Marie offers you her experience and skills. Experiment HighhillsMtb fully qualified mountain biking instructors and guides, we are all members of MCF.
HighhillsMtb school is located in the triangle where France, Switzerland and Italy meet. We will guide you into a great and amazing playground, at every level of skills, on classic or electric bike.

HighhillsMtb can also provide lessons in order to learn or to improve your skills on a mountain bike and on e-bike.

HighhillsMtb encourages women in order to increase the amount of girls riding bikes. Whether you would like cross country ride, enduro ride or downhill ride, we can provide a female MTB instructor to take you on trails.

HighhillsMtb teaches children from 5 years old : first rides and wanders.
Children from 10 years old can learn how to enduro and to downhill ride.

Shuttle service on demand.
Location
HighhillsMtb MTB guides and school
HighhillsMtb
2086 Route du Mont
74310 Servoz