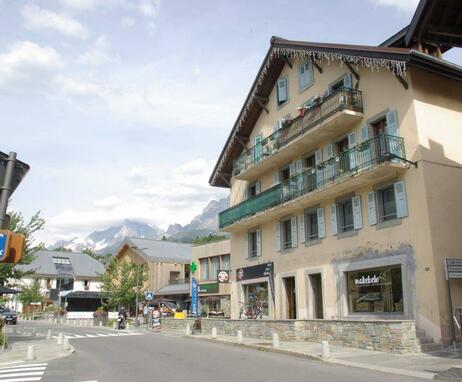 Sport Spirit
in Les Houches
Presentation
The Sport Spirit store was born from a devouring and limitless passion: the bicycle. Reseller of the French brands LAPIERRE and MOUSTACHE and American PIVOT. Repairer of all brands of bicycles, sale of accessories and equipment and rental of mountain bikes and ATVs.
Located in the heart of Les Houches, it offers a renovated showroom dedicated to sales and an open workshop area for more proximity.
You will find there, in addition to the numerous advices of Kevin and Julien, new services: a bikewash area, bikefitting (postural study) to help you choose the best bike according to your morphology.
In short, whether you are a family rider, a mountain biker, an enduro biker, a full or semi-suspended biker, an electric biker or a classic biker, Sport Spirit is for everyone, adults and children, who is passionate about cycling.

On sale: you will find all the models of the French brands LAPIERRE and MOUSTACHE but also of the American brand PIVOT.
Simply describe the type of experience you are looking for and we will find the bike that suits your needs. Postural study by appointment.
We carry a wide range of cycling accessories from locks to brake pads to inner tubes.
Also textile as well as helmets brand MET, URGE and BLUEGRASS, shoes for road and mountain bike, glasses designed for the cycle of the range JULBO.
You will also find our energy products MULE BAR.

Repair service: We have a complete bike repair and assembly workshop, the mechanics are qualified, experienced and regularly trained on all the new products. We do not offer pre-established packages, they are often more expensive than the actual work time, we charge the repair at the price best suited to the needs of your bike after you have made an estimate of repairs to avoid unpleasant surprises and with your agreement.
We will take charge of your bike as soon as possible according to the order in which it arrives at the workshop.

For rent : our bikes for rent are LAPIERRE and MOUSTACHE bikes because we want our renters to benefit from this French quality.
A supervision by a professional is possible on request.
For all your family outings, with friends, seminars...
Opening dates
All year round
Opening hours on Tuesday, Wednesday, Thursday, Friday and Saturday between 9 am and 12 pm and between 2.30 pm and 6.30 pm.
Location
Sport Spirit
51 place de la mairie
74310 Les Houches