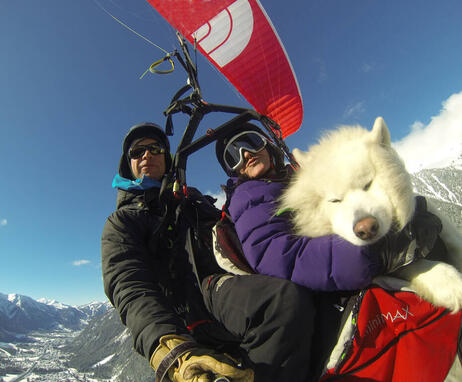 Wing Over Chamonix
in Chamonix-Mont-Blanc
Presentation
WING OVER CHAMONIX specializes in Professional Tandem Paragliding flights in Chamonix, Mont Blanc!
"Professional Tandem Paragliding" is when an experienced professional Pilot and passenger fly together in seated harnesses under
a foot launched glider.

Our passengers can be 4 - 99 years old and you can book for 1 person or book for a group.

Come and enjoy an amazing experience in front of Mont Blanc flying tandem!
For more than 20 years Olivier has flown his Paraglider in the most beautiful places on the planet. From playing over the desert dunes
in Namibia to 7400 meters above sea level in the Himalayas, and then achieving one of the highest thermal flying in the history of
paragliding. You can say Oliver is passionate about flying!

As a client, you'll benefit from enormous experience, in a relaxed and organised structure, and discover the beauty, calm and fabulous thrill of
paragliding.

We tailor the Tandem Paragliding Flight to our passenger's desires:

- If you want a scenic, peaceful, extremely gentle and relaxing flight… no problem!

-If you're a thrill seeker and you want to get upside down… you have found the right place!

Keep an eye out for Sai Sai "The Flying Dog" and mascot for WING OVER CHAMONIX. Despite his many television appearances
he still hasn't got a big head!
Location
Wing Over Chamonix
Magasin Skiset de l'Aiguille du Midi
451 rue du Lyret
74400 Chamonix-Mont-Blanc