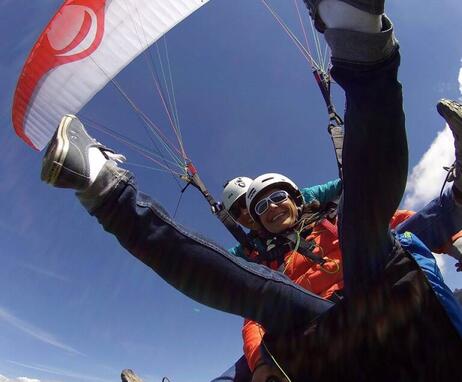 Mc Fly Chamonix: Speed-riding and paragliding school
in Les Houches
Presentation
Cyrilde Pic has been a paragliding instructor for 25 years in the Chamonix Valley. She created McFly Paragliding and Speed-Riding 3 years ago with all the enthusiasm for flying and for the mountains that surround it.
Tandem paragliding flights are available all year long as well as speed-riding coaching during the winter season. Discovering flying and the air in Chamonix is an experience we want to share with you.
We will welcome you to Le parc des loisirs des Planards starting at the end of June.

Paragliding tandem flights

A unique experience, accessible to all, you will just be asked to run about ten meters for the take off. Your pilot will take you for an aerial outing, from which you'll discover the Valley from a bird's eye point of view!
We will be at your disposal to ensure your flight will be an unforgettable memory.
We fly everyday, weather permitting

Speed-riding

A pair of skis, a very small wing and 100% adrenaline… Speed-Riding gives a new dimension to skiing. The possibility of taking off and then coming back down, shredding the snow, offers the riders endless possibilities.

There's no prerequisite necessary under the wing (paragliding, kite or skydiving), but it is necessary to be a good skier on all type of snow terrains (ESF level 3 or equivalent).
We only operate on off-piste sectors where the snow won't have been packed, and therefore one's skiing needs to be instinctive.
It is necessary to be over 18 years old and to have aerial insurance. I'll help guide you towards what option suits you the best. Discovery insurance for two days costs 5 euros.
From a day of discovery to a day of development, I offer "tailor made" days.

With 4 people max. Fun, safety and friendliness this is how I wish to share my passion of the activity
Opening dates
All year round.
Welcome desk at the leisure park of les Planards in July and August.
Location
Mc Fly Chamonix: Speed-riding and paragliding school
400 route de Taconnaz
74310 Les Houches