COVID-19 Information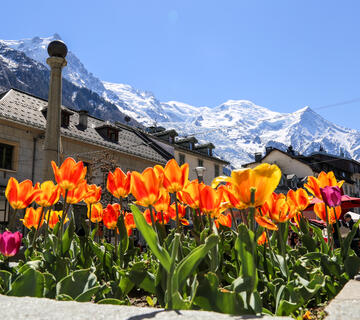 During this pandemic, Chamonix Mont-Blanc takes care of you and is committed to welcoming you in a safe and serene environment! All the professionals of the valley have implemented various actions in order to optimize your visits in the valley and guarantee your safety. Check out this information and our advice here!
À savoir
What changes after the 16th of May 2022? 

From the 16th of May, wearing a mask is no longer compulsory. All places are concerned. However it remains required for caregivers, patients and visitors to health of care facilities. ( hospitals, pharmacies and medical biology laboratories).
From the 14th of March, the application of the "vaccination pass" will be suspended in all places where it was required (leisure and cultural venues, commercial catering activities, fairs and trade shows, etc.).
À savoir
Informations COVID-19
Where to get tested in the Chamonix Valley?
PCR TEST:
The tests become chargeable except minors or medical prescription (from 44 €)
Mirialis Laboratory in Chamonix : +33 (0)4 50 53 07 25
Monday to Friday from 10a.m to 12a.m and 1.30p.m. to 4 p.m. without an appointment and without a prescription and every other Saturday morning, Saturdays in even weeks from 10 a.m. to 11:30a.m.

Gramont nursing office in Les Pèlerins: +33 (0)7 69 68 67 12
On appointment only. Delay for the results between 12 and 24hours.
ANTIGEN TEST:

Antigen tests in pharmacies are chargeable except minors on medical prescription (from 22 €)

In Chamonix:
Pharmacie de la Vallée - Rue Vallot - +33 (0)4 50 53 13 69

Pharmacie des Alpes - 53 Rue du Dr Paccard - +33 (0)4 50 53 15 45 

Pharmacie des Pèlerins - Place des Séracs - +33 (0)4 50 53 13 55 - Monday to Friday only. 

Pharmacie du Mont-Blanc - Place de l'Eglise - +33 (0)4 50 53 12 61

Pharmacie de l'Aiguille du Midi - Av. de l'Aiguille du Midi - +33 (0)4 50 91 43 89
In Argentière:
Cabinet Médical à Argentière - +33 (0)4 50 54 00 67 - By reservation only

Pharmacie d'Argentière - +33 (0)4 50 54 00 37
In Les Houches :
Pharmacie of the village - +33 (0)4 50 54 40 24 - Monday to Saturday, on booking only 
SALIVA TEST:
RT-PCR tests on saliva samples are intended for children for whom nasopharyngeal sampling would be too invasive, for patients who have difficulties with nasopharyngeal sampling (medical contraindication, psychological terrain, etc.)
The tests are not free of charge (40€) except for minors, vaccinated persons, contact cases or medical prescription in possession of a health card.
Mirialis Laboratory Chamonix : 04 50 53 07 25
Monday to Friday from 10am to 12pm and from 1.30pm to 4pm without appointment and every other Saturday morning, on even weeks from 10am to 11.30am.
 
---
Where to get vaccinated?
Find the nearest vaccination centre online on Doctolib
The phamacies of the valley of Chamonix also vaccinate on appointment only.
I consult the list of pharmacies
À savoir
Franco - Italian border
You will find all information regarding crossing the Italian border here
Franco - Swiss border
You will find all information regarding crossing the Italian border here
This information is given on a indicative basis only and is subject to government decisions taken in each country.