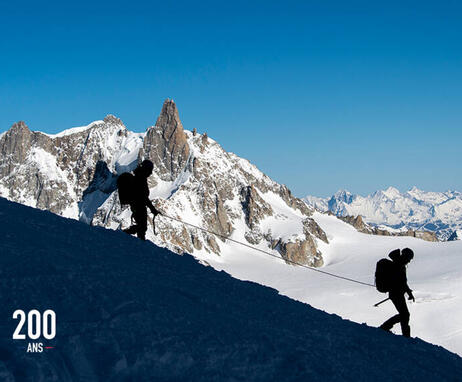 Guides Festival 2022
in Chamonix-Mont-Blanc
Presentation
Created in 1924, with the aim of providing financial support for the Relief Fund, the Guides' Festival has become an unmissable event in the Chamonix-Mont-Blanc Valley.
The anniversary of the Company is the occasion to propose a Guides' Festival starting at Le Lavancher and ending the ceremonies on the square of the church of Chamonix, the guides and guides of the Company, all generations, pay a memorable tribute to those who made history as well as to the guides of tomorrow. The first Guides' Festival took place on August 15, 1924, with the objective of raising funds for the Caisse de Secours. Almost a century later, this has not changed. But above all, by gathering, solidarity, friendship, and the spirit of the roped party. All this is made possible thanks to our partners, the inhabitants of the commune and the public. If the heart of the association was born in Chamonix, the body has always been spread out in the valley.
Agenda of the festivities :
Saturday August 12 - Le Lavancher. - Bread oven and surroundings.
Sunday August 13 - Vallorcine. - Esplanade in front of the Foyer de Ski Nordique.
Sunday August 13 - Les Houches Plaine St Jean. "50 years of the climbing wall".
Monday August 14 - Argentière. - In front of the church St Pierre and parking of the Maison du Village.
Monday August 14 - Chamonix. - Majestic Convention Center.
Tuesday August 15 : Chamonix (church square) -Les Gaillands
Tuesday August 15 : Servoz - Esplanade in front of the Jean Morel room.
Location
Guides Festival 2022
Vallée de Chamonix Mont-Blanc

74400 Chamonix-Mont-Blanc