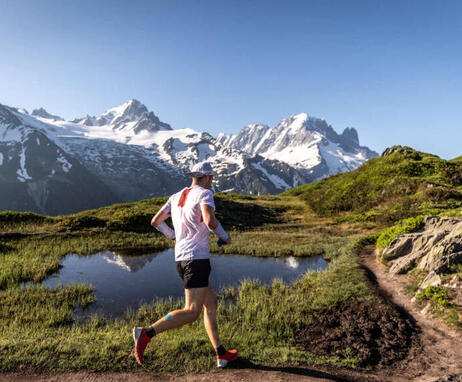 Mont Blanc Marathon 2022
in Chamonix-Mont-Blanc
Presentation
The Mont Blanc Marathon is a trail running event comprised of 7 different races to suit each participant's expectations and level of practice: the "flagship" 42km race, 23km, 10km, the "Duo under the stars" (duo race at nightfall), Vertical Kilometer, as well as races for children.
The routes of each race are spread throughout the Chamonix Mont-Blanc Valley and offer a breathtaking view of the mythical peaks of the Mont-Blanc massif.
THURSDAY JUNE 23 - Trail Camp - 9 a.m. / 8 p.m. - Place du Mont-Blanc
Trail Camp, exhibition bringing together equipment manufacturers from the trail world, partners and event organizers.
FRIDAY JUNE 24
90km from Mont-Blanc
Departure: Chamonix - 04h00 / 1st arrivals: 15h00
Vertical Kilometer of Mont-Blanc
Start of the vertical km: Chamonix - 5:00 p.m.
SATURDAY JUNE 25
23KM from Mont-Blanc
Departure: Paragliding area - 08h00
10KM from Mont-Blanc
Departure: Paragliding area - 1:00 p.m.
Star-studded DUO
Departure: Chamonix - 8:00 p.m.
SUNDAY JUNE 26
42KM from Mont-Blanc
Departure - Chamonix
YOUNG RACE Marathon
Departure: Montroc

Registrations for the Mont-Blanc Marathon races which will take place will open in mid-October 2021. Registrations will take place exclusively on the internet with secure payment by credit card. Registrations for the 42km, 23km and 90km of Mont-Blanc will take place by drawing lots. For runners registered for one of the races of the Marathon du Mont-Blanc 2021, and not able to participate in the event due to the postponement of the date and having validated on their registration profile of the time "priority 2022 », Will be able to re-register for the same race as in 2021 without going through the draw.
Location
Mont Blanc Marathon 2022
Terrain d'atterrissage du Bois du Bouchet
bois du Bouchet
74400 Chamonix-Mont-Blanc