FAQ Free ski lessons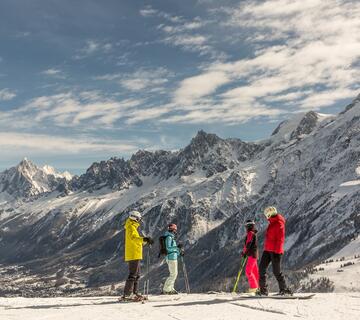 © - Groupe de skieurs - Gaëtan Haugeard
FAQ :
Who is eligible for these free ski lessons?
This offer of free group ski lessons is valid for all persons staying in commercial accommodation (rental property, tourist residence, hotel) in the Chamonix Mont-Blanc Valley (Servoz, les Houches, Argentière, Chamonix, Vallorcine) . Guests must present their booking confirmation or their guest card which is provided by the host. Your stay must be for a minimum of 3 days and dates of stay must begin and end within the periods of 7th January to 4th February and 6th March to1st April 2022.
 
What is a group lesson?
Group lessons are programmed for people of the same level of experience, for a minimum of 3 persons. It is different from a private lesson which is booked exclusively for oneself or friends and family directly with a private ski instructor.
 
Up until when can I book these free lessons?
Lessons are bookable up until 3 days before the first day of lessons, subject to availability.
 
What lessons are included in this offer?
The lessons available are downhill sking, off-piste skiing, cross-country skiing and ski touring. Lessons are available for all levels, from kindergarden and beginners to experts.
 
How to I proceed to benefit from this offer?
To take advantage of these free lessons, you contact the ski school partner of your choice who will make the reservation for you. You must present the ski school with your accommodation booking confirmation.
 
Which ski school should I choose?
Our partner ski schools are the ESF Les Houches, Chamonix, Argentière and Vallorcine, and Evolution 2.
 
Can all the family benefit from this offer?
All persons staying in your commercial accommodation are eligible for this offer, subject to the ski schools terms and conditions, in particular with regards to the minimum age. Your booking confirmation must state the number of persons in your accommodation.
 
Must I pay something?
You have nothing to pay for these lessons. Please be aware that personal insurance and course medals are not included in the offer.
 
Is ski equipment included in this offer?
Ski equipment is not included in this offer. You can hire your equipment in any of the ski rental shops in the Chamonix Valley.
 
Is the ski pass included in the lessons?
No the ski pass is not included in the lessons.
 
Is it possible to benefit from free lessons outside of my dates of stay?
No, the lessons must take place during your dates of stay in commercial accommodation in the Chamonix Valley.
Other free ski lessons available