Altitude sites in Spring
© - ©OTVCMB_SA
Enjoy altitude sites in spring !
While the snow is melting and the vegetation recovers its verdant colors, take advantage of the ski lifts to admire this sublime view that nature offers us!
Aiguille du Midi
This famous needle, which is one of the highest in Chamonix, has been an unmissable destination for visitors for more than 60 years. In just 20 minutes, the Aiguille du Midi cable car will take you from the centre of Chamonix to the high mountains, reaching an altitude of 3,842 m.
Perched 3,777 m above sea level, the Aiguille du Midi and its viewing platforms offer a panoramic view across the French, Swiss and Italian Alps. A lift will then take you on to the highest deck at 3,842 m, where you can take in the uninterrupted views of the Mont Blanc.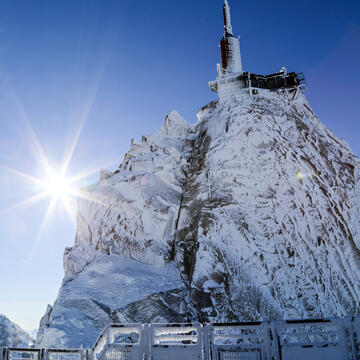 © - Aiguille du Midi - ©OTVCMB_SA
Montenvers Mer de Glace train
Hop on the famous rack-and-pinion railway, which takes passengers from Chamonix to the tourist site of Montenvers at an altitude of 1,913 m.
Enjoy a spectacular panoramic view of the Mer de Glace glacier, the Drus and the Grands Jorasses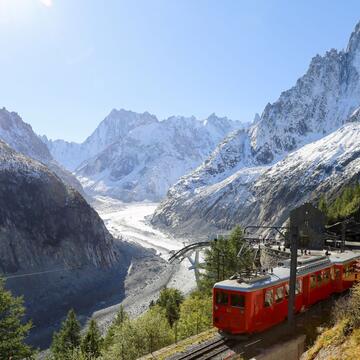 © - Le train du Montenvers avec vue sur la Mer de Glace