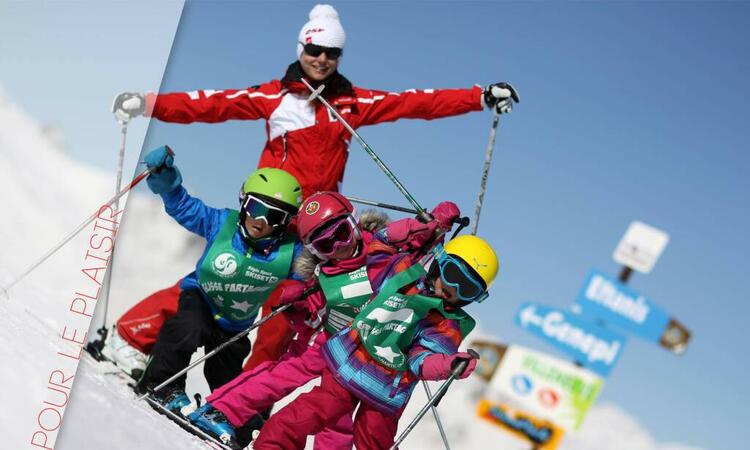 Club Piou-Piou Argentière
in Argentière
Presentation
From 3 to 12 years old. Children receive special attention. Our teaching is tailored to age groups and levels of 3 years to juniors. 2 places : On Lognan ski area or Balme ski area.
Different forms of skiing for children:

Children from 3 to 4 years old:
The Mini Club des Piou Piou is open for ski lessons every morning between 9h45 à 11h45. Children can be looked after at the club from 9h15, thereby fitting in with the other group lesson times.

Children 4 years and + :
The Club des Piou Piou is open to beginners and children who have gained their Ourson ( little bear award). The teaching here is suitable for their age and level and allows them to work confidently towards their flocon award.


A whole day's skiing with "Teddy lunch" :

We came up with this idea to allow children to get the most out of their holiday in the mountains. This day consists of a ski lesson, a special children's meal in a local restaurant and some time before and after the meal playing games or watching videos, supervised by our staff. The children have their lunch in a restaurant in Argentière, which we select. You can either choose a half-day morning, a half-day afternoon or a whole day. It gives you freedom to choose; if you are staying for a week or more, you can choose which days you would like your children to come, whether it's one or seven ! You can ski as much as you like, knowing your children are enjoying themselves and being well looked after. This package is available to all children, apart from those at the Mini Club des Piou Piou.
Opening dates
From 18/12/2016 to 16/04/2017.
Mail answering all year long.
Location
Club Piou-Piou Argentière
329 r Charlet Straton
74400 Argentière