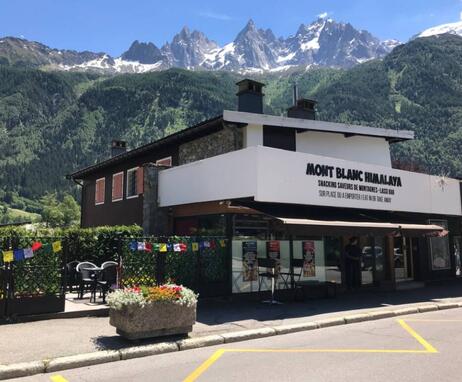 Mont Blanc Himalaya Restaurant - Snacking - Lassi bar
in Chamonix-Mont-Blanc
Presentation
Mont-Blanc Himalaya offers mild curries, Tibetan soups and momos, lassis and traditional teas.
Mont-Blanc Himalaya, the first Indian Tibetan fast-food restaurant in the Mont Blanc country.
The restaurant is managed by Urgyen, a Tibetan, and Valerie, a traveler since her childhood.
On the menu, Indian and Tibetan flavors with a range of mild curries adapted to Western palates, without forgetting of course the spicier ones for those who like them; Tibetan momos are proposed steamed or in the Tibetan Mokthuk soup; noodles are proposed sautéed in chowmein or in the Tibetan Thukpa soup;

Mont Blanc Himalaya is thus a gastronomic snacking offering dishes with Himalayan flavors and dishes of the Mont Blanc territories made from products of the Valle d'Aosta, the Swiss Valais, and the 2 Savoie.

On the sweet side, the Lassi Bar offers chaïs, golden milks and Cha Pu Cha, the Tibetan tea.

The milkshakes and lassis are adjusted under exotic flavors, as well as pancakes, waffles, yoghurts and yoghurt bowls.
Location
Mont Blanc Himalaya Restaurant - Snacking - Lassi bar
446 Rue Joseph Vallot
74400 Chamonix-Mont-Blanc