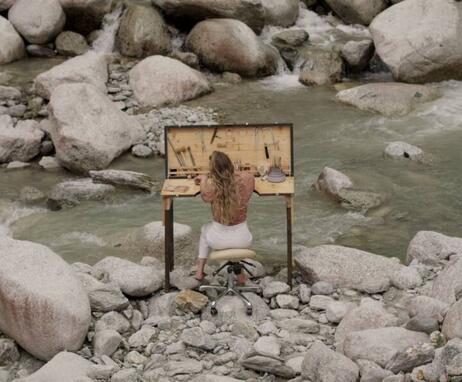 The Lost Crystals
in Chamonix-Mont-Blanc
Presentation
Jewelry with raw crystals from Mont-Blanc. Found by the crystal makers of Chamonix. Set on precious metals. Handmade in Chamonix.
Since 2016, designer Marine Petroff has been working to develop this concept with passion. Fascinated by crystals and admiring this unusual profession that is that of the crystal maker, the evidence was for her: the crystal valued by a jewel.

Imagine wearing a 15 million year old jewel from Mont Blanc, with a perfect natural geometry, extracted from erosion by mountaineers who pick them at an altitude of nearly 4000 meters! You will then discover, inhabited by its history, the fine stone in all its beauty.

We owe the existence of these stones to Mother Nature, and their "picking" to the crystal workers. We are talking here about rarities, fruits of a crystallization dating from the formation of the rocks, and whose fossil character we recognize. Some of these stones will delight our eyes, others will never be discovered, and will thus keep the magic of our mountains!
Location
The Lost Crystals
123 Place Edmond Desailloud
74400 Chamonix-Mont-Blanc