4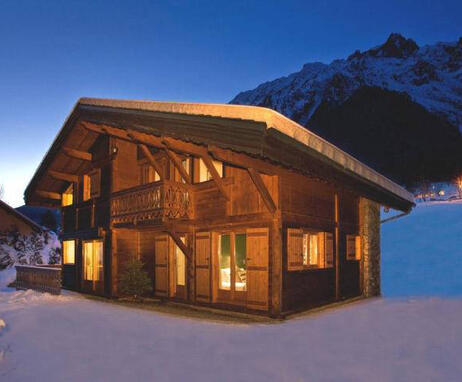 Chalet Shangri La
in Chamonix-Mont-Blanc
Car park
Wifi
Private balcony
Presentation
Serenity authenticity and luxury are the first 3 words that come to mind as soon as you arrive at Chalet Shangri La. Ideally located on the hilltops of the Chamonix valley facing south, the chalet offers an amazing panoramic view to the Mont Blanc range.
The chalet has been furnished and decorated with taste and quality: every room has its own color pattern and is fitted with made to measure solid oak wood furniture, woodcraft like bed trays and tissue boxes have been designed and produced in Bali exclusively for Chalet Shangri La. In line with an Asian inspiration, every room has framed pictures from the well-known Hong Kong photographer Laurence Lai. The spa, hammam and sauna, completes ideally the leisure space.

The living room is a beautiful space with large windows and bay window offering a superb view to the Mont Blanc. A modern fireplace and a piano add even more conviviality to the already warm ambiance.
The dining space and kitchen welcome 16 guests, a chef and his aide, again a warm and fully efficient space, you will enjoy eating while watching your chef in action.

Outdoors also have been designed to make your stay even more enjoyable.
The terrace and sun deck, fitted with outdoor furniture and lounge chairs constitute a privileged place of meditation and contemplation.

Outdoor heated car park, independent heated ski room and boots heater, and in the garden a swing set and slide for the exclusive use of your children.

Fitted with the latest technology, Chalet Shangri La offers you conviviality, luxury, authenticity and serenity to guarantee an unforgettable stay.
Location
Chalet Shangri La
83 chemin des seringas
74400 Chamonix-Mont-Blanc