4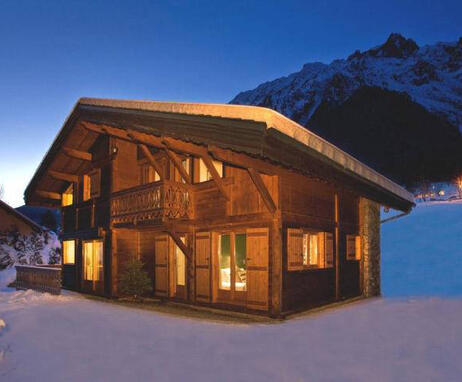 Chalet Shangri La
in Chamonix-Mont-Blanc
Car park
Wifi
Private balcony
Presentation
Authenticity, serenity and comfort are the 3 adjectives that immediately come to mind when you arrive at Chalet Shangri La. Located on the south side of the Chamonix valley, the chalet offers a breathtaking view of the Mont Blanc massif.
The chalet's furnishings and decorations have been carefully crafted with an emphasis on quality and harmony: Each room has its own color, custom-made solid wood furniture and decorations produced in Bali exclusively for Chalet Shangri La. Keeping a decidedly Asian inspiration, the works of the famous Hong Kong photographer Laurence Lai can be found in each room. The spa, hammam and sauna, ideally completes the relaxation area.

The incredibly bright living room area with a view of Mont Blanc is adorned with a modern fireplace.
The dining area and kitchen welcome 16 guests, a chef and his assistant in a warm and functional atmosphere.

The exterior has also been designed to make your stay even more pleasant.
The terrace and solarium area with a summer lounge and teak deck chairs is a privileged place for meditation and contemplation.

Heated outdoor parking for ' vehicles, independent heated space for skis and shoes and in the garden, a playground for children, equipped with swings and a slide.

Equipped with the latest technology, Chalet Shangri La combines conviviality, comfort, authenticity and serenity to ensure you an exceptional stay.
Location
Chalet Shangri La
83 chemin des seringas
74400 Chamonix-Mont-Blanc
Capacity
Number of rooms:
Total number of persons:
Number of rooms with reduced mobility:
Number of equipped meeting rooms:
Maximum capacity: