SUSTAINABLE MOUNTAIN DESTINATION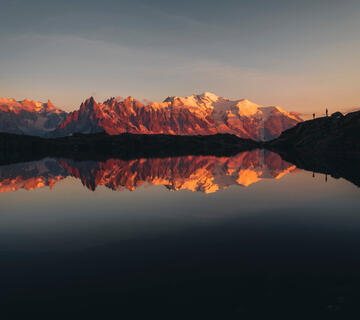 © - Lac des Chéserys
Let's protect our natural resources together

An exceptional and fragile territory
The Chamonix Valley is situated in an exceptional natural setting. Eternal snow, glaciers, mountain pastures, forests, high altitude lakes and wetlands, wherever you are, these landscapes are within your sight. The richness of the natural environment is characterised by a remarkable diversity of flora and fauna.

Very early on, local authorities became aware of the special nature of their environment and its fragility by carrying out numerous actions. Today, this competence has been taken over by the Community of Communes of the Chamonix Mont-Blanc Valley, which wishes to reconcile the protection of the environment, human activities and public awareness by carrying out actions for the protection, management and enhancement of natural areas with its partners.
Flocon vert Label

The Chamonix Mont-Blanc Valley is committed to numerous measures linked to sustainable development and the energy and ecological transition, such as the Green Snowflake.
Flocon Vert is a label guaranteeing the sustainable commitment of mountain tourist destinations.
The Chamonix Mont-Blanc Valley was one of the first three destinations to be awarded the Green Flock in 2013.
Also obtained in 2015 and 2018, the destination is keen to renew its commitment in 2022 in this continuous improvement process, led by the Community of Communes of the Chamonix Valley in collaboration with various players in the area including the Intercommunal Tourist Office and the Compagnie du Mont-Blanc.