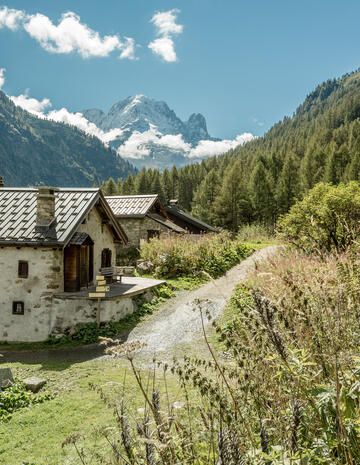 © - Vallorcine - Fabian Bodet
Find your dream choice
highlight_off
Book accommodation
Book with our team in Chamonix-Mont-Blanc who know their area by heart! Unbeatable price and service guaranteed!
Vallorcine, a real haven of peace 
Vallorcine is the last village in Chamonix-Mont-Blanc Valley before Switzerland and has retained its authentic and natural character. 
What to do in Vallorcine
Whatever the season, the 'Valley of Bears' offers an array of activities for sporty types and culture lovers alike. 
In winter, snow sports rule. Choose from a variety of ways of exploring the unspoilt natural surroundings – skiing, ice climbing, sled dogs, sledging, cross-country skiing or snowshoe trekking. In summer, nature lovers and outdoor enthusiasts will enjoy hiking, mountain-biking, fishing or climbing. The more athletic among them will attempt to climb Mont Buet (3,096 m high), also known as the ladies' Mont Blanc.
  
The Barberine and Bérard waterfalls can easily be reached from Vallorcine. You can also head for the Emosson dam in Switzerland, where a series of dinosaur footprints can be seen. 
Soak up the very special history of the village and its tiny hamlets. If architecture is your thing, look out for the 'raccards', the traditional granaries that are not found anywhere else in France. They testify to the Valaisan origins of the village.  
Accessible via the Col des Montets, Vallorcine is in fact a series of delightful hamlets nestled at the foot of the Aiguilles Rouges. In winter, the road is often closed due to the avalanche risk. The Mont-Blanc Express train is then the best way to get here. It stops every hour in the peak season. 
Vallorcine has been connected to the Balme ski area by a gondola lift since 2004.
Whether you are after sport or culture, a stay in Vallorcine has plenty to offer, plus all that breathtaking scenery! 
The first inhabitants of the 'Valley of Bears': the Walser
First settled by the Walser, farmers from the German-speaking communities in Haut-Valais (Switzerland) in the 13th century, Vallorcine is still a peaceful, authentic part of the valley today. Are you looking for somewhere to learn more about mountain culture? Welcome to Vallorcine! In stunning natural surroundings, the villagers here cherish an art de vivre that thrives on traditions and age-old know-how. 
What to do in Vallorcine?