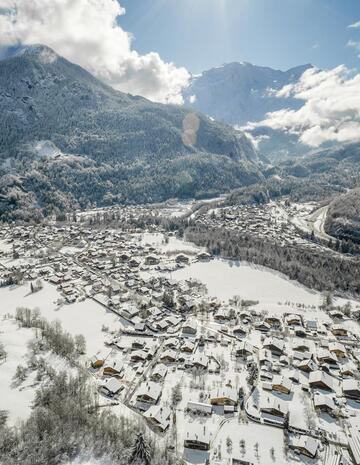 © - Servoz - Hensli Sage
Find your dream choice
highlight_off
Book accommodation
Book with our team in Chamonix-Mont-Blanc who know their area by heart! Unbeatable price and service guaranteed!
What to see in Servoz ?
Enjoy a walk around Servoz to appreciate the natural surroundings and savour some time with the family. Stop of in the baroque-style church, Saint Loup de Servoz. It was built on the site of the former chapel of the Château de la Tour in 1537 and has been successively renovated and added to. 
A little further along, the Diosaz waterfalls have been popular with visitors since 1875! There are five waterfalls in all, which you can follow to the heart of the canyon. Here time appears to stand still as you admire the beauty of your natural surroundings.
The imposing Maison du Lieutenant "house" stands out among the village's other buildings. It was acquired by the municipal council in 2014 and is now an interpretation centre dedicated to mountain farming. Its permanent and temporary exhibitions help visitors understand the area from past to present. The Lieutenant's house is also a hub of activity, hosting a series of cultural events. Why not stop off there to meet the people of Servoz who will be delighted to tell you all about their village? 
In mid-October every year, Servoz hosts a lively sheep fair that is unmissable for anyone in the Chamonix-Mont-Blanc Valley. There is a sheep competition and a whole series of activities for every age, including cider-making, bougnettes (Savoyard potato fritters), music and a tractor show! It is an opportunity for the village to celebrate its farming traditions and culture. 
If you want to take some time out and enjoy the simple things in life, Servoz is the ideal destination. 
Orchard fresh 
The village of Servoz has several orchards producing apples, pears and plums for some sweet indulgence! The place name Servoz is thought to come from Savoyard patois, derived from old French and refers to a woodland. 
Located between the Fiz chain and the Mont Blanc Massif, the village invites you to slow down and enjoy the good things in life. 
Servoz, where the living is good 
Servoz lies at one end of Chamonix-Mont-Blanc Valley. In this authentic village, the atmosphere is warm and tranquil, 
with the old farmsteads, oratories, fountains and bakehouses simply exuding charm. It is a bucolic village with splendid views, and its architectural heritage and natural sites are very popular with visitors.