Public transports
© - "Le Mulet" - OTVCMB
Chamonix Mont-Blanc Valley is committed to protecting the environment:
Use buses and trains, the easy, low-cost way of getting around the valley!
Guest Card
The Guest Card gives you access to a range of benefits, including free travel on buses and the SNCF rail network between Servoz and Vallorcine.
Tourist accommodation: Your host will give you the card (free of charge) on arrival. If not, make sure you ask for it!
If you are not staying in paid accommodation, you can pick up the card for €10 per person, per week, from the town hall or the tourist office.
 
Chamonix bus and bus station
The regular urban bus service operates across the Chamonix Valley, serving the tourist sites and the ski areas.

Free access from Servoz to Le Tour for anyone with the Guest Card or a ski pass.
Download the bus timetables here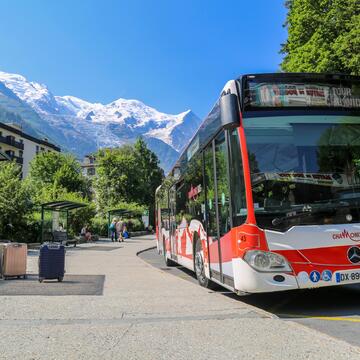 © - OTVCMB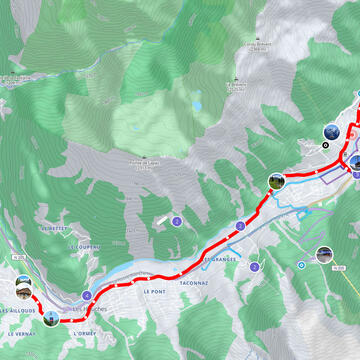 Mont-Blanc express train
From Chamonix, the SNCF rail line serves all the villages :
- On the French side, up from St Gervais les Bains-le Fayet with stop in Les Bossons, Les Houches and Servoz.
- On the Swiss side, up to Martigny with stop in Les Praz, Argentière and Vallorcine.
The SNCF rail line from Servoz to Vallorcine is free to use if you have the Guest Card, provided by your accommodation host on arrival.
Download the Spring timetables from March 28th to June 17th, 2022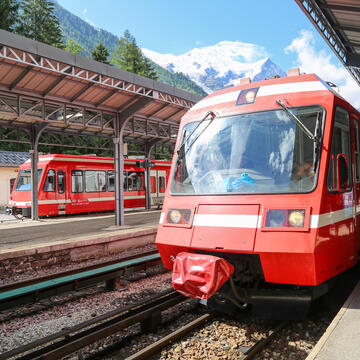 © - OTVCMB_SA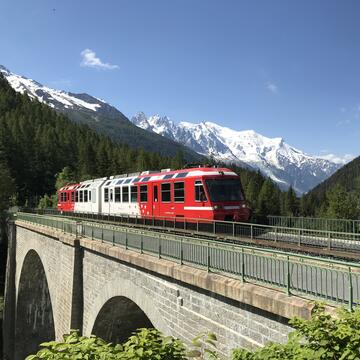 © - Mont Blanc Express - OTVCMB
N.B. Times may vary when bad weather occurs during the winter season. Check the forecast before you set off.
SNCF Etablissement Mont-Blanc
40 place de la gare
74400 Chamonix-Mont-Blanc
The Mont Blanc Express train is connected to the SNCF network, to the TGV and the Léman Express  from St Gervais-le Fayet station.
The Urban Bus Network
Mont Blanc Bus operates the network in the Communauté de Communes de la Vallée de Chamonix-Mont-Blanc: Chamonix Bus. It covers villages from Servoz to Vallorcine (Vallorcine only during the summer season). The network consists of 5 annual lines reinforced with additional services and an increased frequency (one bus every 10 minutes during rush hour on the main roads) during the high touristic season: 5 additional lines in summer and 7 in winter.
N.B. A fare is payable on the Cham'o'Nuit line: €2 per trip.
Bus station
The main bus station is located at the Chamonix-Sud bus stop.
Consult our interactive map for transport and places of interest.
Free town centre shuttle
Known as "Le Mulet" as a nod to the Valley's history, the town centre shuttle is an urban service that uses compact all-electric vehicles (with capacity for 19 passengers) accessible to persons with reduced mobility. The service links up to the main stops on the urban network.
Transport on demand for person with reduced mobility: "mobil'bus":
This service operates every day, all year round, from 08:30-12:00 and 14:00-17:00. It is a full substitute for the urban network, with door-to-door service.
Conditions of access: accessible for Persons with Reduced Mobility who, due to their disability, are unable to take the Chamonix Bus network alone or with an attendant:
People with a disability card (>80% incapacity)
People in a wheelchair
People with visual impairment with a civil disability card
People who have difficulties walking: subject to the authorities' decision
For a subscription of €10 per year and on presentation of a PRM certificate, a card will be issued by bus station in Chamonix Sud entitling the person to use this service.
Call 04 50 53 05 55 before 17:00 the day before to book a journey. For weekends and Mondays, book on Friday. Possibility to book 4 hours before your journey, subject to availability.
Continuation of the chamonix valley cycle path
Cycling is increasingly popular in the Valley.
With e-shuttles, hybrid buses and, coming soon, natural gas-powered buses, the complete overhaul of the rail network with better timing, pedestrian routes and cycle paths, Chamonix Valley is rolling out a clear eco-mobility stra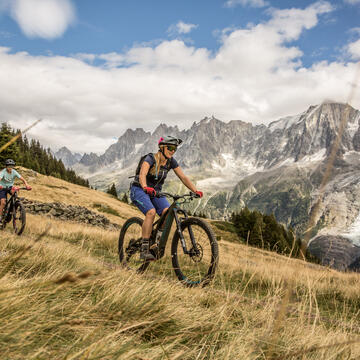 © - Gaetan Haugeard
A cycle path is currently being established between Chamonix and Les Houches to encourage local residents and tourists to leave their cars in the garage and take their bicycles instead. In the long term, there will be an uninterrupted "soft mobility" link using specially developed lanes.
Development will continue between Les Bossons and Chamonix-Sud in autumn 2019, along with a section through the Bois de Bouchet area.
Eventually, the Valley will be linked to Lake Geneva via the Véloroute itinerary (the V61) from the Lake to Mont Blanc.
Lignes régionales 
Des lignes de bus dans le département existent, vous trouverez toutes les informations en cliquant ici !