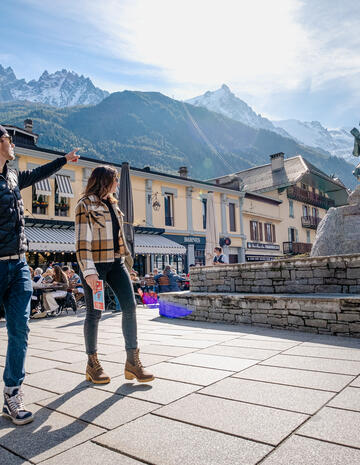 © - Chamonix - Fabian Bodet
Find your dream choice
highlight_off
Book accommodation
Book with our team in Chamonix-Mont-Blanc who know their area by heart! Unbeatable price and service guaranteed!
Chamonix-Mont-Blanc, truly cosmopolitan!
Chamonix-Mont-Blanc is an iconic destination that attracts tourists from the world over, to visit the sights or enjoy the sports. While they are here, they cannot help but soak up the extraordinary history tied to the conquest of Mont Blanc and its peaks and the origins of mountaineering.
When Chamonix-Mont-Blanc turned from farming to tourism
In the 18th century, Chamonix still lived off agriculture, despite the difficulties encountered farming in an area with long, harsh winters.
In 1741, two Englishmen, William Windham and Richard Pococke, set off to explore the valley. They discovered the Glacier des Bois. They were fascinated by the expanse of ice and gave its present name, the "Mer de Glace" (or Sea of Ice). 
They were enthralled by their expedition and, when they returned to London, they wrote about it in a number of literary gazettes. From then on, adventurers from the world over were keen to explore the wonders of this mysterious territory, and hence the Chamonix-Mont-Blanc tourist industry was born.
In 1760, Horace Bénédict de Saussure, a scientist from Geneva, offered a reward to the first person to reach Mont Blanc. On 8 August 1786, Jacques Balmat and Michel Paccard, both from Chamonix-Mont-Blanc, made the first ever ascent of the mountain. A year later, de Saussure himself reached the top of Mont Blanc with help from Balmat. 
The arrival of these explorers changed the life of local residents. The expeditions could only take place in summer and local farmers became guides and hoteliers, at least for part of the year. 
What to see in Chamonix-Mont-Blanc
These hotels and their façades can be seen everywhere in Chamonix-Mont-Blanc today. They testify to the different stages in the town's development, each revealing the architectural style of their era. Take a walk around the town and look up to admire the façades, trying to guess in which era each building was constructed. 
Or take to the heights on-board the L'Aiguille du Midi cable car or the train from Montenvers to the Mer de Glace! Because Chamonix-Mont-Blanc can be visited upwards too! But can you imagine heading to the glaciers on the back of mule or in a sedan chair, as was once the case?
It was the English who first lauded the charms of Chamonix-Mont-Blanc, but now myriad languages can be heard around the town. 
Culture or sport? There's something for everyone here.