Aiguille du Midi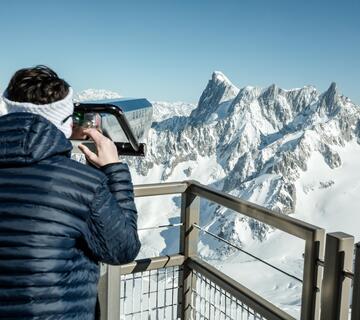 © - Aiguille du Midi - © Fabian Bodet
Aiguille du Midi, the unmissable high-mountain experience!
If you can only do one thing in Chamonix-Mont-Blanc Valley, then you must visit the Aiguille du Midi.
We spoke to a young couple as they stepped back out of the cable car, their eyes still sparkling at the magic they'd seen. 
In just 20 minutes, there you are, some 3,842 metres high, in the heart of the Mont-Blanc Massif. It's out of this world!
"The climb up is an experience in itself," Sylvie and Bruno point out. "It's amazing as you soar away from the ground."
"It's actually very fast, and that is what is so incredible. And then when you arrive, a whole new adventure begins. It feels like you've entered another universe. It's a complete getaway, far removed from the everyday. It's spellbinding. We expected an exhilarating experience but it went far beyond our expectations."
The couple were looking to discover somewhere new, somewhere with that wow factor. When you go up to the Aiguille du Midi, you are taking the same route as the mountaineers, as this is the starting point for numerous climbs, including the legendary Vallée Blanche. "It's funny to think that they were there in the cable car with us, but for a very different reason," they add.
A historic site, with added thrills!
Immerse yourself in the history of mountaineering, following in the footsteps of the bold and inventive explorers who set out to conquer these legendary peaks. 
"The world's highest museum" showcases the landmark moments in mountaineering.
Meanwhile, Espace Mont-Blanc is the place to go to admire the full splendour of the Massif from behind huge windows. Sylvie and Bruno took the opportunity to contemplate this unique vista: "Yesterday we were hiking on the other side of the valley, but being above, with a view over the Alps is even more wonderful than we could have ever imagined. It will no doubt remain one of the highlights of our stay."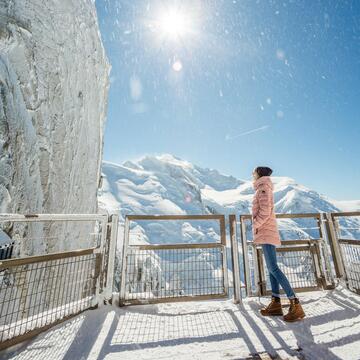 © - Le musée le plus haut du monde vue en contreplongée depuis une passerelle - Fabian Bodet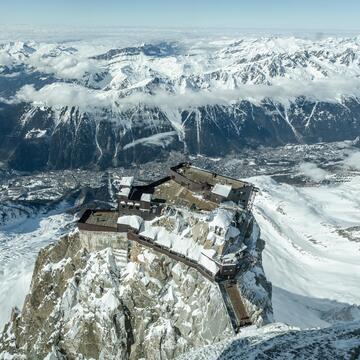 © - Le musée des Aiguilles du Midi vu du dessus - Fabian_Bodet
Step into the Void
A lift then takes you to the highest deck. From there, there is a sweeping 360° view over the French, Swiss and Italian Alps and, in the centre, a natural work of art – Mont Blanc. And don't miss Step into the Void: a viewing box with glass panels on five sides and a void of over 1,000 metres beneath your feet… Sylvie and Bruno were bold enough to give it a try: "You feel your stomach drop, like on a fairground ride! It's breathtaking, exhilarating and somehow uplifting, all at once!"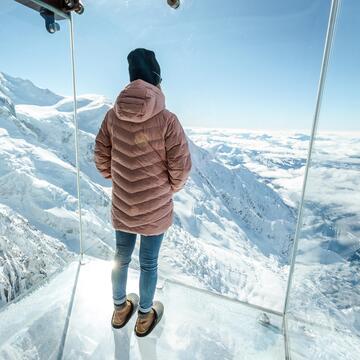 © - Paysage de montagne vue depuis un balcon entièrement vitré - Fabian_Bodet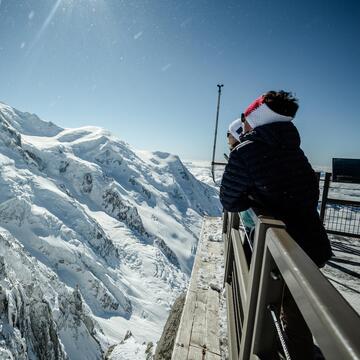 © - Paysage de montagne vu depuis un balcon aménagé - Fabian_Bodet
Back in the valley, Sylvie and Bruno are still awestruck by what they have just seen and experienced. "It's something everyone should do at least once in their life! We can't wait to share our photos and impressions with our friends and family."
So why not come along for a spectacularly memorable experience?
To really enjoy the magic, don't forget to wrap up warm and to bring your sunscreen and sunglasses. 
Open to children over three years of age, but not recommended for under-fives.
En lien avec l'Aiguille du midi