Key attractions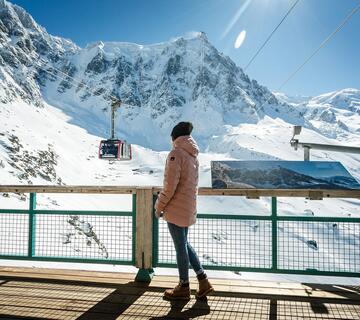 © - Aiguille du midi - Fabian Bodet
Must-see sights in Chamonix-Mont-Blanc Valley
Set off on your own special adventure in Chamonix-Mont-Blanc Valley! 
With its stunning landscapes, characteristic villages brimming with charm and its iconic mountain peaks, there is so much to explore in Chamonix-Mont-Blanc Valley, which is more than deserving of its worldwide reputation.
Look up and admire ... breathtaking, isn't it?
Explore some illustrious sites and discover the secrets of Chamonix-Mont-Blanc Valley. Montenvers train and the Mer de Glace, the Aiguille du Midi, the hike around Lac Blanc and Mont Blanc — there are so many wonderful sights to see, sights you'll remember for a lifetime.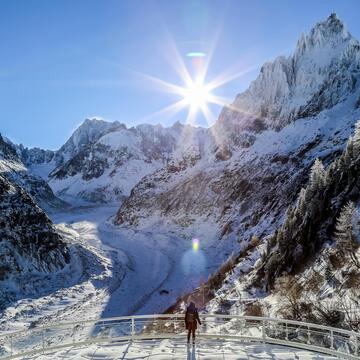 © - Personne de dos observant la mer de glace - Office de Tourisme Vallée de Chamonix - Morgane Raylat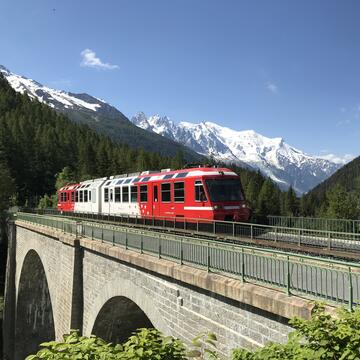 © - Mont Blanc Express - OTVCMB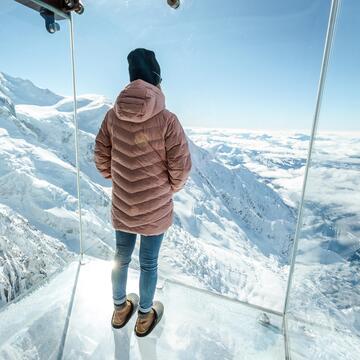 © - Paysage de montagne vue depuis un balcon entièrement vitré - Fabian_Bodet
"My visits to Chamonix-Mont-Blanc Valley always take my breath away," enthuses Quentin, a holidaymaker we met out and about in Chamonix-Mont-Blanc. "I came to see the glaciers as I'm fascinated by them. I started with the Mer de Glace. The climb up in the Montenvers train is an amazing journey through time. I loved being able to get up close to the glacier and learn more about its history. Then, I went up to the Aiguille du Midi to see the iconic peaks and glaciers up close. You go up in the cable car at the same time as the mountaineers on their way to their climb - it's extraordinary. It's a quick ride up and then there you are, at the heart of the Mont-Blanc Massif, at 3,842 metres altitude! It's incredible being so close to Mont Blanc."
The view of Mont Blanc ...
The view of Mont Blanc is also what encouraged Giselle and Bernard to come and visit Chamonix-Mont-Blanc Valley. We met them on their way back down from La Flégère: "We love hiking and were keen to discover Lac Blanc after seeing it on the tourist office's social media pages. It's truly wonderful! And the view of Mont Blanc is simply outstanding!"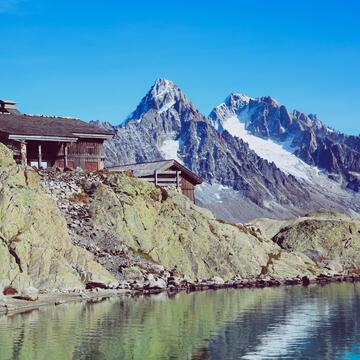 © - Vue sur un Mont avec le lac blanc et une cabane en premier plan - © Office de Tourisme Vallée de Chamonix - Morgane Raylat
Take time to visit the village resorts of Servoz, Les Houches, Chamonix-Mont-Blanc, Argentière and Vallorcine, which reserve a wonderfully warm, typically Alpine welcome. Their museums, ski slopes, hiking, snowshoe and cross-country ski trails are ideal, whether you come for the sport or to admire the views!
Set off and explore the spectacular landscape, savour some unforgettable experiences, and take the time to discover all the gems hidden away in the Chamonix-Mont-Blanc Valley!