Le Lac Blanc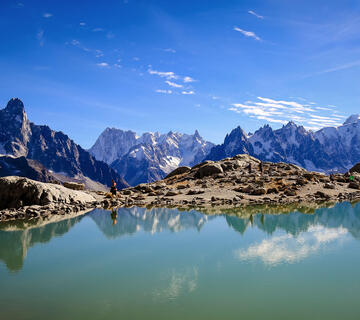 © - Lac Blanc
Enjoy THE trek of your dreams and its awe-inspiring views!
Famous the world over for its reflections of the Mont-Blanc Massif in its clear waters, Lac Blanc lake can be accessed from a number of paths from Chamonix-Mont-Blanc Valley. 
Get ready for a hike unlike any other! Lac Blanc requires some effort but you will be rewarded with sweeping views of the entire Mont-Blanc Massif and the Aiguilles Rouges. 
If you are with children or you are a novice mountain walker, opt to start from Les Praz de Chamonix-Mont-Blanc via the La Flégère cable car. It will then take you 2 hours on foot to reach Lac Blanc.

If you are more athletic and used to mountain trekking, Lac Blanc can also be reached from the Col des Montets or Tré-le-Champ. If you choose one of these routes, be careful: they are technical and can be quite hair-raising, so are not suitable for everyone! 
Whichever path you choose, you are sure to enjoy a wonderful trek through a landscape unlike any other on Earth! 
À savoir
Avant toutes sorties en moyenne et haute montagne, renseignez vous sur les conditions de la Montagne et contactez l'Office de Haute Montagne au 04 50 53 22 08 (randonnée, alpinisme, escalade, ski hors-pistes, etc.)
Le Lac Blanc et le télécabine de la Flégère
Lac Blanc is the promise of astounding panoramic views of the glaciers and the finest summits of the Mont-Blanc Massif. Early in the morning, you might spot the ibex or catch a glimpse of the marmots enjoying the stillness of dawn.
You've made it! Now, sit down on a rock and admire the stunning natural surroundings.
We usually just say Lac Blanc, but there are in fact two lakes – the lower lake and the upper lake.
And upstream, the Chéserys lakes also provide a wonderful viewpoint over the Massif – definitely worth a visit! 
To really enjoy your trek, make sure you are wearing appropriate footwear and take refreshments with you.
You will come home with some wonderful memories… and will be keen to do it all over again!
Randonnées et informations à propos du Lac Blanc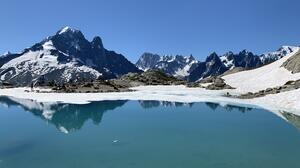 © - Le Lac Blanc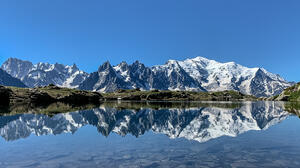 © - Lac des Chèserys - OTVCMB