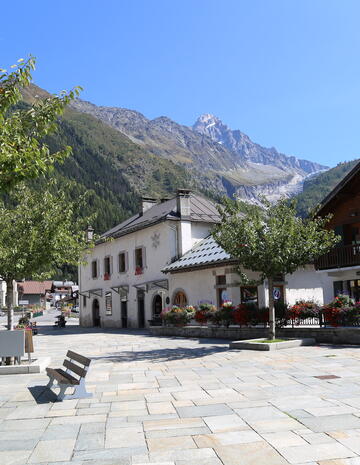 © - Argentière - OTVCMB_MR
Argentière
Find your dream choice
highlight_off
Book accommodation
Book with our team in Chamonix-Mont-Blanc who know their area by heart! Unbeatable price and service guaranteed!
Argentière and tradition
Nestled at the foot of the Argentière glacier and the iconic Aiguille Verte peak, the village of Argentière is the birthplace of some legendary mountain guides.
What to see in Argentière ?
Its baroque-style church is remarkable. It was built in the 18th century so that villagers could come together in prayer, even in the harshest of winters when it was impossible to make the journey to Chamonix-Mont-Blanc. When the church was built, the glacier reached down just behind it. The old village of Argentière has all the typical charm of a mountain village and harks back to the early conquests of Mont Blanc. If you would like to immerse yourself further in the mountain culture, head up to the hamlet of Le Tour, which remains frozen in time with its quintessential old farmsteads. 
Les Grands Montets ski area makes Argentière a must-visit destination for winter sports fans from around the world. 
The wild and spectacular character of the cirque at the top of the glacier is perfect for mountaineers in summer and for cross-country skiers in winter. 
A number of hiking paths start out from Argentière: for example, you can climb up to Lac Blanc which affords stunning views of Mont Blanc, or walk to Chamonix-Mont-Blanc via the wonderful Petit Balcon Sud.
The history of mountaineering comes to life in Argentière! Come and learn more about the extraordinary men and women who set out to explore the heart of the Mont-Blanc Massif. 
A central place in the Mont-Blanc Massif's history 
Argentière is a high point in the culture of Chamonix and the surrounding area. Many of the best-known families of mountain guides come from here. 
Argentière's history is also intertwined with that of Jean Estéril Charlet and Isabella Straton.  Straton was born into a wealthy family in Sussex in the UK and spent 20 years exploring the Mont-Blanc Massif with Jean Estéril. One of their paths over Mont Blanc led them to a peak that had remained nameless until then. It is now known as La Pointe Isabelle. They eventually married, after 20 years of adventuring together. The main street in Argentière is now named "Charlet Straton".
What to see in Argentière ?