The mont Blanc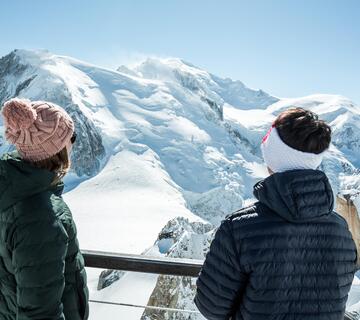 © - Vue sur le mont Blanc - Fabian Bodet
Mont Blanc, the legend watching over the Chamonix-Mont-Blanc Valley  
The "roof of Europe" is a real icon and simply can't be missed! Demanding for the climbers who attempt to reach the top, magnificent for visitors who prefer to contemplate from the valley… Mont Blanc never disappoints!
This summit, the cradle of mountaineering, has lost none of its splendor. Its altitude recently measured in 2021 is 4,807 meters! There are many ways of reaching the top from France, Switzerland and Italy.
Climbing Mont Blanc – the history of a conquest    
As threatening as it is sublime, the highest peak of the Alps long remained unexplored. The conquest of Mont Blanc was spearheaded by scientist Horace Bénédicte de Saussure, who was eager to reach the top of the mountain visible from his home town of Geneva. He offered a reward to the first person to find a way up.
Mont Blanc owes its name to Pierre Martel. He was an optician and mathematician, also from Geneva, and was inspired by the perpetually snow-topped summit. 
On 8 August 1786, Chamonix residents Michel Paccard and Jacques Balmat made the first ever ascent of the mountain and the following year, Horace Bénédicte de Saussure finally climbed to the top, assisted by Balmat. These first ascents literally "opened the way" for generations of mountaineers and guides.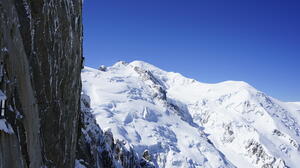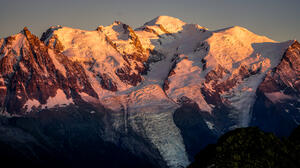 © - Le Mont blanc au coucher du soleil - Office de Tourisme Vallée de Chamonix - Morgane Raylat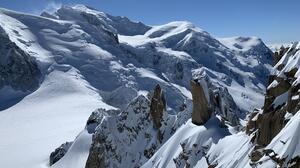 Mont Blanc today    
Standing 4,807 metres high, Mont Blanc is climbed by around 20,000 mountaineers every year, mainly in summer. The usual route passes by the Le Goûter refuge, which was renovated in 2013. While it draws mountain lovers of every kind, the ascension of Mont Blanc requires considerable physical preparation and specific equipment. You also need to take the time to acclimatise to the altitude to avoid mountain sickness. It is recommended that you are accompanied by a mountain guide and remain vigilant, because weather conditions at the top can change quickly and considerably. 
The Tour of Mont Blanc is less physically demanding, although it requires good hiking skills. It attracts many amateur mountaineers. It stretches 170 kilometres through Switzerland, Italy and France and can be completed in part or in full with many variants. It takes seven to ten days to complete the full circuit. 
Wherever you are in the Chamonix-Mont-Blanc Valley, Mont Blanc always takes the starring role! Whether you are hiking in the valley or strolling through the town, its iconic silhouette will always be watching over you.