The village resorts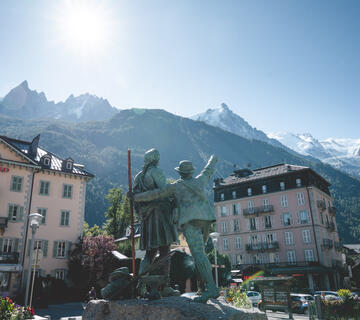 © - Yucca Films
Discover the village resorts in Chamonix-Mont-Blanc Valley
Welcome!
Explore the small villages and hamlets of Chamonix-Mont-Blanc Valley, each with their own fascinating history and unique terroir.  
Observe the remarkable wildlife – a calming way to pass your time. 
See the glaciers – present all year round. These gently moving giants shaped the valley more than 13,000 years ago.
5 village resorts, each offering their own perspective of the mountains
Visit Servoz, Les Houches, Chamonix-Mont-Blanc, Argentière and Vallorcine and journey through the history of this iconic valley where the magnificent peaks and massifs draw you skywards. In the earliest days of mountaineering, the pioneers set off from here to conquer the summits, writing the history of the mountains. 
Chamonix-Mont-Blanc Valley stretches from the Col de Balme, where the River Arve has its source, to the Col de Voza above Les Houches. From one end to the other, the Valley measures 17 kilometres from Servoz to Vallorcine and is 800 metres across at its widest point.
When you arrive from the Arve Valley, the mountains open up at Servoz from where you can make out the contours of the legendary Dôme du Goüter and Aiguille de Bionnassay in the distance. 
As you travel through the valley, the peaks, paths and tiny villages come alive in an ever-changing display that will tempt you back time and time again. 
Each village reveals a different facet of life at the foot of Mont Blanc, and each offers outstanding views. From Servoz to Vallorcine, from Vallorcine to Servoz, enjoy all the wonders of Chamonix-Mont-Blanc Valley.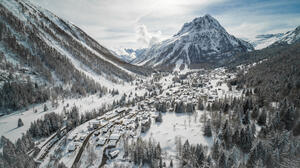 © - Station de Vallorcine - Hensli Sage
If you're looking for authenticity, Vallorcine (in the Valley of Bears) is the destination for you. The village of Argentière is the starting point for the Grands-Montets and a number of cross-country skiing races, and also draws snowboarders of every origin. Chamonix-Mont-Blanc needs no introduction: it is by far the most cosmopolitan destination, with a very vibrant cultural scene. Les Houches is a family-friendly resort where you can relax and re-energise. Finally, Servoz epitomises the art of mountain living. Why not take the Mont-Blanc Express train from one village to another?
Whatever your destination, you will be astounded by the surrounding beauty. Mont-Blanc Massif, its glaciers, its peaks and its dizzying heights are what make Chamonix-Mont-Blanc Valley so remarkable.
Whether you come to this celebrated site for the culture, the sport or simply to contemplate the stunning scenery, Chamonix-Mont-Blanc Valley and its village resorts offer an experience unlike any other.