Montenvers Mer de Glace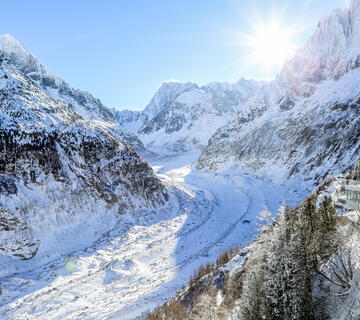 © - Montenvers hiver
The famous Montenvers train
Inaugurated in 1910 by French president Armand Fallières, this little train is an institution, taking visitors from the centre of Chamonix-Mont-Blanc to Montenvers. 
Take a ride on a rare gem!
Rack-and-pinion railways operate on slopes of above 9% and there are just five of them in France. The Montenvers train is thus a pretty unique experience and not to be missed! Hop on board for an extraordinary, exhilarating journey. Inside the retro-looking carriages, you'll also feel like you're travelling through time! 
The 5.1-kilometre trip between Chamonix-Mont-Blanc and the Montenvers tourist site takes you up the mountainside. After a 20-minute climb, you'll arrive at the terminal some 1,913 metres high. The view over Les Drus, Les Grandes Jorasses and Les Grands Charmoz is simply stunning.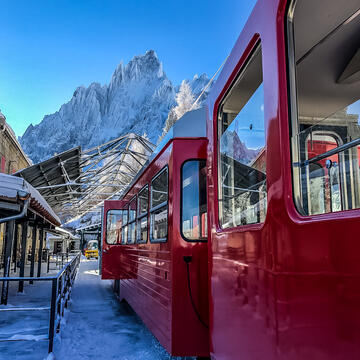 © - Train du Montenvers - OTVCMB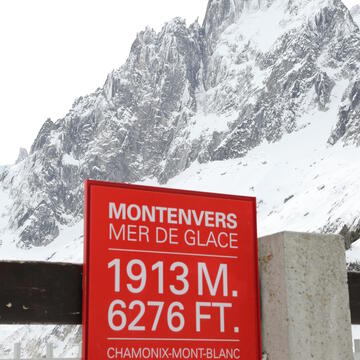 © - Terrasse du Montenvers - OTVCMB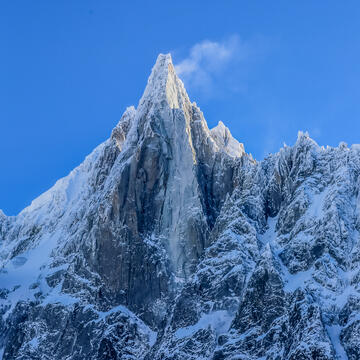 © - Vue depuis le Montenvers - OTVCMB
Typical of its time    
The Montenvers train has been upgraded as railway technology has evolved. Originally driven by a steam locomotive, it is now electric. Once thing hasn't changed however – the rack system. This allows the train to operate on steep slopes and no better technology has been found for routes like this!
At the outset, the train had both open and closed carriages, but the different classes were not indicated on the outside. The difference was clearly felt, however, as the wealthiest passengers were seated according to weather conditions – in the sunshine or sheltered from the rain!
Soon after it was introduced, the Montenvers train became one of the main attractions in Chamonix-Mont-Blanc Valley. It could carry over a million passengers a year in the peak period in the 1990s.
On board, you'll be travelling alongside the many mountaineers who take the Montenvers train on their way to or from their climbs. 
And if you get the chance to talk to the driver, you'll be able to learn more about this famous little train
Now is the time to book your tickets for your journey on board the emblematic train through Chamonix-Mont-Blanc Valley. An unforgettable experience and superb views of the largest glacier in France.