Skiing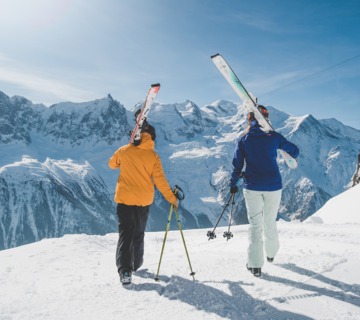 © - Duo de skieurs - © Yucca Films
Skiing in Chamonix-Mont-Blanc Valley – a dream come true!
Could anything beat skiing with Mont Blanc as a backdrop? For maximum enjoyment on some legendary slopes, come to Chamonix-Mont-Blanc Valley.
Le Houches, Le Brévent, La Flégère, Les Grands-Montets and Balme ski areas await with guaranteed thrills, whether you are looking to carve through the snow, tackle the jumps in the snowpark or enjoy freeride snowboarding in deep powder.
Chamonix-Mont-Blanc Valley offers a full range of slopes, altitudes and orientations. Seasoned skiers will enjoy a unique experience in stunning surroundings. Beginners and children can hone their skills at Le Tourchet, Le Savoy, Les Panards, Les Chosalets, La Vormaine or La Poya, the Valley's low-altitude ski areas.
Ski schools and guides are available to help you discover the magic of skiing in Chamonix-Mont-Blanc Valley. 
"I learned to ski at Chamonix and I still love the fabulous scenes you get in the Valley," says Vivian Bruchez, a Chamonix-based mountain guide and steep skiing expert.
All you need to do is get here! In Chamonix-Mont-Blanc Valley, you'll find all you need, from ski hire, lessons and ski passes. Start collecting those winter sports memories now!
À savoir
Consultez notre bulletin neige pour connaître les domaines skiables ouverts !
© - Groupe de skieurs à l'arrêt observant une chaîne de montagnes enneigées - Gaëtan Haugeard
SKI PASSES AT THE BEST PRICE ONLINE
Le CHAMONIX Le Pass : the 100% ski package. Take advantage of the three ski areas of Chamonix and 120km of slopes at the best price online.
 
Le MONT BLANC Unlimited : 1 single pass for ski & visits to 3 countries, France, Switzerland and Italy. Access all of our 10 ski areas and 4 excursion sites for skiers and visitors!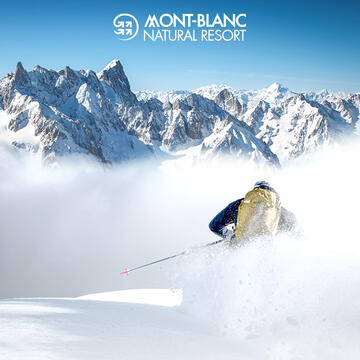 Cartographie des domaines skiables
Plan du domaine skiable Mont-Blanc Natural Resort
Le forfait Mont Blanc Multipass regroupe les domaines skiables de la vallée de Chamonix-Mont-Blanc, de Megève et permet d'accéder à Courmayeur (Italie) et Verbier (Suisse) *