Cross country skiing, nordic ski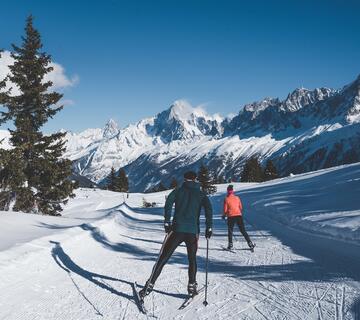 © - Ski nordique - Les Houches - Yucca Films
À savoir
Les domaines nordiques de la vallée de Chamonix sont fermés pour la saison, rendez-vous pour la saison 2022-2023 !
Enjoy the cross-country ski slopes and routes in 
Chamonix-Mont-Blanc Valley
Chamonix-Mont-Blanc Valley boasts over 50 kilometres of cross-country skiing tracks (for classic or skate-skiing), from Servoz to Vallorcine. Wherever you stay, you are sure to find a track nearby!
Chamonix local Enora Latuillière, 2015 world biathlon relay vice-champion, is especially fond of 'the biathlon firing range deep in the white desert in the hamlet of Les Bois. I go there when I need some peace and quiet. The view over the valley gives me a real boost.'  
Would you like to give biathlon a try or take cross-country skiing lessons? The ski schools in Chamonix-Mont-Blanc Valley will be delighted to help you get started! 
Try cross-country skiing for a magical way of exploring the snow-covered landscapes!
Bon plan
Cross-country skiing by night on the green loop of the Bois du Bouchet in Chamonix (2.5 km) at 6.30pm every Thursday during the French school holidays*.
Free access!
* 23rd of December, 30th of December 2021 and 10th, 17th, 24th of February and 3rd of March 2022.