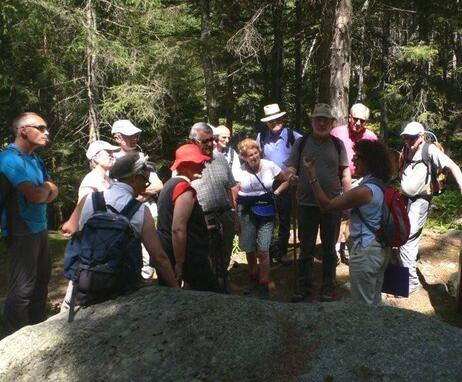 Visite guidée Chamonix et environs
in Chamonix-Mont-Blanc
Presentation
Christine Boymond-Lasserre is a certified guide by the Ministry of Culture and the Ministry of Tourism. Author of books on the heritage and history of the Chamonix valley.
As a tour guide, I enjoy sharing my taste and passion for history, heritage and local life. My job gives me the opportunity to shed light on a house, a church, a work of art, etc.

My role is to give visitors the desire to see and know more. To lead a public to the discovery of cities, villages, museums or monuments requires a lot of research and reading beforehand because one cannot improvise oneself as a "guide".
A long experience in this profession has taught me to guide my public's gaze to discover the hidden secrets of a site. I have a great pleasure to share with the visitors my taste for this magnificent region.
I like to go in search of the past to better understand the richness of the present and I make it a point of honor to answer all those who express a curiosity in these fields.

Born in Haute-Savoie, I have always been interested in my native region. Even if my profession has taken me to distant countries on many occasions, I have always kept my local ties, because these are my roots. And I have always been passionate about the history and heritage of my region.
I am happy to guide your steps and help you to look at it, to understand it with a new eye. Along the streets, in the neighborhoods, in the villages, let yourself be surprised by unusual and unexpected walks, let me help you discover these places where many surprises await you.
Location
Visite guidée Chamonix et environs
582 Rte Henriette d'Angeville
74400 Chamonix-Mont-Blanc