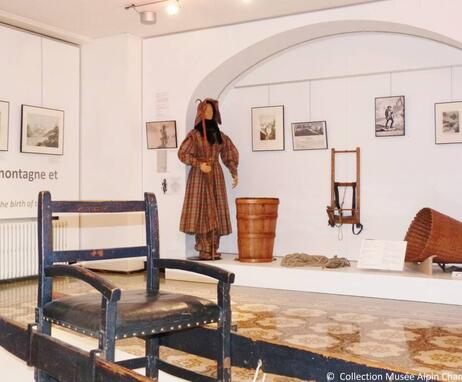 Alpine Museum
in Chamonix-Mont-Blanc
Info spéciale
La musée Alpin est fermé pour rénovation jusqu'en 2025.
Presentation
Further information
Classified museum of France, occupies a historic building in the heart of
Chamonix since 1969. The museum, endowed with a collection of more
than 15,000 objects, is embarking on a complete renovation project, to
become the Mont Blanc Museum: creation of 3 permanent exhibition
spaces and one temporary exhibition space, new museography, new
mediation mechanisms, and significant digital development
Founded in 1925, this museum preserves the rich historical and artistic heritage of the Mont Blanc region.
Location
Alpine Museum
La résidence
74400 Chamonix-Mont-Blanc
Nearest bus stop : Place du Mont-Blanc / Mummery
Mulet Stop : Michel Croz
Nearest train stop : Train station Chamonix Centre
Nearest car park: Mont-Blanc and Poilu car parks (paid parking)