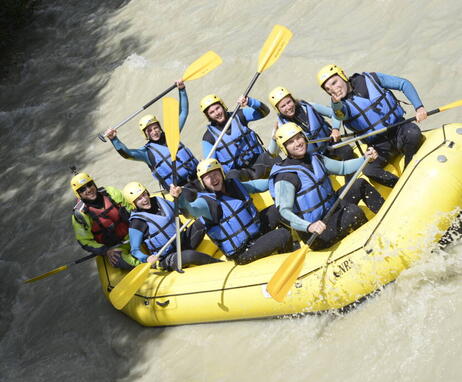 Compagnie des Guides OUTDOOR - JUNIORS
in Chamonix-Mont-Blanc
Presentation
Cie des Guides 'Outdoor' : 200 years of experience in organising & guiding all kind of Outdoor activities accessible to all : river rafting, canyoning, hiking, kids program from 3 to 17 years old, tree-adventure park, mountain biking & EBike, paragliding, climbing ...
ROCK CLIMBING
Adults & kids session from 5 years old in Chamonix & Argentière.
NEW SUMMER 2020 : SPIDER KID
Un brand new fun program for kids under 12! Rock climbing will be a recreational activity with games & fun workshops on the cliff.

WHITE RIVER
The only white water nautical base center in the valley right next to the Chamonix tennis courts, offering white water rafting, hydrospeed, canyoning and canoerafting. The place to be for families and friends to cool off on hot summer days !

CANYONING & RAFTING
'Discovery' or 'Active' run in Chamonix, Annecy or Italy... we've got programs adapted to your needs!

MOUNTAIN BIKING & Electric Mountain Bike
2 half-day formulas :
- CHAM EASY RIDE
Easy forest ride near Chamonix (discovery / accessible to all)
- CHAM ALTI RIDE
From Le Tour village to Chamonix on balcony trails : technical trails, root hoping ... (sporty / with experience)

'MUST DO' WITH FRIENDS : the famous 'Tour du Mont Blanc' adapted to electric bikes, from initiation to expert Riders (2 different loops for 2 levels).

HIKING
A cultural discovery to enhance your walking experience (glacier, mountain heritage, altitude lakes, ...) - Full-Day.

VIA FERRRATA - plateau d'Assy
Beautiful air balcony overlooking the Mont Blanc!

ADVENTURE TREE PARK Les Gaillands
The greatest tree adventure park in the Chamonix valley, at the foot of Mont-Blanc ! Over 3 hours of thrill and leughters for the entire family.
Enjoy the beauty of 'Les Gaillands' lake and live the unforgettable experience !
PITCHOUN + : A new run for the youngest (1.1m to 1.30m) with 13 new elements adapted to kids : monkey bridge, pirate net, flea jumps...

KIDS PROGRAM from 3 to 17 years old
Fun outdoor activities adapted to children age : nature discovery hikes, white water rafting, rock and ice-climbing, donkey riding, hikes and playtime with
sleigh dogs, treasure hunts, mountain biking, white water canyoning, adventure tree course, zipline… and more to enjoy!

PARAGLIDING
Discover the Chamonix Valley from the sky facing the Mont Blanc Range... about 20mn in the air enjoying a fantastic panorama!
Rates
Summer 2020

ROCK CLIMBING
Chamonix valley & Argentière
Adults and kids group from 5 years old
• 3h climbing course - all levels – Every day from 8.45am until 11.45 and from 2.45pm until 5.45 : 1 session = 47€ - 6 sessions = 246€
• 2h climbing course for kids under 10 years old – beginners only – every day from 12 until 2pm only in Les Gailands - Chamonix : 1 session = 32€

SPIDER KID : Un brand new fun program for kids under 12! Rock climbing will be a recreational activity with games & fun workshops on the cliff.

RAFTING
- Arve River - Discovery - Chamonix : 43€
- Dora Baltéa - Active - Italy : from 98€ for half day

CANYONING
- Barberine - Discovery - Chamonix : 69€ for half day
- Chalamy - Active - Italy : 112€ for the day

KIDS PROGRAM
PIOU PIOU from 3 to 7 years old : from 66€ per day including lunch
KIDS from 8 to 12 years old : from 73€ per day (picnic not included)
TEENAGER from 13 to 17 years old : from 96€ per day (picnic not included)

MOUNTAIN BIKING
Group formula on half-day basis : 72 € (bike rental & helmet included)
Private formula : 185 € on half-day basis & 290 € on full-day basis (bike rental not included) based on a group from 1 to 6 people.

EBIKE - electric mountain bike session
Group formula on half-day basis : 125 € (bike rental & helmet included)
'MUST DO' WITH FRIENDS : Ebike 'Tour du Mont Blanc' - 2 trips from initiation to expert riders.

HIKING
Group formula on full-day basis : day-hike = 30€
Private Formula : 135 € on half-day basis & 225 € on full-day basis (based on a group from 1 to 10 people per hiking guide).

VIA FERRRATA des Evettes - Chamonix / La Flégère
With incredible views on the Mont Blanc range!
½ day - Price 105€ Including lift tickets & technical equiment.

ACCRO PARK Les Gaillands - 3h of activity
More than 120 fun workshops in the trees!! For adults & kids.
PITCHOUN + : A new run for the youngest (1.1m to 1.30m) with 13 new elements adapted to kids : monkey bridge, pirate net, flea jumps... and 2 ziplines of 25m!
Adult : 27€
Junior : 24€
Kids : 19€
Pitchoun : 12€

PARAGLIDING
From 110€ the flight
Location
Compagnie des Guides OUTDOOR - JUNIORS
Maison de la Montagne
74400 Chamonix-Mont-Blanc