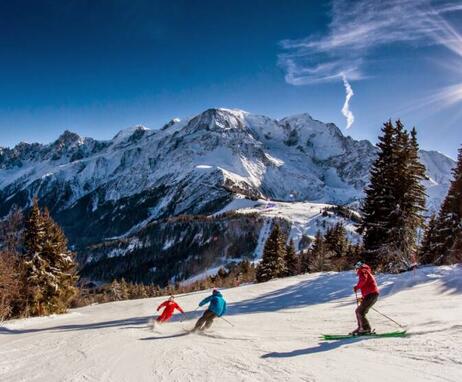 French Ski school
in Les Houches
Presentation
Further information
Les Houches ESF offers night skiing lessons on the Tourchet slope
during the holidays
Today more than 125 instructors in 2 offices in Les Houches are at your service.
Passionate about their profession, our state-qualified professionals teach adults and children all the current winter sports disciplines: skiing, snowboarding, telemark, cross-country skiing, sit-skiing...
In order to meet an increasingly diversified demand, our instructors speak several languages: English, Italian, Spanish, German, Portuguese, Russian.

We also offer support and equipment adapted to the needs of disabled people.

Guides also supervise snowshoe outings.

In collaboration with the Chavants daycare center, all-inclusive ski and daycare packages, full day, half day, with or without meals are possible for the youngest.

SKI + DAYCARE PACKAGES FOR CHILDREN FROM 3 TO 12 YEARS OLD 6 DAYS
CONSECUTIVE (Sunday to Friday)
- CROCSKI : half day ski lessons + meal
- SNOWBALL : half-day ski lessons + meal + daycare
- BOULISKI : morning ski lessons + meal + afternoon ski lessons.
Opening dates
From 13/09 to 23/10/2022, every Monday and Thursday between 9 am and 12 pm.
Phone reception only.

From 24/10/2022 to 10/04/2023
Opening hours on Monday, Tuesday, Wednesday, Thursday and Friday between 9 am and 12 pm.
Closed Saturday and Sunday.
Telephone and physical reception at the prarion office.
Location
French Ski school
108 pl du Prarion
74310 Les Houches
Office located in front of the cable car Prarion.
Nearest bus stop: Prarion
Nearest train station: Viaduc Sainte Marie (stop on request)
Nearest car park: Les Chavants.