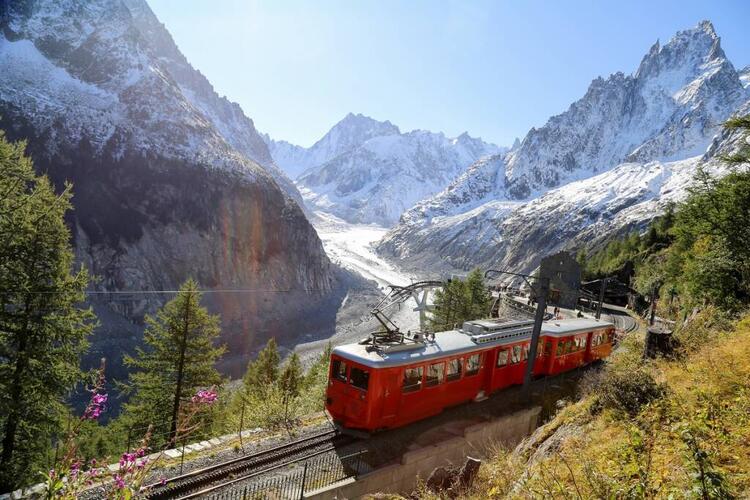 Mer de Glace
in Chamonix-Mont-Blanc
Presentation
Formed by the confluence of the Leschaux and Géant Glaciers, the Mer de Glace is France's biggest glacier: 7 km long, surface area 40 km2, 200 m thick, altitude 1913 m.
Soak up the atmosphere of the high mountains while admiring the Drus (3754m) and Grandes Jorasses (4208m), two legendary peaks whose faces have been the theatre of innumerable feats of mountaineering.
In 1741, the Englishmen Windham and Pocock scoffed at local superstitions and became the first people to visit Chamonix's famous "glacières", then thought to be the home of demons. Despite the locals' morbid predictions, they came back alive and provided the first description of what they named the "Mer de Glace".
1880 saw the inauguration of the Grand Hôtel du Montenvers, at an altitude of 1913m. At this time, mules and sedan chairs were used to bring tourists to the Mer de Glace. Then, in 1892 a project to build a railway to Montenvers was launched. Despite fierce opposition from the people of Chamonix, who were afraid it would change their valley and take away jobs from the guides and mule drivers, on 9th August 1908 the line opened as far as "Caillet".
Today, the rack-and-pinion railway continues all the way to the foot of the Mer de Glace, from where the glacier is reached by a cable car (5 min) that connects with the train service or by walking down an easy trail (45-min round trip). You can also visit (entry included in the train ticket) the "Grotte de Glace", an ice cave cut into the glacier, the museum of alpine wildlife and the Crystal Gallery.
Location
Mer de Glace

74400 Chamonix-Mont-Blanc