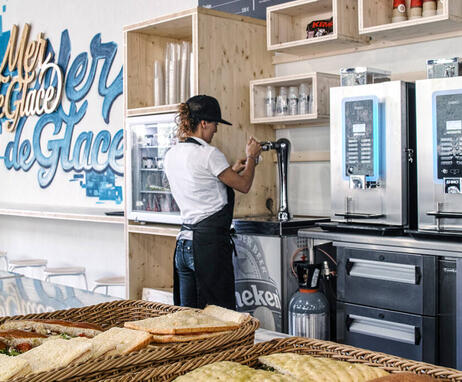 Bar des glaciers - Coffee Shop
in Chamonix-Mont-Blanc
Presentation
The Montenvers hikers and skiers of the Vallée Blanche can stop at The Bar des Glaciers, located at the arrival station of the Montenvers train, where snacks prepared with fresh, ingredients are proposed at any time of day.
Whether you want to cool off after a ski run of the Vallée Blanche or for a boost of strength after a long hike... a stop at the Bar des Glaciers is a must before returning to Chamonix! At any hour of the day, enjoy our sandwiches reliving the highlights of your excursion, go for our quiche of the day or enjoy the traditional genépi while awaiting the famous red train. At teatime, discover our coffee menu, hot chocolates and teas, accompanied by muffins, cookies or sweet tarts, you've earned it!
Opening dates
All year round, daily.
The Coffee shop is open at the same time as the Montenvers train.
Location
Bar des glaciers - Coffee Shop
Site du Montenvers - gare d'arrivée
74400 Chamonix-Mont-Blanc