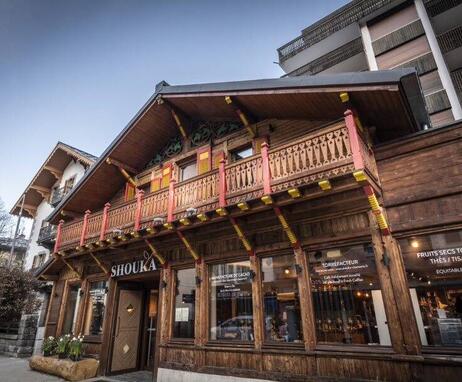 Shoukâ - Torréfacteur d'altitude
in Chamonix-Mont-Blanc
Presentation
Shoukâ is a cocoa and coffee factory located at 206 rue du Dr Paccard in Chamonix-Mont-Blanc in Haute-Savoie.
Set in the former chalet that housed "Le Choucas", an iconic bar from the 70's and 80's, this new brand has brought a breath of fresh air to the valley since its opening in February 2021, offering a range chocolate and coffee "made in Chamonix".

Originally from the Brittany region, Nathalie and Christian Duperrier have trained in the craft of chocolate making and coffee roasting before getting settled at the foot of the Mont-Blanc and to open France's very first "bean-to-bar" double roasting concept.

Carefully selected from small producers from all over the world, cocoa beans and coffee beans are processed on site. A visit of the chocolate factory is available in the store's lower floor, allowing enthusiasts and individuals to learn and be immersed in the different steps and processes involved in the manufacturing of Shoukâ's chocolate, made without any knd of additive, soy lecithin or preservatives. At the entrance of the establishment, guests may observe the process of coffee roasting.

The mod'bar is inviting you to taste the specialty coffee and a state-of-the-art store showcases a range of exquisite chocolates. An outdoor tea terrasse will open soon.
Opening dates
Every day throughout the year between 8 am and 7 pm.
Location
Shoukâ - Torréfacteur d'altitude
Shoukâ - Torréfacteur d'altitude
206 rue du Docteur Paccard
74400 Chamonix-Mont-Blanc