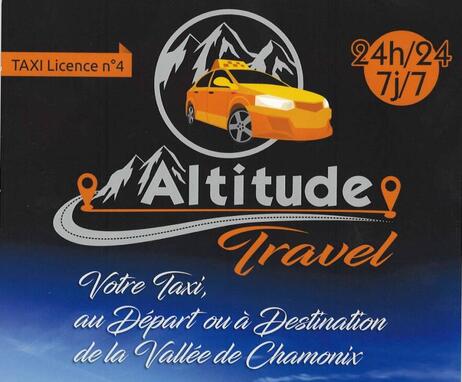 Altitude Travel
in Chamonix-Mont-Blanc
Presentation
Altitude Travel is a personalized transport company, but also a medicalized vsl cab. located in Chamonix Mont Blanc, in the heart of the Alps, with license n°4.
To and from the Chamonix valley to France and Europe,
we provide 7/7 and 24/24 transportation for all your needs, whether for stations, ski resorts, VIPs, shopping trips or personal travel.

We have 2 air-conditioned vehicles for up to 8 people each and 1 berling vehicle.

TAXI / VTC
All-distance transport in France and abroad
Altitude Travel provides all types of transportation in France and abroad. We are at your disposal to meet your requirements, whether for personal or business travel, with the promise of personalized, top-of-the-range service.

We offer a price list for the most frequent routes to and from Chamonix, to Switzerland and to Italy. For all other routes, please contact us for a customized quote.

TRANSFER
Airport, TGV station and ski resort transfers
Altitude Travel takes care of all your transportation needs to and from airports, train stations and ski resorts.

We offer a quality service to welcome you as soon as you arrive at the airport or train station: welcome on disembarking from the train for the elderly or people with reduced mobility, help with transporting and loading luggage, waiting even if the train or plane is delayed, and much more besides.

As soon as you arrive at the station or airport, Altitude Travel will pick you up and take you to your vacation destination, mainly the Chamonix ski resort or the one of your choice. Our vehicles are suitable for transporting bulky luggage and skis.

Let us drive you to your destination!

MEDICAL TRANSPORT
Seated medical transport
Altitude Travel is at your service to transport you to hospitals, clinics, specialists, medical homes, rehabilitation centers and specialized medical centers for adults and children.

As an approved VSL cab service in Haute-Savoie, we provide you with a personalized, attentive service, including accompaniment, assistance with walking, administrative formalities, and the setting up of Tiers Payant with your approved mutual insurance company.

Our vehicles have been meticulously selected to provide all the comfort our customers need during their journeys.
Location
Altitude Travel
261 Route du Tremplin
74400 Chamonix-Mont-Blanc