Paraglading in Chamonix Valley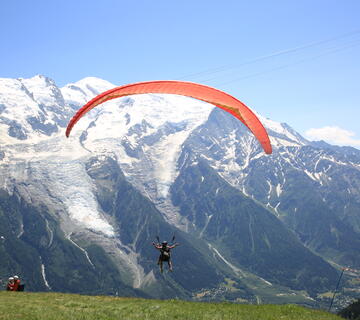 © - Planpraz parapente
Take to the skies at Mont Blanc!
Imagine yourself standing at the top of a ridge, ready to defy the laws of gravity. You feel the excitement building as you don your harness and adjust your helmet. The cool wind caresses your face as you take in the breathtaking scenery before you.
Paragliding is the activity that will make those dreams come true.
Even if you're a beginner with limited experience, you'll be able to enjoy sensational flights in complete safety. Chamonix offers a magical environment where you can learn all the secrets of free flight.
Whether you want to take a tandem flight accompanied by a qualified pilot and admire the Alps from a new angle, or prefer to take a course at a paragliding school in Chamonix, all the options are available to you for an unforgettable experience.