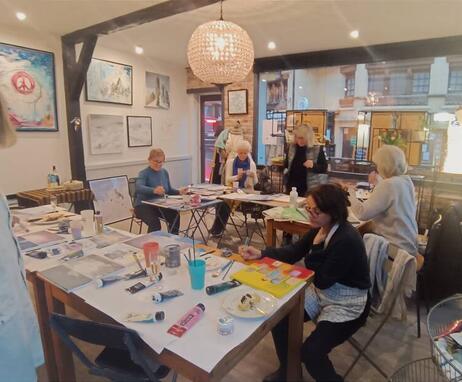 CHAMONIX ART'S-COOL – CAT KARTAL
in Les Houches
Presentation
Chamonix Art's-Cool organizes artistic activities, drawing and painting, all year long. In winter, in a very pleasant artist's studio in the village of Les Houches.
What age?
- In winter, for adults and teenagers. The art&nature courses for the youngest take place in summer and
autumn.
Which public ?
- All the curious, artists, creative, beginners or confirmed.
What activities in winter?
Various and varied workshops, to allow you to give free rein to your creativity and introduce you to new
and introduce you to new painting and drawing practices. Above all, many fun "workshops" of half a day
of half a day allowing you to enjoy the present moment for an afternoon in a beautiful
welcoming workshop.
The activities are collective, never more than 10.
- Seminars and private events ?
Possibility to organize private and/or professional events (family, workshops of cohesion,
seminars, birthdays).
Possibility of private lessons.
Our philosophy ?
- A playful, caring and positive approach, for both children and adults.
Languages spoken ? French and English fluently spoken.
And at the origin ?
- Created and animated by Cat Kartal, artist-painter in the valley for many years, graduate of the
from the Ecole du Louvre, trained at the workshops of the city of Paris and Grande Chaumière.
- Address : Route des Trabets, in front of the Bellevue cable car departure, 74310 Les Houches, 5 mn drive from Chamonix
5 mn drive from Chamonix.
Location
CHAMONIX ART'S-COOL – CAT KARTAL
102 Route des trabbets
74310 Les Houches