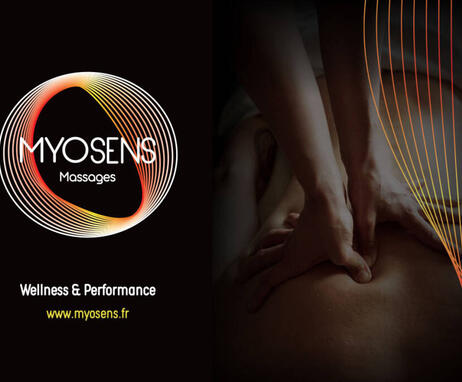 Myosens Massages
in Chamonix-Mont-Blanc
Presentation
Based on well-being and performance, you will receive a quality massage combining sports recovery techniques and relaxation.
Specially trained to accompany you in muscle recovery, I offer a range of relaxing and sporty massages, which will allow you to release your tensions, boost your energy and relieve neuro-musculo-articular pain.

Sports & Recovery Massage

This structured massage uses fully optimized techniques to enhance physical recuperation and the efficient elimination of toxins, in the interest of offering you physiological relaxation. The practice of slow and deep gestures on well-defined muscular paths will soften fascias, muscles and dissolve tensions and stiffness with precision.
Very popular with sportsmen and women for a well-being at the service of performance.

Well-being & Relaxing Massage

Enveloping, deep or light, relaxing or invigorating depending on the intensity and rhythm of the maneuvers, Swedish massage releases muscle tension and soothes the mind. This customization provides a complete massage, entirely personalized to your needs.
This session will bring you the optimal benefits for a relaxation of body and mind.
Location
Myosens Massages
A domicile dans toute la Vallée de Chamonix-Mont-Blanc
74400 Chamonix-Mont-Blanc
-Mobile Massage Service :
Home / hotel / place of residence

-Appointment in a Treatment Room:
Well-being area - Les Houches