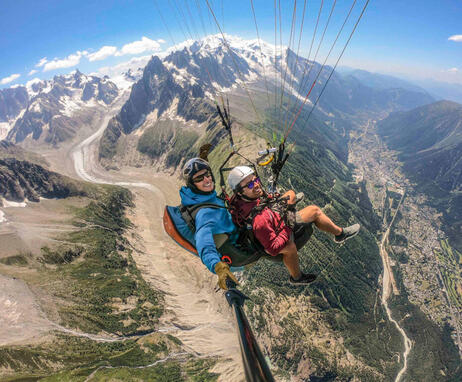 Alpwind
in Chamonix-Mont-Blanc
Presentation
The passion of flight! With a strong experience in free flight developed in Annecy and Chamonix, the AlpWind school opens its initiation courses to paragliding, mountain flying and cross country flying.
Take advantage of our experience to discover the Chamonix valley from the sky during a tandem flight!

We can make you discover the joys of paragliding during a tandem discovery flight (about 20mn), but also an aerial hike (45mn to 1h flight), or a high mountain flight from the Aiguille du Midi !

AlpWind is a team of pilots passionate about mountain flying, sharing and adventure.
In addition to the regular team, you will find specialists in our teaching fields: Antoine Girard (flight-bivouac), etc.

Our philosophy ? The best quality of paragliding teaching. The courses, optimized in small groups, ensure conviviality and allow the students to progress in serenity, at their own pace, in order to quickly find autonomy.

Our priority? To train responsible pilots, aware of their abilities, so that they enjoy their flights and have maximum pleasure under their wing.

Light is Right!
AlpWind is a group of instructors specialized in Thermal Flight as well as in Rando Flight, Mountain Flight or Bivouac Flight. We are also professionals in paragliding training under Monosurfaces wings.

That's why lightness, Hike and Fly programs are clearly in the school's genes!
We have a fleet of wings, harnesses and parachutes of last generation, in new condition

For everyone
Whether you are a beginner or an experienced pilot, alone or in a group, we offer you a schedule of paragliding outings "à la carte" as well as specific training courses such as the Brevet, mountain flying or advanced piloting.

The school is certified EFVL (Ecole Française de Vol Libre), within the FFVL (Fédération Française de Vol Libre).

The big adventure
But AlpWind is also highly qualified instructors, able to help you prepare and realize your dreams of performance, whether it is cross country, high altitude flight or expeditions. We can offer you new adventures such as the Grande Traversée des Alpes, or a training module to prepare you for long-distance trips.
Curious about nature, thirsty for other horizons, we also organize, during the fall and winter, paragliding trips. They are declined according to two themes: the adventure-exploration trip and the discovery-tourism trip.
So, strap on your harness and embark with AlpWind as the wind blows!
Location
Alpwind
Télécabine de Planpraz
115 Chemin de la source de l'Arveyron
74400 Chamonix-Mont-Blanc