Girl Power : women in mountaineering across the centuries
Publié le 22/11/2021
Claire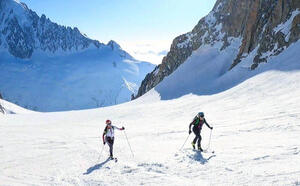 © - Chamonix-Zermatt Valentine Fabre et Hillary Gerardi
"She doesn't sleep, she doesn't eat and she walks like the devil"
This spring, two Chamonix ladies, Valentine Fabre and Hillary Gerardi ran and skied the famous Chamonix to Zermatt Haute Route in just 26 hours and 21 minutes...
They set on foot from Chamonix church at 2pm on Saturday 3rd April 2021 and arrived in Zermatt the following day at 4,21pm, having covered a distance of 107km and 8,100m of positive elevation! They go down in history as being the first women to make this non-stop high-mountain traverse and were guests of honour at the Festival "Montagne en Scène" in Paris last week. Their film, produced by Ben Tibbets and Jake Holland, will be presented at "Montagne en Scène" in Chamonix on the 13th December 2021.
What was their motivation? A dream, a personal challenge, a tribute...
Alongside their international sporting careers, both girls are also committed professionals. Valentine is an emergency doctor with the French military, and Hillary is a staff member of CREA Mont-Blanc . If they have chosen Chamonix as their home, it is not just for the scenery!
Impossible to speak of remarkable female achievements without paying tribute to the first pioneers, who's greatest challenge was to shed the shackles of convention!
In 1838, French countess Henriette d'Angeville was the first woman to climb Mont Blanc of her own volition, some 52 years after the first ascent in 1786. She designed and wore a self-made 7kg outfit that included socially frowned upon knickerbocker pants! She completed the climb "unaided" (not carried) at the age of 44 years and her climbing career continued into her late sixties.
In her narrative of the climb, Henriette d'Angeville declared that mountaineering lacked a "feminine stamp" and encouraged her successors to be audacious.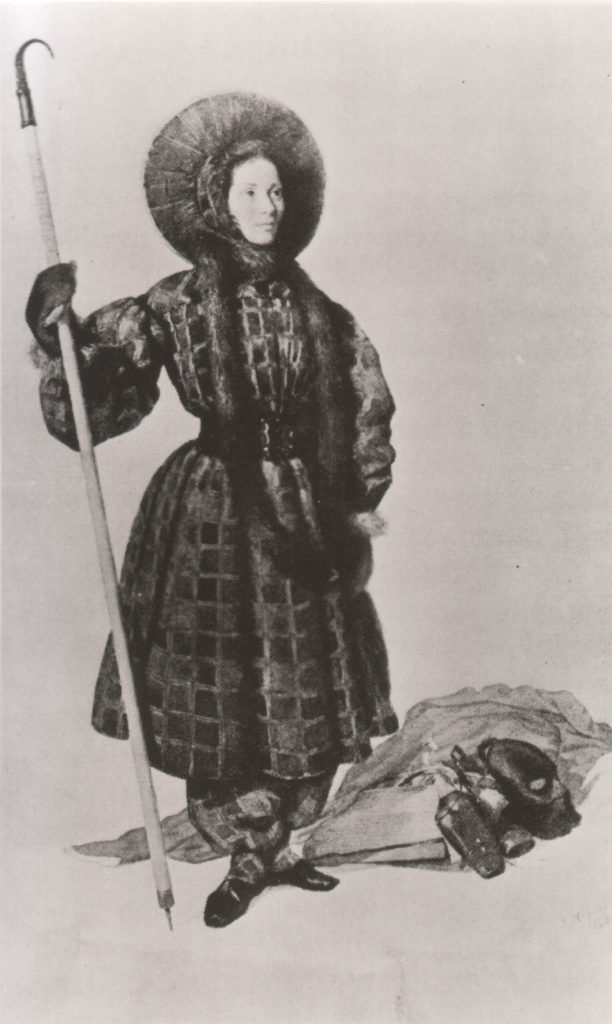 Many of Henriette's successors emerged from Victorian Britain during the Golden Age of Alpinism (1860's), even though the general opinion was that physical activity was dangerous and inappropriate for women. Girls were educated to reserve their delicate health for the express purpose of birthing healthy children. By the end of the 19th century the view had evolved, but only moderately:
Ladies may engage in sports if they do so in a graceful, ladylike and "uncompetitive" fashion.
Young women like Lucy Walker (Verte, Lyskamm, Matterhorn), Meta Brevoort (Grandes Jorasses, Dent Blanche, Meije centrale, Matterhorn traverse in 1871), Margaret Anne Jackson ( Drus traverse, Grands Charmoz), Isabella Straton (first winter ascent of Mont Blanc, Dom, Viso), Elisabeth Le Blond (Géant, Écrins, Meije, Bernina), Katherine Richardson (Piz Palü, traverse Bionnassay-Goûter, la Meije in 1888). ) Lily Bristow (Grepon, guideless in 1895 ) were the rare exceptions that paved the way for future generations of women mountaineers.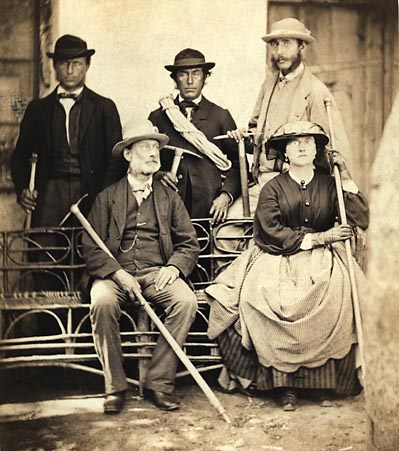 In 1871, 35-year-old British mountaineer Lucy Walker made climbing history. Six years after her compatriot Edward Whymper, she reached the peak of the iconic Matterhorn. She started the ascent wearing a long flannel skirt, with trousers underneath, in keeping with the morals of the day. According to legend, she took off her skirt once she started climbing.
At the time, it was unthinkable for women to wear trousers; they were expected to explore the Alps in crinoline dresses!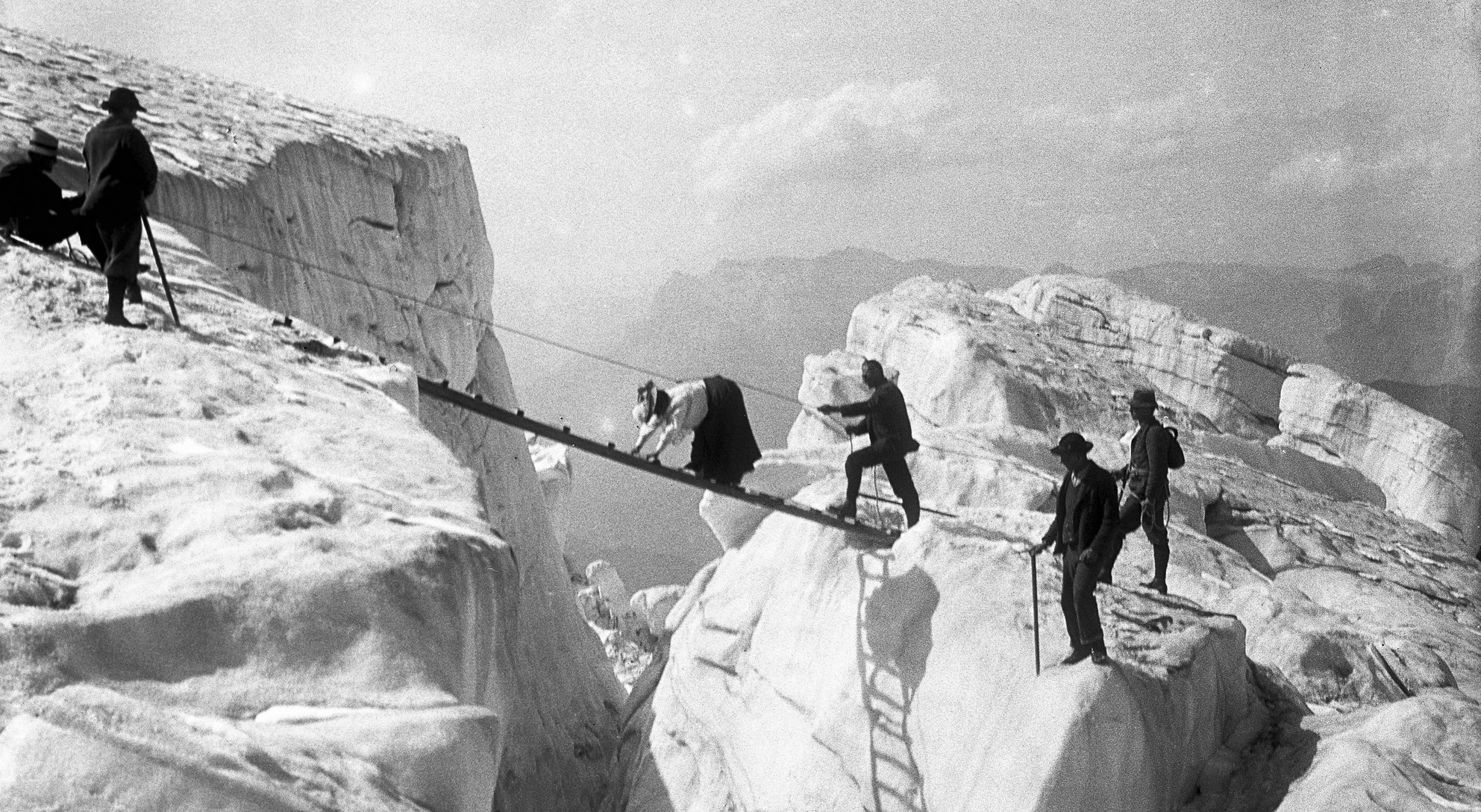 Isabella Straton was an advocate for women's rights and an early supporter of the women's suffrage movement in Britain. She first visited Chamonix in the 1860s and made many subsequent trips to the Alps and the Pyrenees with her climbing friend Emmeline Lewis Loyd. They had no chaperones and climbed with local guides. After making the first winter ascent of Mont-Blanc in January 1876, Isabella totally flaunted conventions when she married her Chamonix guide Jean Charlet.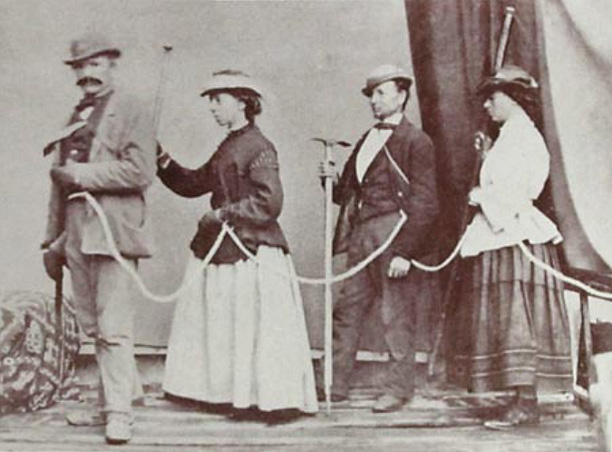 Elisabeth Le Blond founded the women's Alpine Club in London in 1907 because women were not admitted to THE Alpine Club. She was also an accomplished photographer, and the world's first mountain film maker. From the 1880s, Lizzie climbed both summer and winter and, amongst many noteworthy achievements, she made the first winter ascent of the Aiguille du Midi. On one particular climb, having discarded her skirt beneath a rock for practical purposes, she could no longer find it on the return journey. She sent her guide to the village to bring her another skirt and he duly came back with her best evening dress!
As opposed to the British and Swiss Alpine Clubs, the French Alpine Club, founded in 1874, took a more democratic approach and admitted women right from the beginning. However, this was on condition that they only engaged in gentle excursions and were chaperoned by a male family member.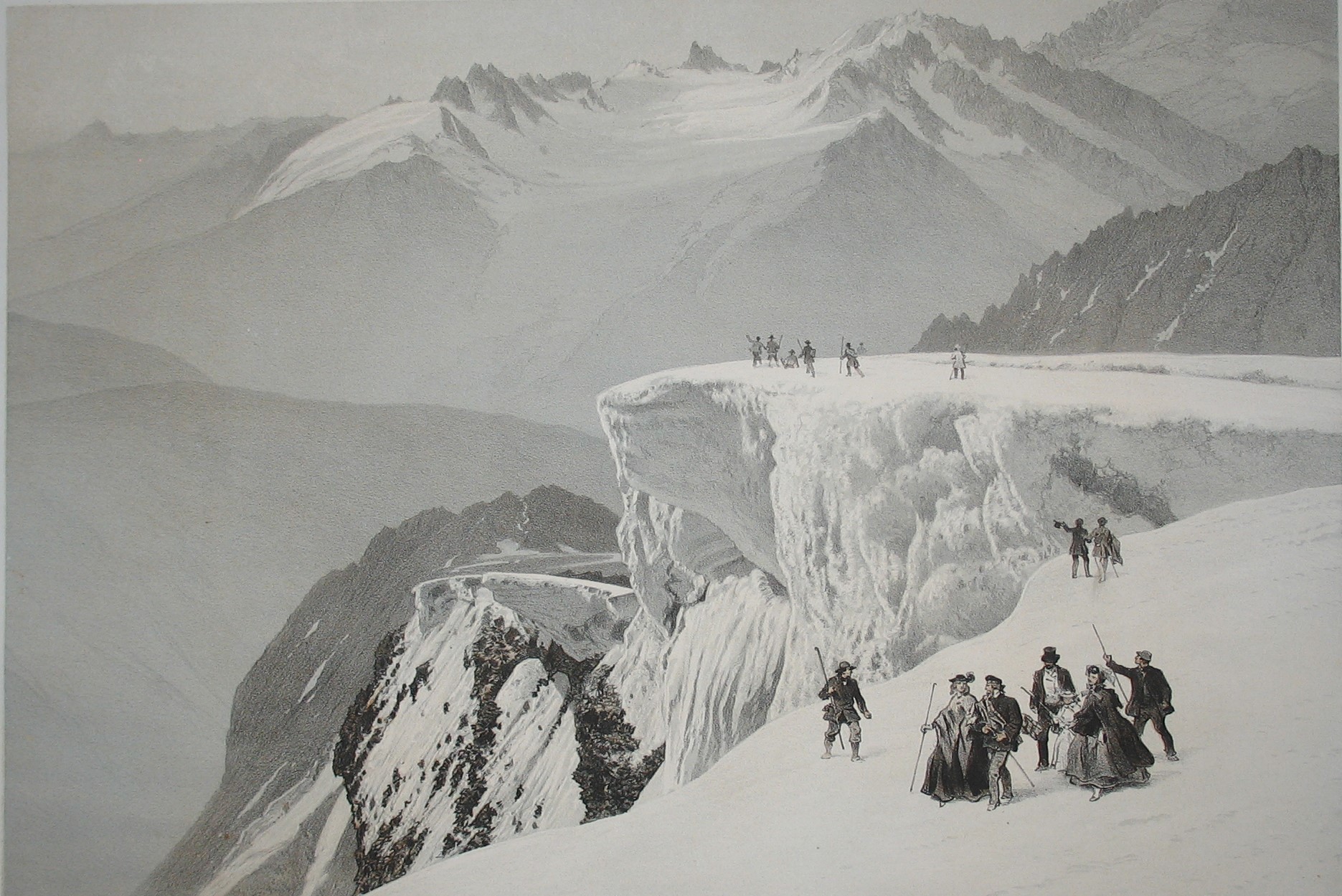 The French alpinist Marie (Mary) Paillon did not heed these recommendations and was an advocate of mountaineering without men and without guides. In 1888 she met the English alpinist Katharine Richardson on the Meige and from then on their climbing careers were intertwined. In 1891 they made the first female ascent of the Méridionale d'Arves, recorded as one of the first manless rope teams in the history of alpinism. Mary Paillon wore breeches, whilst Katharine always climbed in a skirt.
Katherine, also know as Kathleen or Katy was a precursor to today's speed climbers. She began climbing in 1871 and her career spanned three decades and included six first ascents and an additional fourteen first ascents made by a woman. In 1888 she became the first woman to climb the Meige and the same year she made the first ascent of the Aiguille de Bionnassay, the first traverse from the Bionnassay to the Dome du Goûter and the first ascent of the Aiguilles des Charmoz. The following year she made the first traverse from the Petit Dru to the Grand Dru. One of her guides said of her:
"She doesn't sleep, she doesn't eat and she walks like the devil!"
The term "Manless Climbing" was coined by the American, Miriam O'Brien Underhill in the late 1920s. In 1928 she made the all-female ascent of the Grepon with her French climbing partner, Alice Damesme. This manless approach caused controversy and met with the resentment of the alpinist Etienne Bruhl who felt humiliated to have to share this achievement with two women! Oblivious to this insult, Miriam and Alice went on to make the first all-female ascent of the Matterhorn in 1932. Alice Damesme also had a brilliant autonomous mountaineering career and was one of the founding personalities of the GHM (Groupe de Haute-montagne) in 1919.
So from the Grepon to the Matterhorn, from Chamonix to Zermatt, these two American-French rope teams have a lot in common, albeit being a century apart.
HATS OFF TO THE LADIES !