Whympr | a Chamonix-born App for your mountain activities
Publié le 10/08/2023
Informations pratiques
Claire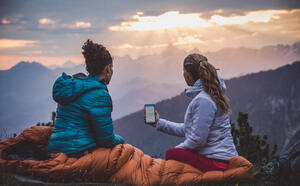 © - Bivouac avec Whympr
The app for outdoor sports enthusiasts
We couldn't resist introducing you to Whympr, a mountain and outdoor app  that  can accompany your adventures. Born at the foot of Mont Blanc, it is a complete and intuitive solution to fully enjoy outdoor activities. Take a look at its numerous features.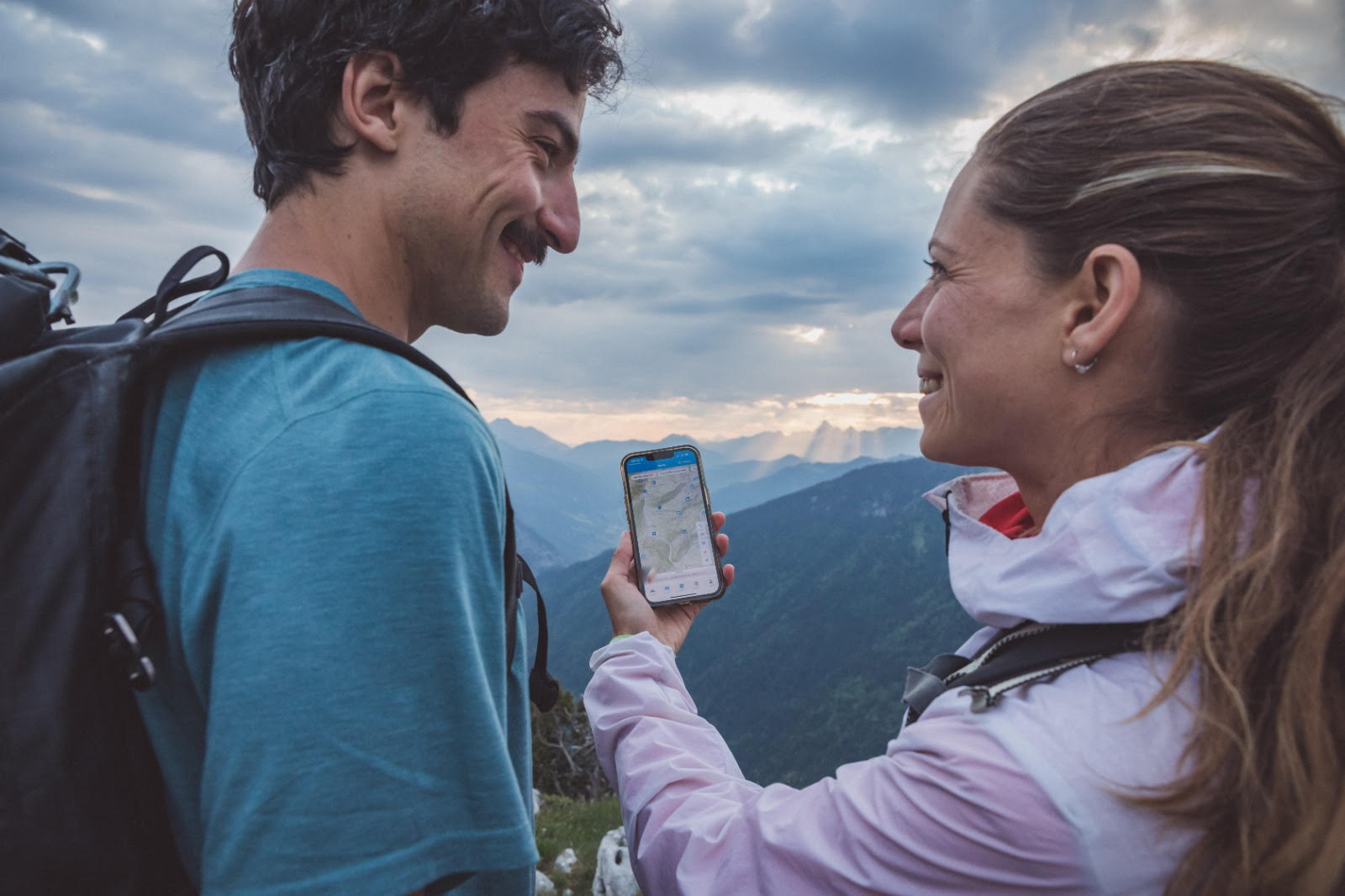 What can you do with Whympr?
Whympr offers essential features to prepare for and share outings.  It can be used in the mountains, in the snow, walking along flat trails, or even during a rocky traverse of a climbing route. Reliable and accurate, even without a signal, it allows you to:
Find 300,000+ route descriptions and points of interest worldwide
Filter by activity (hiking, snowshoeing, climbing, ski touring, mountaineering)
Meet a community of enthusiasts, see their outings, and interact with them
Access all French, Swiss, and American avalanche bulletins (BERA)
Access slope-gradient layers
See where the flora and fauna preservation areas are (and therefore avoid them during outings)
Access 10 national topographic map layers, such as IGN France, SwissTopo, or USGS*
Visualise the different map layers in 3D*
Save specific routes and maps for offline use*
Record your outings*
View all statistics (altitude gain/loss, distance, speed)*
Create and import GPX tracks*
Access your logbook to view your activity statistics and your outings on a map *
Filter by difficulty, grading, duration, elevation gain*
View real-time mountain weather conditions*
View  recent community outings on the map*
Use an augmented-reality peak viewer to identify peaks*
Sync data from Suunto watches*
Buy climbing Pro Topos (guides) written by professionals, available in packs or individually.
*Features accessible by subscribing to Whympr Premium (€14.99 for three months or €24.99 for one year).
 
Born in Chamonix
Chamonix natives Tim MacLean and Xavier Bougouin, the founders of Whympr, are both descendants of the Devouassoud family (six generations of Sonnaillers, bell makers for livestock).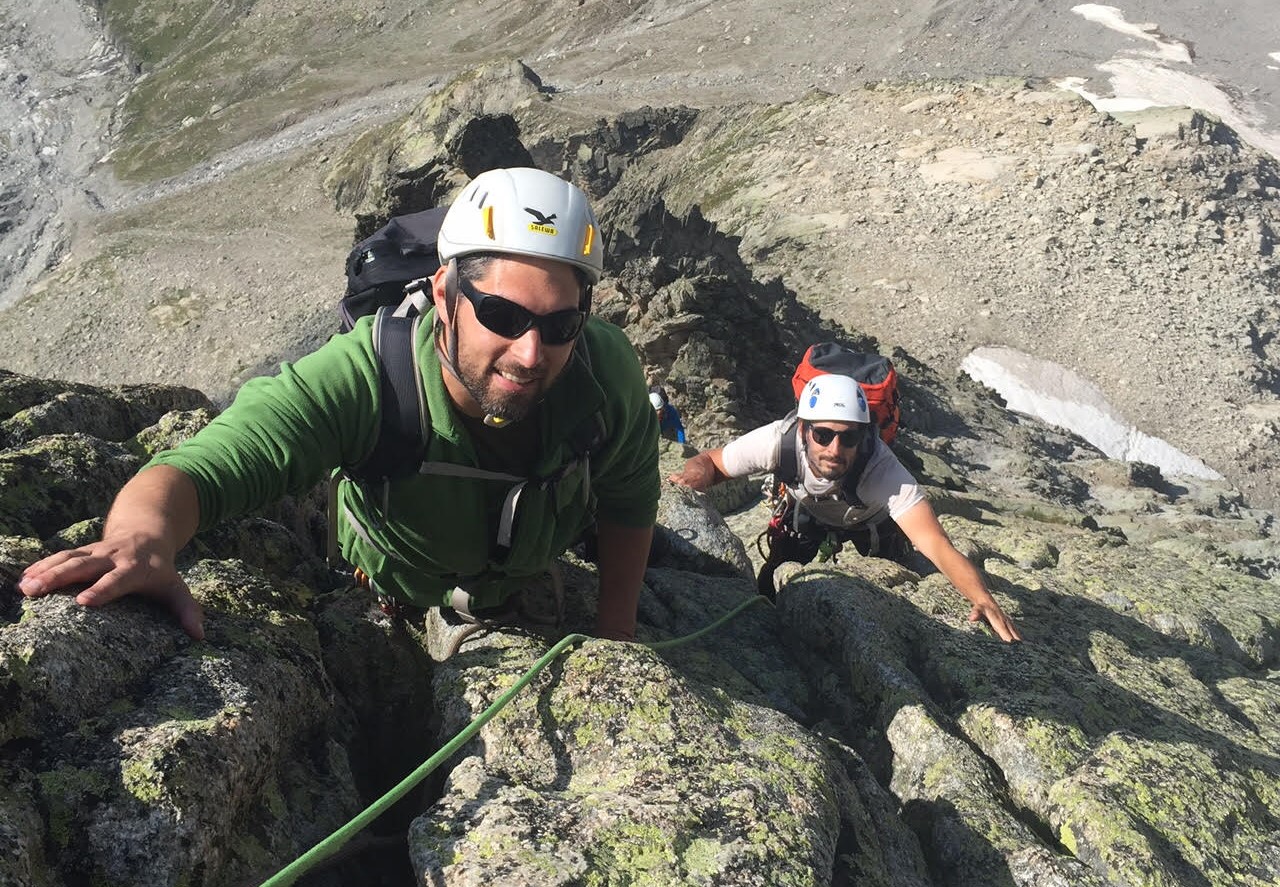 Tim Maclean et Xavier Bougouin
Passionate about the mountains, they couldn't find a mobile app that met their needs for preparing mountain outings. One app had maps, another had weather, another had routes, and yet another had avalanche bulletins. Not very practical. How could all the information be gathered in one app to make life easier? 
The idea for Whympr was born!
Tim and Xavier had mainly worked in the tech industry internationally. Their skills in development, digital design, and marketing (including Tim's ten years  in London with Apple) led them to create an intuitive and high-performing mobile app that could follow them in the mountains in a reliable way.
They founded Whympr in 2017 in Chamonix, heart of the Alps and birthplace of mountaineering.
 
A tribute to Edward Whymper
"The thing to be wished for, is not that the mountains should become easier, but that men become wiser and stronger."
—
Edward Whymper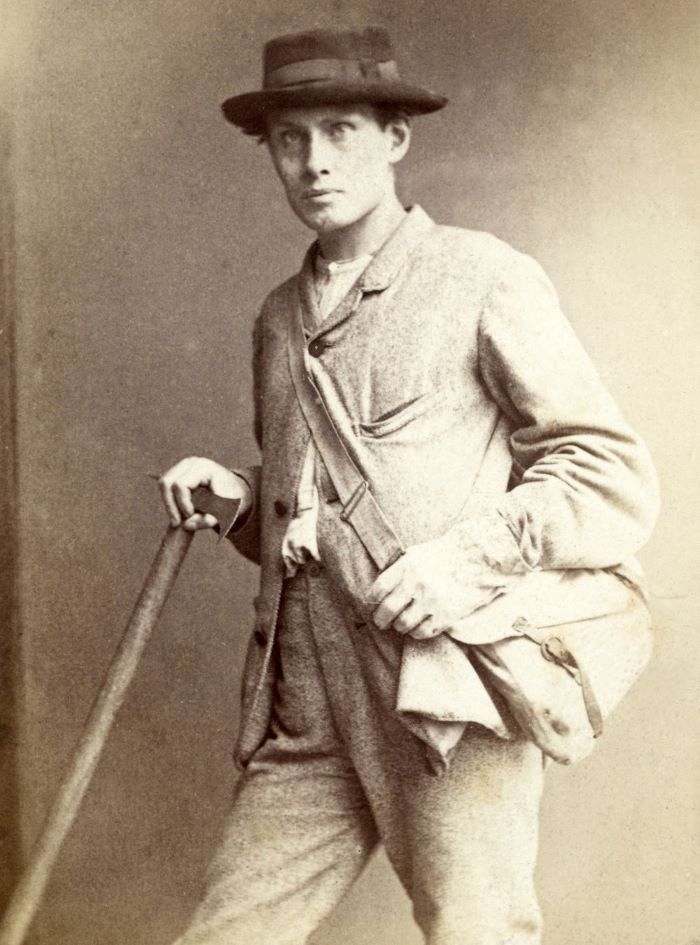 ©The Alpine Club
Edward Whymper (1840-1911) was a British mountaineer and illustrator who spent alot of time in Chamonix, where he is buried.
He represents the crossroads of mountaineering history, between exploration and sports mountaineering. Among his achievements, he made the first ascent of the Matterhorn and the Aiguille Verte. He then went on to undertake multiple expeditions worldwide. His superb illustrations also left their mark on the history of mountaineering.
When Tim MacLean and Xavier Bougouin envisioned their project at the foot of Mont Blanc, the legacy of Edward Whymper was in their minds. This is how they chose the name Whympr (without the E) for their mobile app. The logo also recalls the iconic summit of the Aiguille Verte and the contour lines that every practitioner finds on IGN maps.
International ambitions for Whympr
Alongside Tim and Xavier, there are twenty members of staff. The headquarters are based in Chamonix, and the team is spread throughout France and the world: Chamonix, Grenoble, Chambéry, Lyon, Bordeaux, Paris, Copenhagen, Bucharest, Mayotte, Bali, and even Tokyo!
Whympr can be useful wherever there are mountains although its primary goal is to offer services in the Alps. Being located in the heart of the Alpine massif, Whympr first extends its services to French, Swiss, and Italian users.
The team is currently working on new content and services that will be useful in these regions. A recent addition is the avalanche bulletins of all 149 Swiss zones.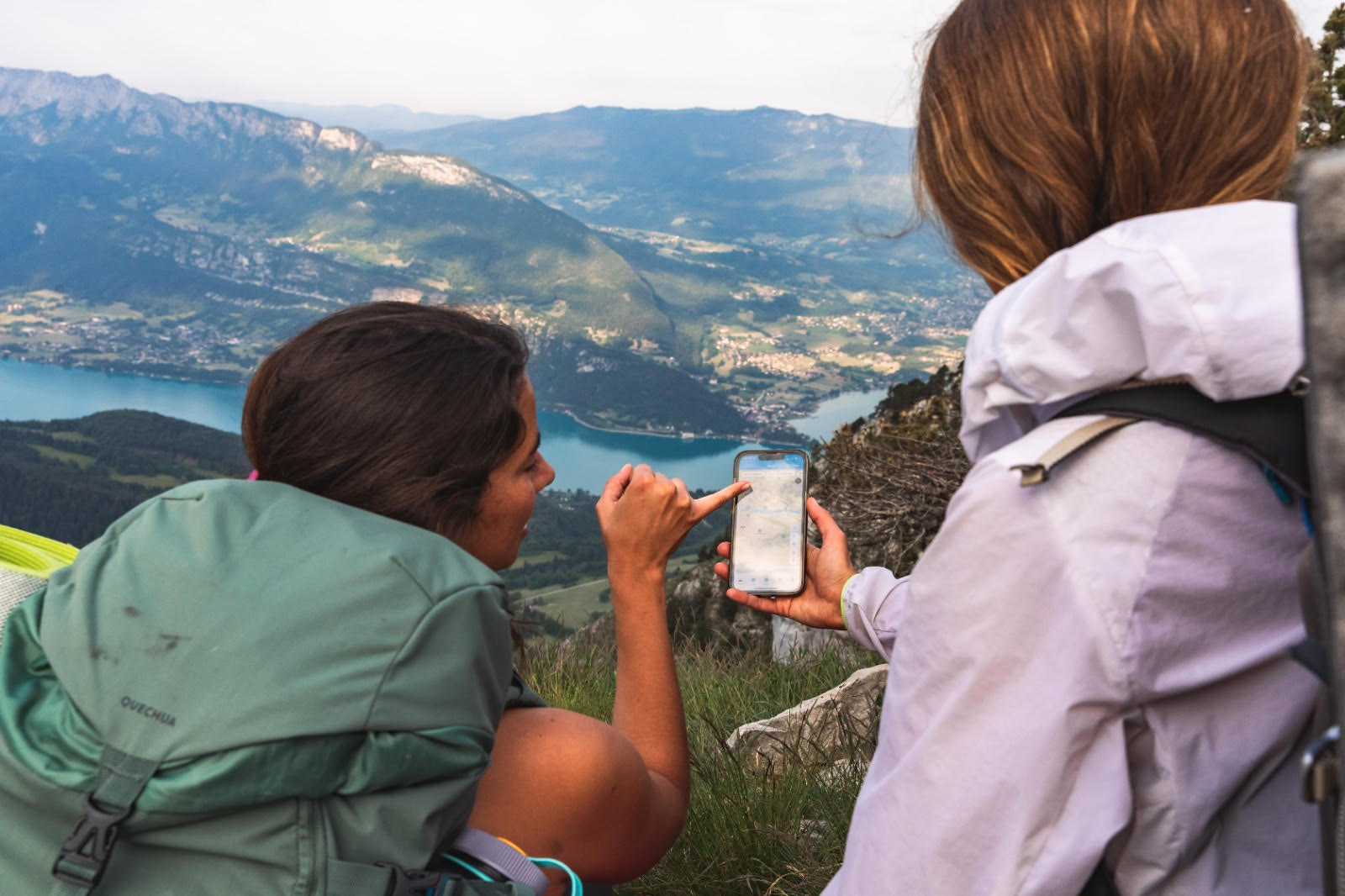 3 suggested walks with Whympr in the Chamonix valley  
You'd like to test Whympr? Perfect, the basic version is free of charge. You can also try the full paid version for a trial period of seven days. After that, you just need to subscribe to Whympr Premium (which costs €24.99 per year) if you want to continue using it in its entirety. 
Download Whympr on iOS and Android
Check-out these three itineraries around Chamonix
Hike to the Loriaz refuge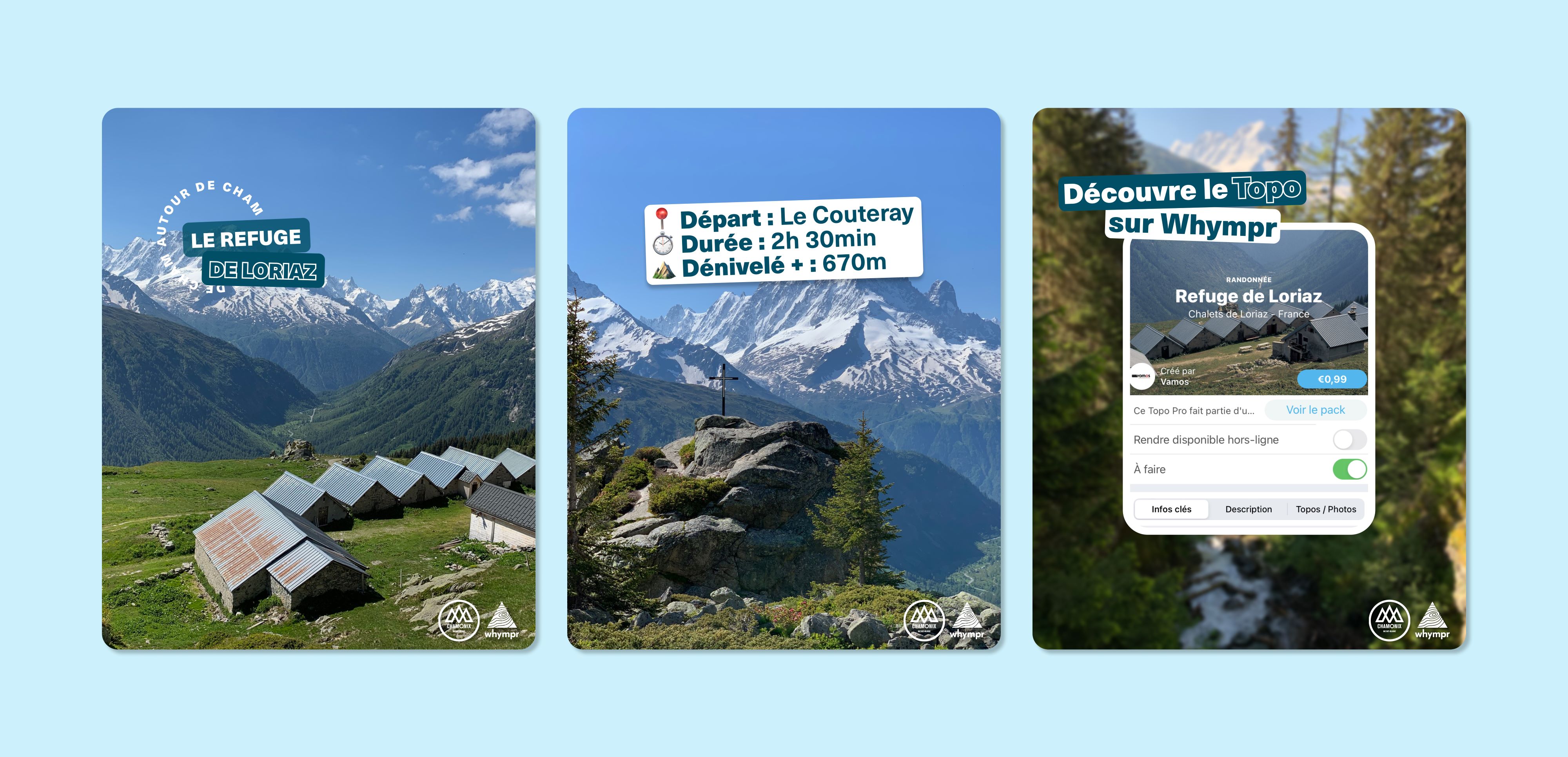 The Loriaz Refuge is a true haven of peace, nestled between Chamonix and the Swiss border. It sits at an altitude of 2020 m, in the heart of the Aiguilles Rouges massif. The exceptional panorama leaves you speechless, with a breathtaking view of the famous Aiguille Verte and the Mont Blanc massif.
Varied fauna and flora accompany visitors throughout the hike, at the end of which they can quench their thirst, eat, and even sleep on-site!
The refuge keepers offer simple and delicious cuisine, with a varied menu of homemade dishes and desserts. A real treat after a day in the mountains.
Our furry friends are welcome, but for the comfort and safety of all hikers, it is important to keep them on a leash in the Loriaz alpine meadow.
Download Whympr to view this Pro Topo and make it available offline! 
Hike to Bellachat refuge
Located at an altitude of 2152 m, the Bellachat Refuge offers a magnificent panorama of the Mont Blanc massif.
The approach hike to the refuge offers a true immersion into the alpine wildlife and flora. Here, marmots and ibex venture among rhododendrons, gentians, cottongrass, and other mountain flowers.
The refuge provides  a well-deserved break to drink and savour a delicious snack facing the majestic Mont Blanc. On the menu: tasty omelettes, soups, cold cuts, cheeses, salads, blueberry tarts...
Don't hesitate to spend a night at the refuge in the company of hikers on the GR5 or the Tour du Mont Blanc!
 
Download Whympr to view this Pro Topo and make it available offline! 
Hike to the Chapeau chalet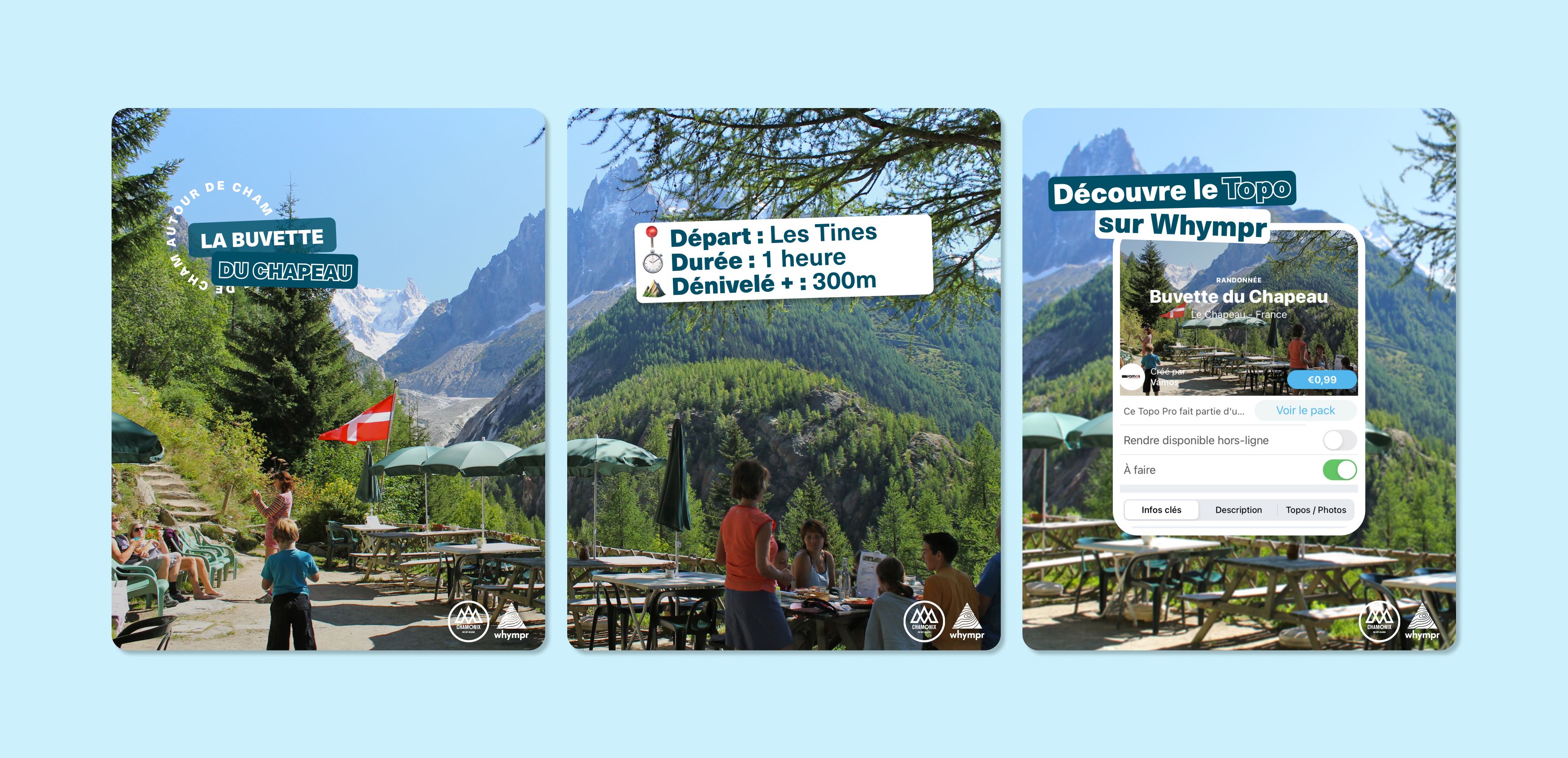 A beautiful hike starting from Les Tines, with a superb view of the Drus and the Chamonix valley guaranteed!
The Buvette du Chapeau is a place steeped in history. In 1855, a refuge was created to welcome mountain enthusiasts and guides crossing the Mer de Glace. Le Chapeau became a most desirable address, rewarding its visitors with  great cuisine and a breathtaking view of the Chamonix valley. It closed in 1953 following a landslide.
In 1954, Gilberte and Luc Couttet took over the concession of the Buvette du Chapeau with the firm intention of redeveloping it near the old chalet, away from landslides. Since then, Le Chapeau has been a family-run buvette (literally, somewhere you can have a drink) where you will find excellent homemade dishes and desserts.
 
Download Whympr to view this Pro Topo and make it available offline! 
IN A NUTSHELL
Whympr is the mountain and outdoor app from Chamonix that accompanies all sports enthusiasts. Thanks to its many practical features, enthusiastic community, and commitment to safety and the environment, Whympr is an essential tool for hikers, climbers, ski tourers, skiers, and mountaineers from around the world.
You'd like to try it out : Download Whympr on iOS and Android