The Famille Plus label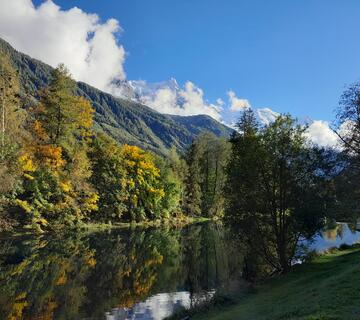 Les Houches resort awarded the Famille Plus label
Three attributes that justify the resort's Famille Plus label:
Its situation: a village resort in Chamonix-Mont-Blanc Valley, looking over at the Mont Blanc Massif.
The array of sporting and recreational activities on offer in a Valley ripe for adventure!
Entertainment for all and holiday clubs for children
Whatever the season, Les Houches resort pulls out all the stops to welcome families and children. Summer or winter, kids can enjoy a fantastic holiday as they discover a range of activities and take their first steps on the slopes.
The "Famille Plus" label is a national initiative and is awarded to French tourist resorts that undertake to offer a personal welcome, activities and entertainment for all ages and at a price everyone can afford, while encouraging professionals to adopt a family-friendly approach. 
Astuce
Looking for some ideas to do with your children?
Our partners offer plenty of family activities!
Les Houches, a family-friendly village in the Valley of Chamonix-Mont-Blanc!
Come and sample the mountain culture!
Les Houches is a village resort in the midst of Chamonix-Mont-Blanc Valley and benefits from an outstanding environment looking over to the Mont Blanc Massif, not far from Switzerland and Italy.

In winter, its reasonable altitude of 1,900 metres makes it accessible to all types of skiers, with a beginners' area highly appreciated by those just starting out on the slopes!

Whatever the season, the landscapes and local heritage offer an unbeatable learning experience for children.

The village has long been keen to offer families an array of specially adapted activities, entertainment and accommodation. With the special facilities of offer, there is everything a family needs for an unforgettable stay in summer or in winter.

So bring your little ones and give them their first taste of adventure and of the thrills to be had on the slopes of Les Houches village resort!
---
In winter…
What can you do in Les Houches when you're little, not so little, or quite grown up?
You can slide down the snowy slopes on a toboggan or skis, or take to the ice rink on skates – perhaps holding on to a cute little penguin if you need help keeping your balance – or you can try your hand at skijoëring, pulled along by a friendly horse.
You can have a snowball fight, try snow-tubing, zip-lining, or have fun with the family at the camper village at the top of the slopes.
You can spot animal footprints in the snow in the unspoilt natural surroundings or look out for the sled dogs.
You can join in the fun activities, shows and games on offer throughout the season.
Or why not sample a slice of blueberry tart or a honey-drizzled crêpe with a delicious cup of hot chocolate for the kids, or a tasty glass of mulled wine for mum and dad?
There's always something to do in the mountains – you'll just love it!
Children's daycare - winter 2023-2024
Les Chavants Children's Club from 3 to 11 years old - 240, allée des Diligences, Les Houches. Phone: +33(0)4 50 54 43 33
CLOSURE OF THE TOURIST DAY CARE CENTRE 2022-2023 SEASON!
This year, due to difficulties in recruiting seasonal staff, the tourist daycare centre will not be able to open its doors.
Download the Winter 2023-2024 brochure here
Download the compulsory registration form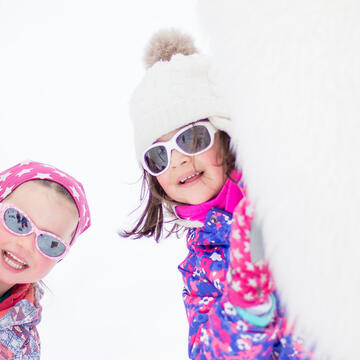 © - Skicamp - Pierre Raphoz
Special offers - Winter 2023
LES HOUCHES SKIDEAL EARLY BOOKING !
New this winter, the Houches-Saint-Gervais ski area is offering dynamic pricing on day passes!
dynamic pricing on day passes!
Customers can buy online, each day, a day ski pass for a specific date, and benefit from a special rate, therefore cheaper than at the cash desk.
day ski pass for a specific date, at a lower price than at the ticket office. The Les
Houches ski pass gives access to the Bellevue cable car, the Prarion cable car and the
Tramway du Mont Blanc.
 
LES HOUCHES SPECIAL BEGINNER'S PACKAGE
50% off the public rate, only available at the ESF office in Prarion or on the
on the ESF Les Houches website. Special packages for beginners
cover a restricted area: Prarion gondola, School chairlift, Mélèzes chairlift
Mélèzes chairlift, conveyor belt.
More information
 
"GLISSE&GLACE" (SNOW&ICE) PASS

18€ 1 half day at the Tourchet ski area (Grand Tourchet), on the day of purchase + 1 entry to the ice skate rink (to be used within the week of purchase - skate rental included)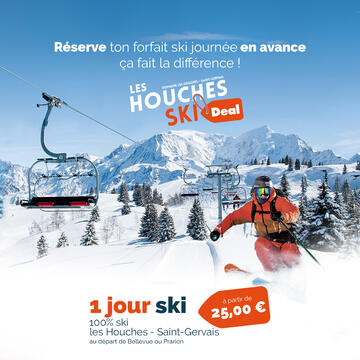 © - leshouches ski deal
Ski in Les Houches
The ski area of ​​Les Houches / Saint Gervais extends from 1000m to 1900m high. An exceptional 360 ° panorama of the Mont Blanc massif is offered from the top of the domain. Tracks in the forest allow you to discover the pleasures of skiing.
Prices, timetables and practical information
For beginners, the Tourchet slopes in the center of the village are perfect for learning to ski!
Prices, timetables and practical information
TRY NIGHT SKIING AT LES HOUCHES 
Every Thursday during the Christmas and February school holidays, Le Tourchet comes alive with
comes alive with snacks, torchlight descents by the ESF and night skiing from
from 5.30pm.
The ESF of Les Houches offers you night skiing lessons on the
Tourchet from 5.30 pm to 7 pm! 
SKI JEUNES-ADOS : SKI TEAM RIDER COURSE
Discover freestyle and freeride!
Experience the pleasures of off-piste skiing, but also learn more about the mountain and its dangers.
Discover how to balance on skis in different types of snow, make your mark in ungroomed snow.
Discovery of the Snowpark, initiation to jumps. Minimum level required: Bronze Star. Helmet and back protection compulsory. Bi-skate skis desired.
I WANT TO DISCOVER THIS OFFER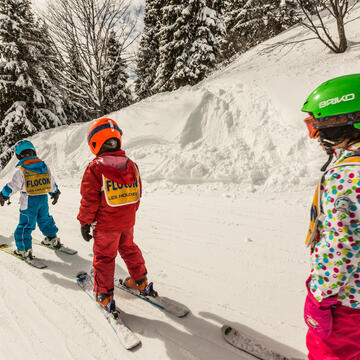 © - Enfants ski aux Houches ©GaëtanHaugeard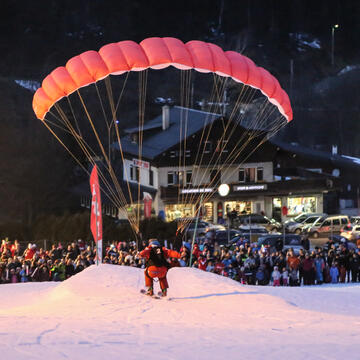 © - Nocturne Tourchet
Events and activities programme - winter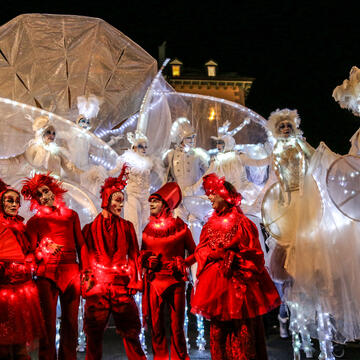 © - déambulation
En été
C'est la grande liberté !

On peut faire de belles randonnées en famille ou avec un professionnel de la montagne, il y en a pour toutes les envies, rando classique, sites naturels, gorges, alpages etc…

Faire du vélo, de l'escalade, pêcher, se baigner à la piscine de Chamonix …
On peut monter dans les téléphériques, télécabines ou tramway à crémaillère  pour atteindre les sommets, et découvrir les glaciers et la haute montagne.

On peut voir et approcher des tas d'animaux de montagne, chamois, bouquetins, cerfs, lamas, marmottes … dans le magnifique Parc animalier de Merlet, faire du cheval au centre équestre du Mont-Blanc, voir de près les troupeaux de nos belles vaches noires.

On peut s'amuser en participant à pleins d'animations, spectacles et jeux proposés toute la saison, déguster de belles parts de tartes aux myrtilles, ou des crêpes au miel accompagnées d'un bon chocolat chaud pour les enfants et d'un bon vin chaud pour papa et maman …
En montagne, on ne s'ennuie jamais, c'est trop cool !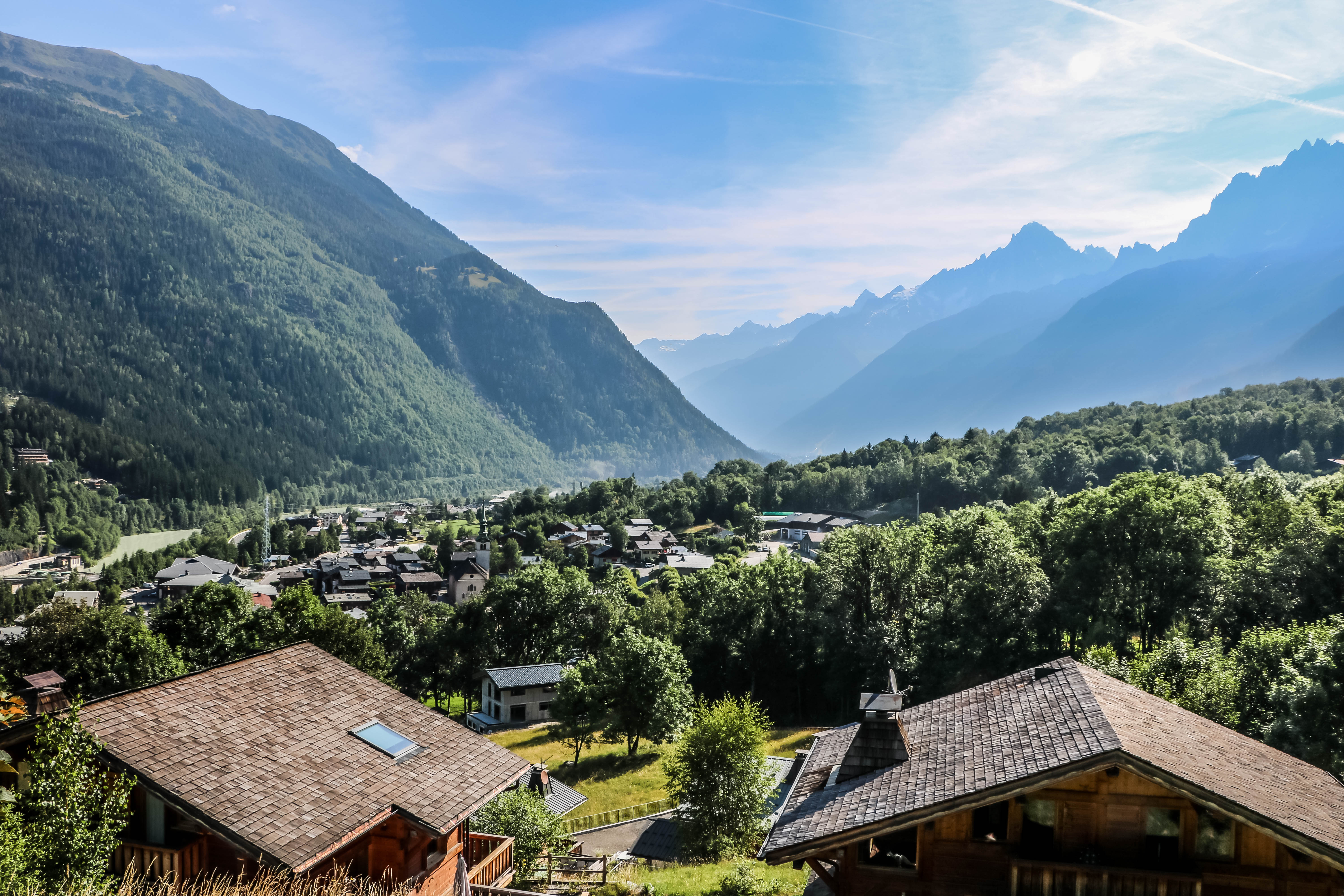 Children's daycare - Summer 2023
Les Chavants Leisure Centre for 3 to 11 year olds - 230 allée des diligences - Les Houches - Tel : 06 08 17 61 16 from Monday to Friday from 8am to 6.30pm
Baby-sitters
List available at the Tourist Office or by clicking here
Nursery assistants
List available at the reception of Les Houches town hall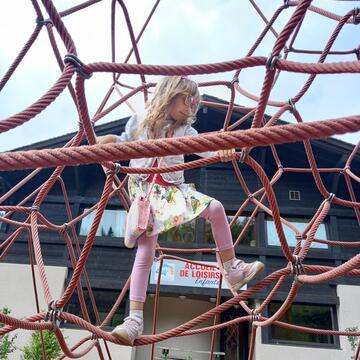 Special offers - Summer 2023
The Compagnie des Guides de Chamonix offers juniors aged 4 to 17 a host of activities and a program adapted to each age.
The "Piou-Piou" 4-7 year olds, "Kids" 8-12 year old, "Ados" 13-17 year old clubs welcome all your children for a very vitamin-packed summer, with a program of climbing, Accro'Park, mountain biking, hiking, treasure hunts, canyoning, via ferrata, cani-rando, ride with donkeys etc... 
Contact : www.chamonix-guides.com / outdoor@chamonix-guides.com
Koalagrimpe - Introduce climbing to your children from 4 years old! Climbing is suitable for all levels and all ages outdoors on the cliffs of the Chamonix valley. A vertical treasure hunt is offered to make learning even more fun!
Contact : www.koalagrimpe.com /  +33(0)6 88 96 78 73
Média librairie Les Houches - Creative workshops and readings: July and August 2022. Discover the programme by clicking here. Different workshops are offered this summer to children and their families. Registration required.
Contact: www.mediatheque-valleedechamonix.fr / biblioleshouches@cc-valleedechamonix.fr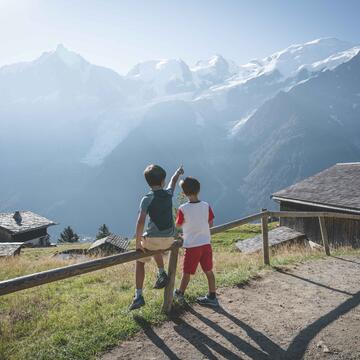 © - Yucca Films
---
Our partners
See the list of our Famille Plus partners in Les Houches.
Sport – activities
Culture and heritage
Restaurants and accommodations
Sports shops
---
Coronavirus Covid-19 Information – Famille Plus Label
Famille Plus is doing all it can to protect the health and safety of families on holiday
Destinations awarded the Famille Plus label have undertaken to offer the best possible welcome for families, in application of the national recommendations from the French Health Ministry in the current health context. Professionals may offer alternatives where it is not possible for them to comply with all measures.  
For more details, please contact the Tourist Office at your Famille Plus destination.
Our pledges
Famille Plus, the benchmark for happy family holidays, wherever you go! You can be sure of a warm welcome at a Famille Plus destination!
6 pledges for welcoming kids and their families:
A personalised welcome for families
Activities adapted for all ages
From the smallest to the eldest, a special price for everyone
Activities for the young and the not-so-young – for time together, or time apart
Shops and services close by
Your kids pampered by our professionals!
Head for the official Famille Plus Label website !
---
Share your views! 
To help us improve the services on offer in the village, tell us what you think using the satisfaction questionnaire !
Your contact
Lore Murguet
Office de Tourisme Vallée de Chamonix Mont-Blanc – BP 9, 74310 Les Houches
Tel : +33 (0)4 50 55 51 71 / P : +33 (0)6 07 65 31 51