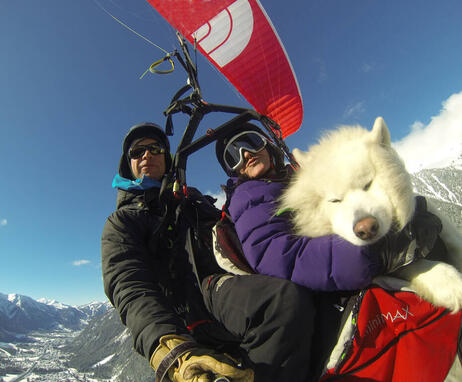 Wing Over Chamonix
in Chamonix-Mont-Blanc
Presentation
Wing over Chamonix is specialized in tandem paragliding in Chamonix!
From 4 years old to 99 years old, alone or in a group, you are
to live an exceptional experience, facing the Mont Blanc, with a professional pilot.

For more than 20 years Olivier has been flying over the most beautiful places on the planet with his paraglider. At more than 7400 meters
altitude in the Himalayas, making one of the highest thermal flights ever in the history of paragliding, or playing
paragliding, or playing over the dunes in the desert in Namibia, the only word of order is passion.

You will take full advantage of your pilot's experience, in a joyful and good mood, to discover the pleasures of tandem paragliding!
of tandem paragliding!

We fully adapt to the wishes of our passengers:

- You want a contemplative flight, an extreme softness, a relaxing atmosphere, no problem!

-If you are a thrill seeker, if you want to turn your head upside down, you have come to the right place!

You will surely meet Saï Saï, the mascot of Wing over Chamonix, the flying dog. Despite his numerous appearances on
television, he still has not got the big head!
Location
Wing Over Chamonix
Magasin Skiset de l'Aiguille du Midi
451 rue du Lyret
74400 Chamonix-Mont-Blanc