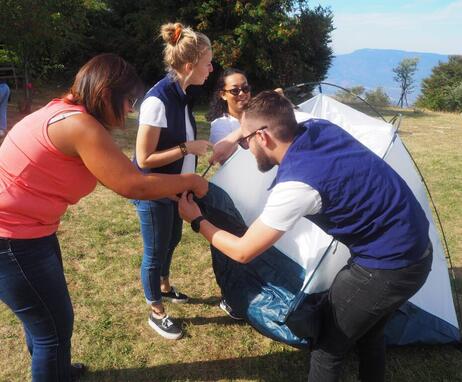 1786 Travel
in Chamonix-Mont-Blanc
Presentation
Why choose us to organize your tailor-made stay in the Alps? A unique history, a human team and strong commitments. Choose your destination and we will take care of the rest!
To help you find your unusual experience in the Alps, we have created Experience Mont Blanc, an online platform where, in just a few clicks, you can book unusual experiences in the Alps.

Match. The digital gateway that offers you a collection of authentic excursions in the Alps.
Book. We put you in touch with our local guides, passionate and experts in their field.
Live. Your unusual experience is just a click away!

We can also help you with your transportation needs. With Transfer Mont Blanc, you'll travel comfortably with our friendly local drivers and our modern, clean vehicles.

Land. From the moment you arrive in the Alps, you can rest easy and leave the driving to us.
Greet. We connect you with our selection of local, friendly and professional drivers.
Reach. Get to your destination in clean, modern and safe vehicles.

If you are looking to create an event in the Alps, Séminaires Mont Blanc is here to help you create a unique event! Team-building activities, unusual evening, work seminar...

Brief. Just after the last meeting, give us the brief of your event project, we relieve your workload.
Follow. We coordinate for you our selection of competent and professional service providers in line with your objectives.
Enjoy. On the spot, all you have to do is enjoy the event you have imagined. Just for once!
Location
1786 Travel
26 rue de l'Eronnais
74400 Chamonix-Mont-Blanc