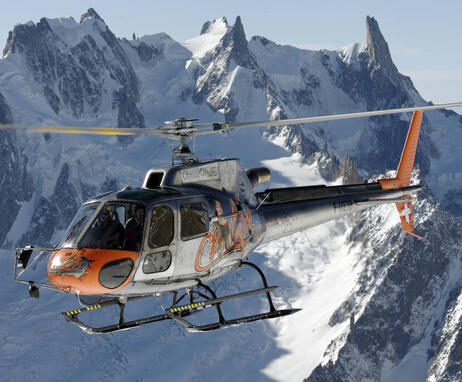 Chamonix Mont Blanc Hélicoptères - CMBH
in Argentière
Presentation
Established in 1992, our small company, based at the foot of the Argentière glacier, at the top of Chamonix-Mont-Blanc valley is in the heart of Mont-Blanc. In this it is unique!
Taxi flights : As part of your business or for a private transfer, move by helicopter!

Construction : 30 years of experience of aerial works by helicopter in extreme environments. CMBH works for companies and individuals, in Haute Savoie and all around in France.

Helicopter / Freight Supply : Helicopter is an economical solution for fast and efficient lifting, carrying, depositing material or men in places hard to reach or distant. It is now an essential tool for mountain economy.

Cinema & Photo shooting : CMBH takes on board all professionals shooting for cinema and photos, helping them realize their work, be it report (press, TV, sports...), advertising, aerial, artistic or technical photography, or even productions filming for the 7th art. We have many references by now...

Individuals or businesses, with your family, while in seminar or as part of a special event, we are delighted to meet the most varied demands; air baptisms for a marriage proposal, an anniversary, a retirement departure, tourist flights for gourmet getaways, discovery travel, sports flights (subject to approvals) and other special occasions, give your project some altitude...

Contact us for any project so we will come up with a solution together.
Location
Chamonix Mont Blanc Hélicoptères - CMBH
400 ch. de la Glacière
74400 Argentière