Step safely off the piste
Publié le 09/12/2022
Activités
Claire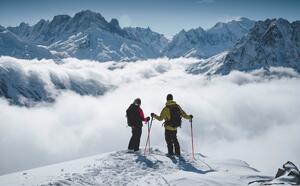 © - Loriaz
Freeride aficionados will tell you there's no place in the world like Chamonix!
It's true and the enthusiasm is highly contagious, but freeride is not an invitation to throw caution to the wind!
As one of the oldest ski resorts in the world, Chamonix is not only steeped in tradition but if offers the steeps that attract the world's most talented riders. In 2010 it became a stop on the Freeride World Tour, and this prestigious title has not eluded local riders: Aurelien Ducroz, Léo Slemett, Jonathan Charlet are all former champions. Marion Haerty, who adopted the valley as her training ground, is four times snowboard World champion!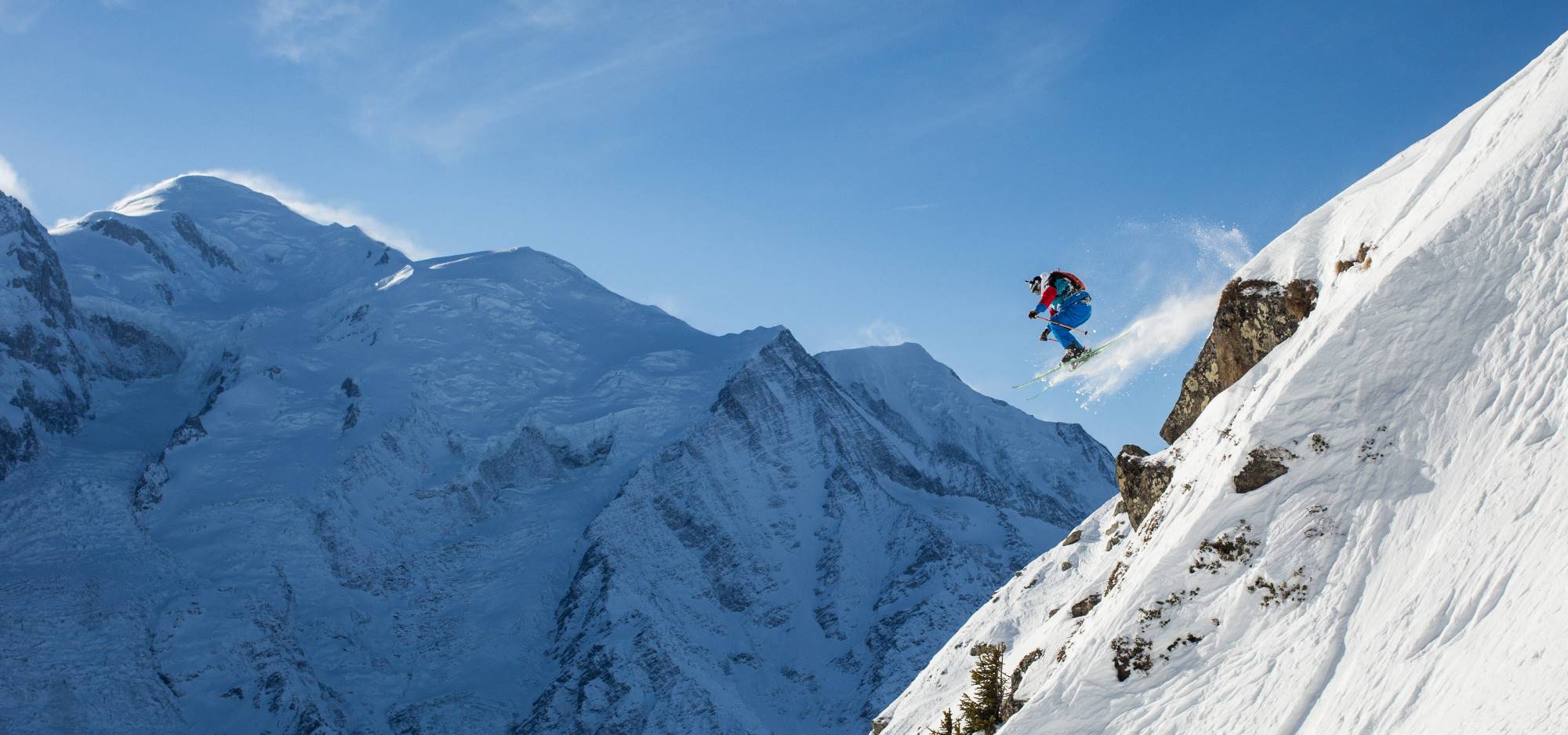 Indeed, the valley attracts the elite of both amateur and professional athletes, many of whom call Chamonix home, but it's not just about the exceptional terrain. It's about centuries of transmission, about sharing a passion and being inspired, about people living their adventures... Most visitors have little idea of Chamonix's depth, not the snow depth, but just how profoundly the spirit of adventure is embedded in the granit... but they sense it all the same!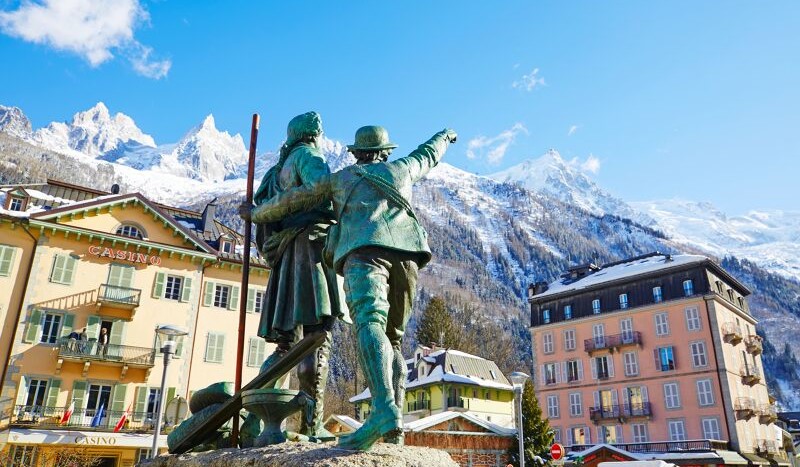 When Albert Smith, a foremost London impressario, came to Chamonix in 1851 he wanted to relive the adventures narrated in his favourite childhood book, "Peasants of Chamouni" (published in 1826) which contained a perilous attempt to reach the summit of Mont Blanc. During his visit, he successfully climbed Mont Blanc and his colourful descriptions and subsequent show at the Egyptian Hall in London earned him fame, fortune and recognition from the Chamonix community.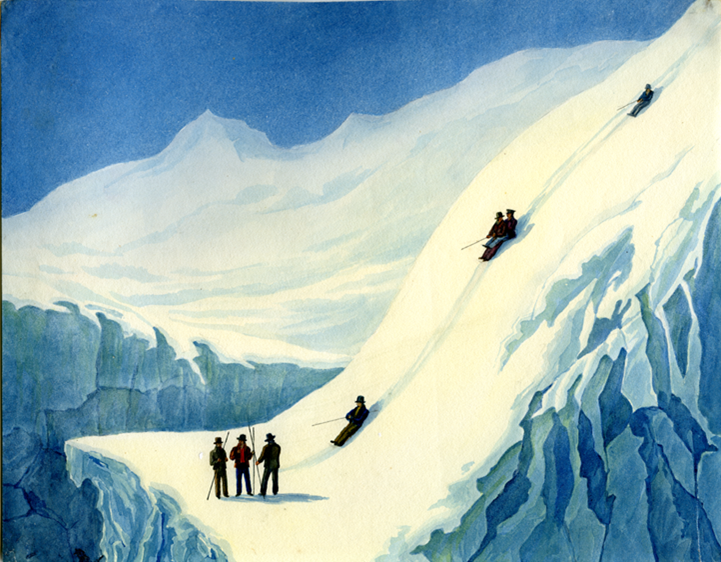 In the 21st century, it would be fair to say that social media has more power to inspire and influence a massive audience than books or theatre! But it lacks discernment! In our mountain environment, the impact of sensational videos and photos can trivialize activities which require skills and are not without risk! Chamonix's strap line "Open the Way" is an invitation to be audacious, to surpass oneself, but not to throw caution to the wind - safety is primordial.
As the first snows fall and the pre-season excitement ripples through the valley, many are skinning up the hills avid for a few powder turns... whilst others are suffering from a bout of FOMO because the slopes are not as accessible as social media.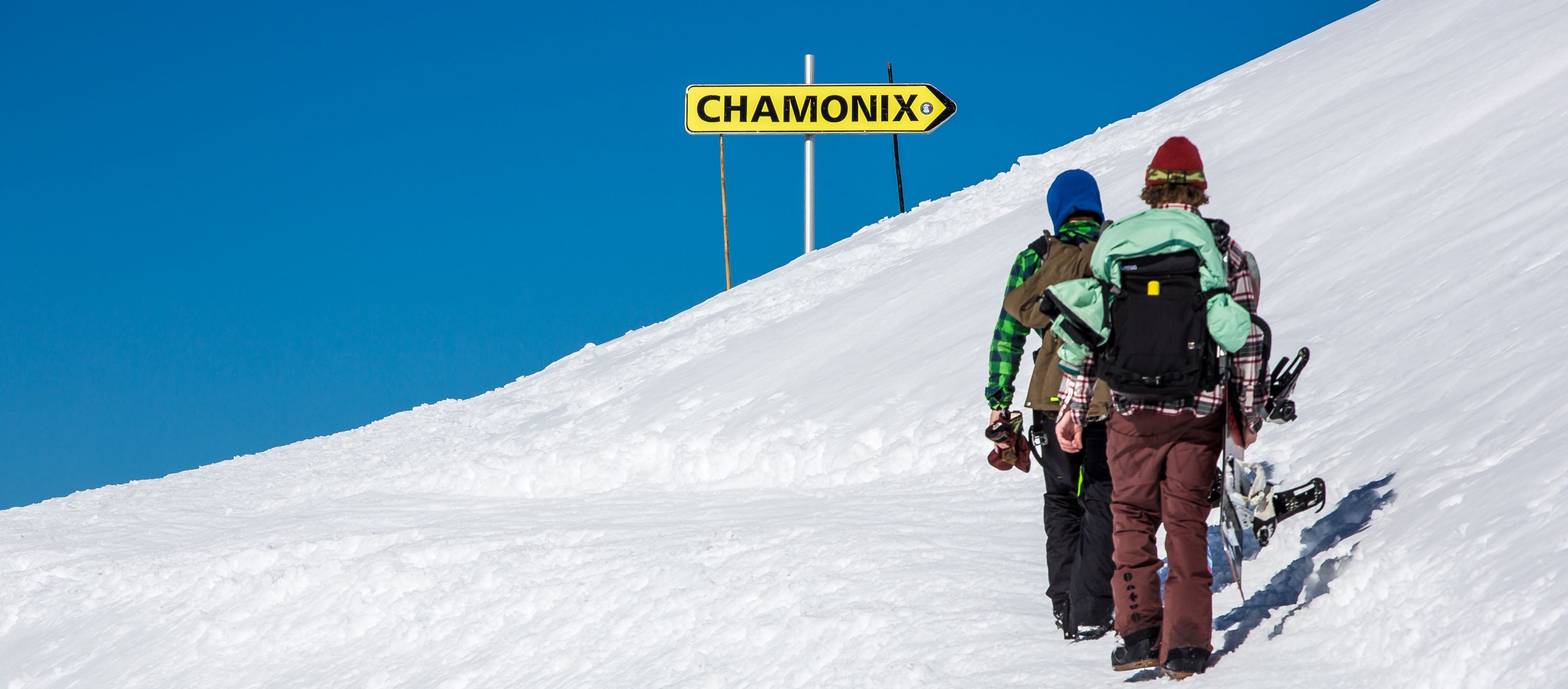 This is a good time for a word of advice. Freeride, ski touring, ski mountaineering, steep skiing, speedriding are all activities that involve leaving the security of prepared and patrolled slopes, sometimes venturing on to a glacier. This is where the experience of a mountain professional and the correct equipment become invaluable.
Aspiring freeriders, may be tempted to follow tracks backcountry... we don't recommmend it!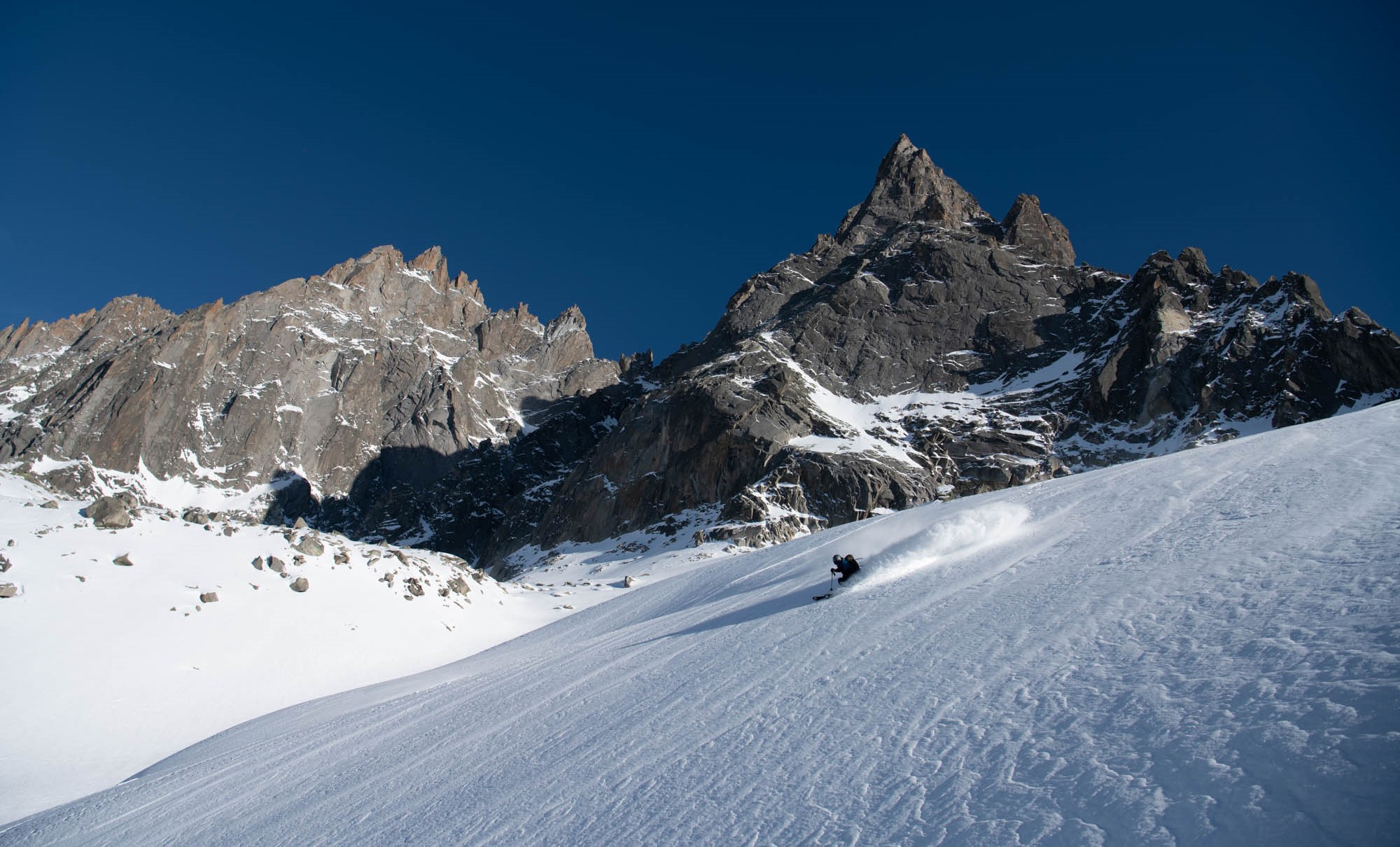 To get started on your quest for a broader experience, why not begin with some safe ski touring?
The valley has four introductory touring routes which give novices a taste of skinning uphill. These itineraries are secure and the descent is via a ski slope so they can be done autonomously: www.chamoniarde.com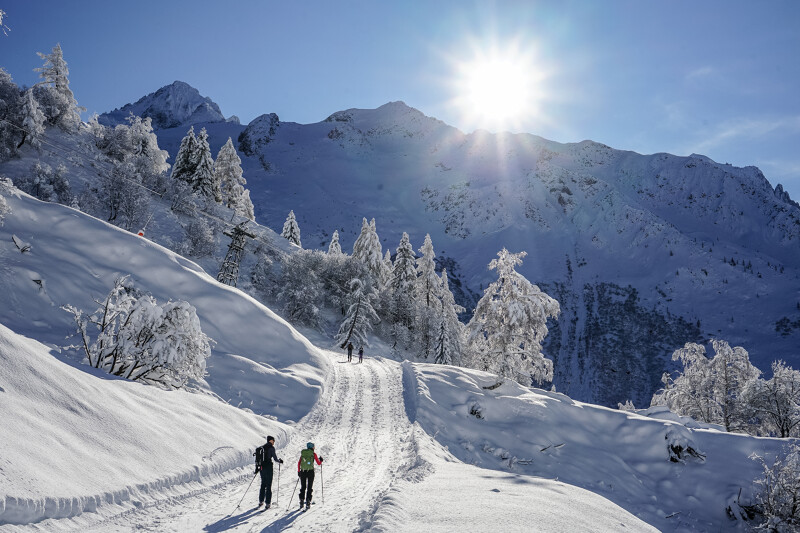 Another popular initiation to backcountry skiing is on the Grands Montets ski area. From the top of the lifts, a 300m climb on touring  skis provides access to the snow fields of the Grands Montets and Argentière glaciers. For this outing, which can be done in half a day, we recommend you take a guide.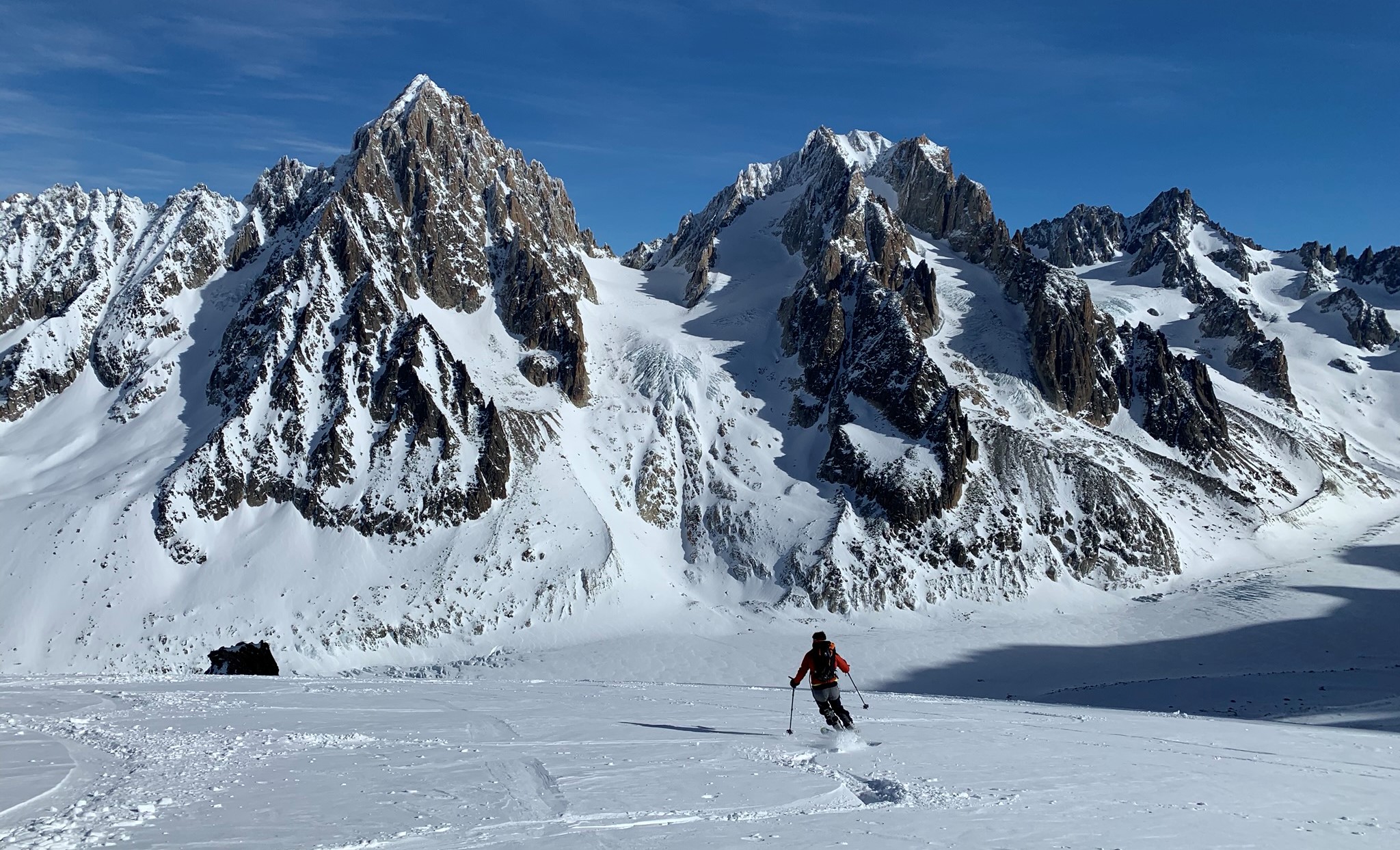 Not all backcountry itineraries involve ski-touring, some can be accessed directly from the lifts, and not least the famous Vallée Blanche, but once again, if you do not possess mountaineering skills and knowledge of the terrain, take a guide. Your experience will be much enhanced!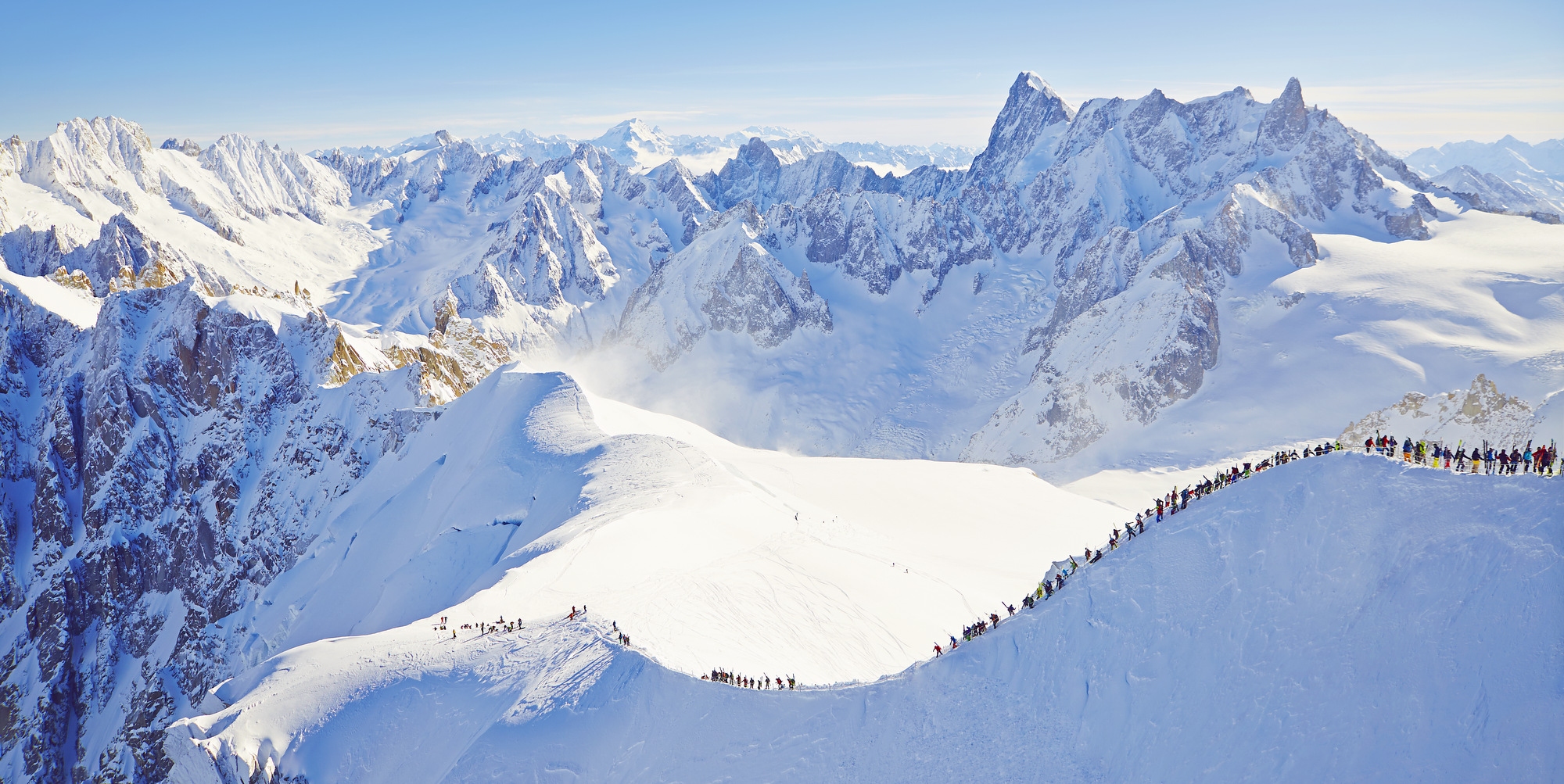 For experienced skiers and boarders, who seek more independence, there are dedicated training days in the mountains which introduce many aspects of backcountry skiing:
- Avalanche safety: basic evaluation of snow conditions
- Avalanche rescue
- Basic turns on steep slope techniques.
- Basic mountaineering techniques used in skiing : crampons & ice axe.
- Basic roping techniques used in skiing: back up belays.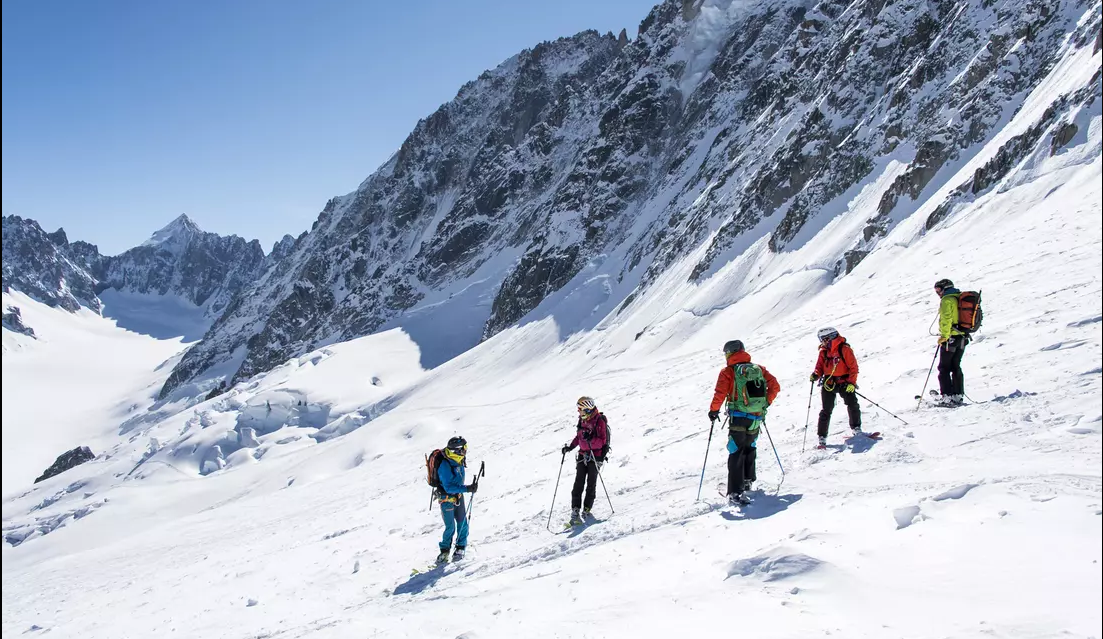 There are several structures in Chamonix whose vocation is to teach others.
First and foremost the ENSA, National School of Skiing and Alpinism, founded in 1943, where all French apprentice instructors and guides come to train and qualify. This school is dedicated to training professional ski instructors and mountain guides. ENSA instructors work transversally with other structures as below.
The Compagnie des Guides
Founded in 1821, the Compagnie des Guides is the oldest and most prestigious guiding organisation in the world. They are located in the Maison de la Montagne in Chamonix centre.
Their half-day ski touring outings at the Grands Montets, offer a fabulous introduction to backcountry skiing. There are also full day off-piste courses to discover the valley's best spots, 3 day Steep skiing courses for advanced skiers and for the ultimate challenge, the Haute Route from Chamonix to Zermatt...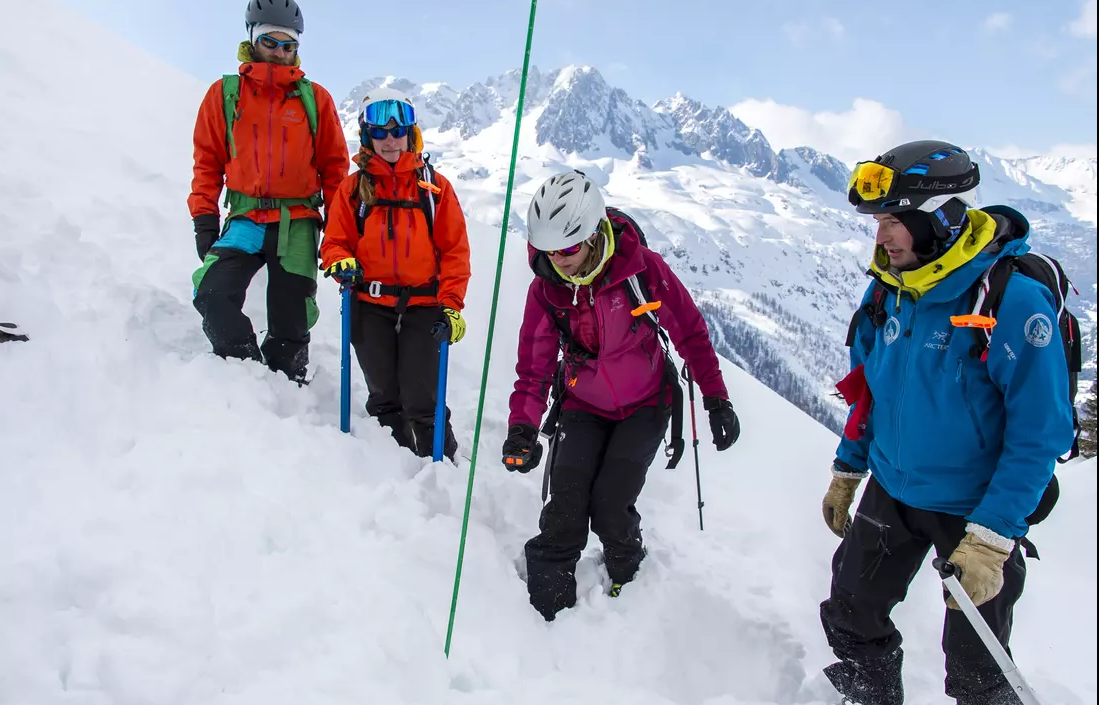 The Chamoniarde
One of the missions of this non-profit association is to increase safety, by improving mountain awareness through training sessions with professional guides. The Chamoniarde office is located on the top floor of the Maison de la Montagne, in the centre of Chamonix and it is open daily to the public. This is the place to source invaluable information about snow, slope and weather conditions.  There is a wonderflul large-scale relief map of the Mont Blanc Massif on site.
Their courses include half-day avalanche search and rescue practice as well as full-day and weekend freeride safety training sessions. A good understanding of French is necessary.
More information on courses here:
www.chamoniarde.com/en/training-courses/winter-courses#
www.chamoniarde.com/en/our-actions/information-ohm#
Free access Avalanche Tranceiver Parks are available on all the main ski areas, for search and rescue practice: https://www.chamoniarde.com/formations/parcs-dva#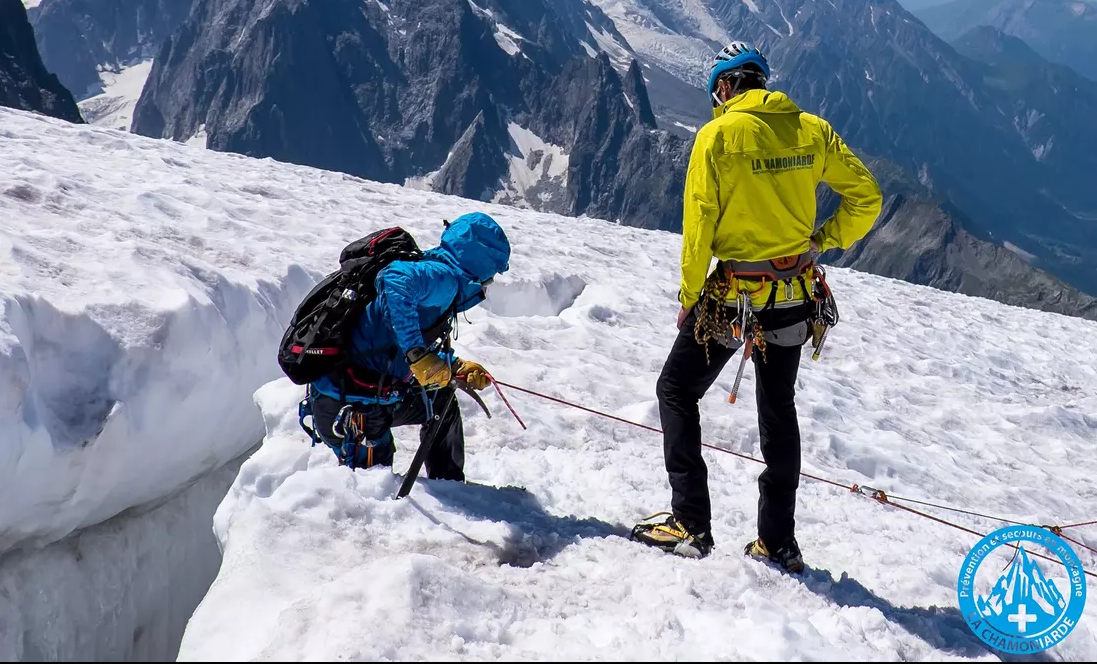 Evolution 2
Outdoor specialists Evolution 2 offer mountain safety courses throughout the winter. It is possible to join a group session or to book a private instructor. Find out more
Find other guiding organisatons and independent professionals here:
https://www.chamonix.com/bureaux-des-guides-de-montagne
https://www.chamonix.com/activites/hiver/le-ski-dans-la-vallee-de-chamonix-mont-blanc/guides-de-montagne
Journalist and skier Charlie Boscoe, writing in the Fatmap guidebook says of Chamonix:
 
"There is nowhere more legendary in the ski world than Chamonix, and the hype is more than justified; this is a valley which contains the greatest concentration of high quality and easily accessible ski terrain on Earth. The sheer volume of world-class ski routes is such that the trickiest part of planning a trip to Chamonix is figuring out exactly which lines to aim for ... but in order to ski them all you'll need solid all-round ski mountaineering skills, and a bit of luck with the conditions..."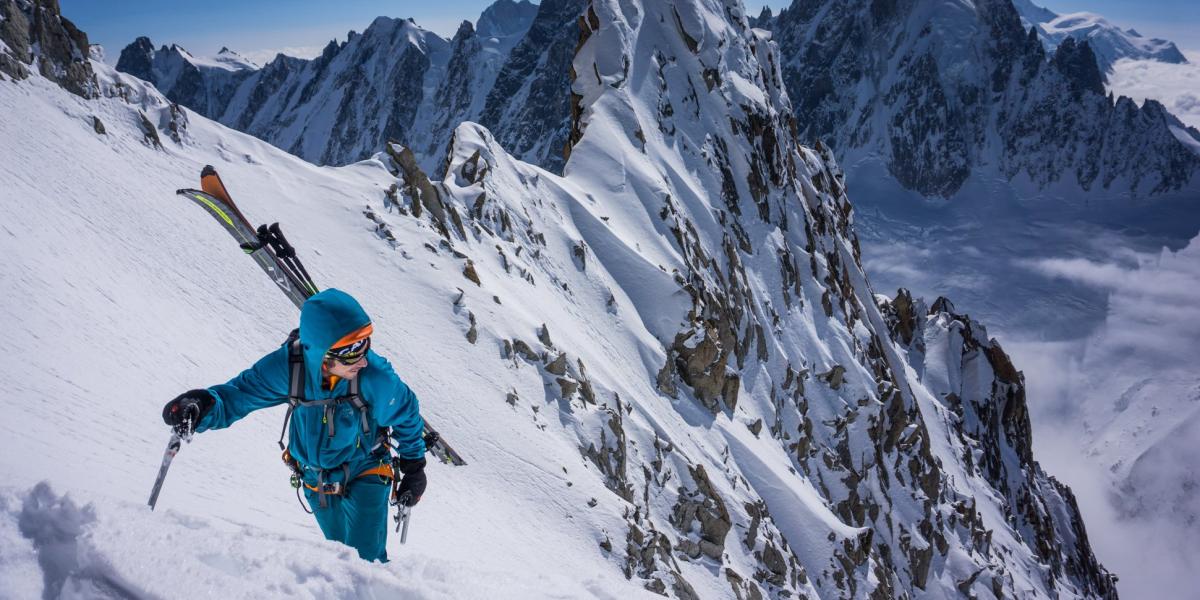 Below we will just touch on the two great classics, both of which have many variants:
The Vallée Blanche
From the Aiguille du Midi (3,842m), the Vallée Blanche is a world-famous downhill off-piste itinerary. The route stretches 20 kilometres – 13 kilometres of which is on three giant glaciers: the Géant, the Tacul and the Mer de Glace with beautiful views of the alpine peaks and Mont Blanc. The route you take with your guide depends on your ability and the quality of the snow.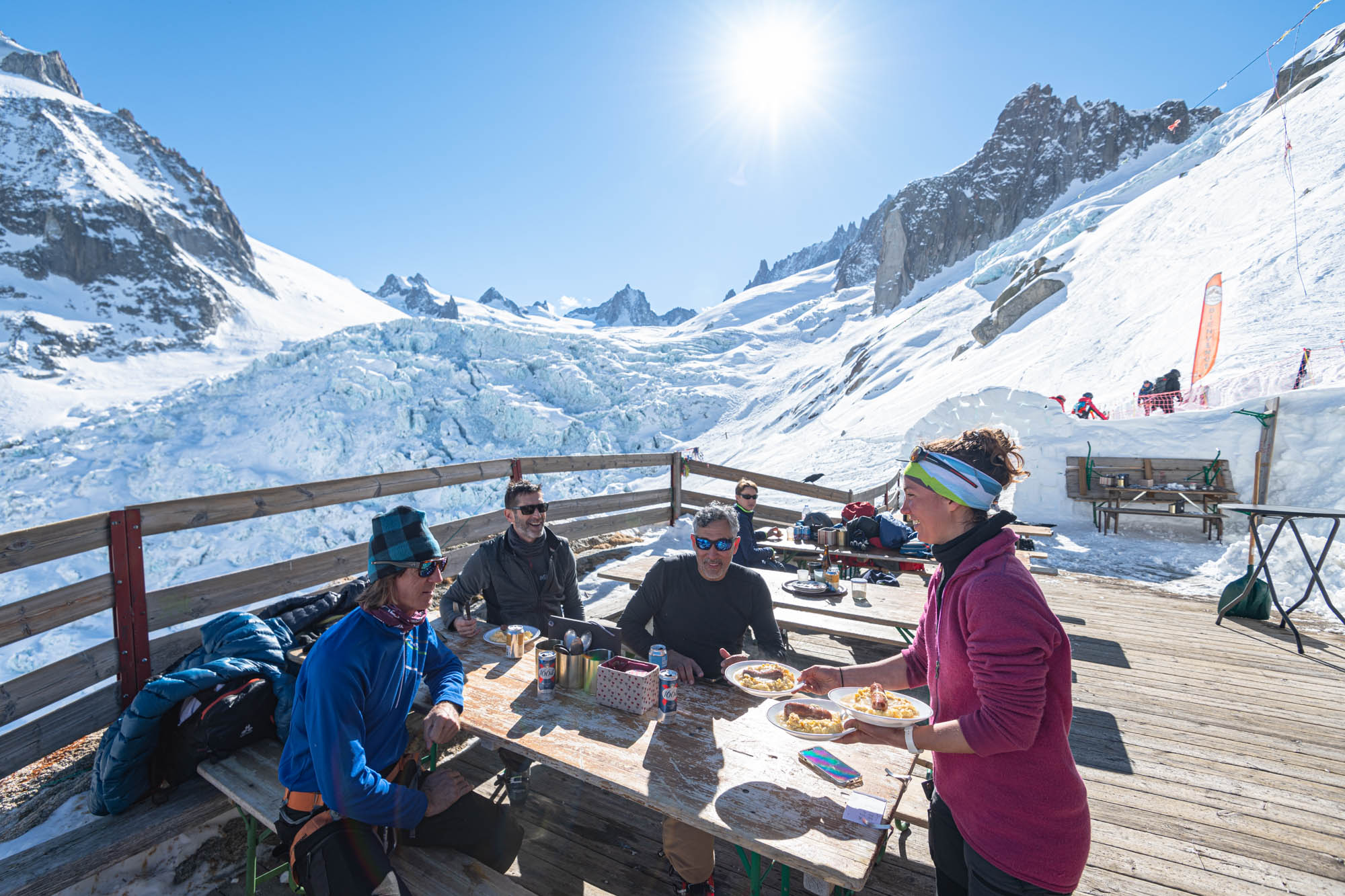 Halfway down, you can take a break for a meal or picnic at the Requin refuge (2,516 m) with a fine view of the seraces and crevasses on the Géant glacier, Les Drus and the Grandes Jorasses.
Alternative routes and variants include the Gros Rognon, the Envers du Plan and the Grand Envers (steeper and more technical).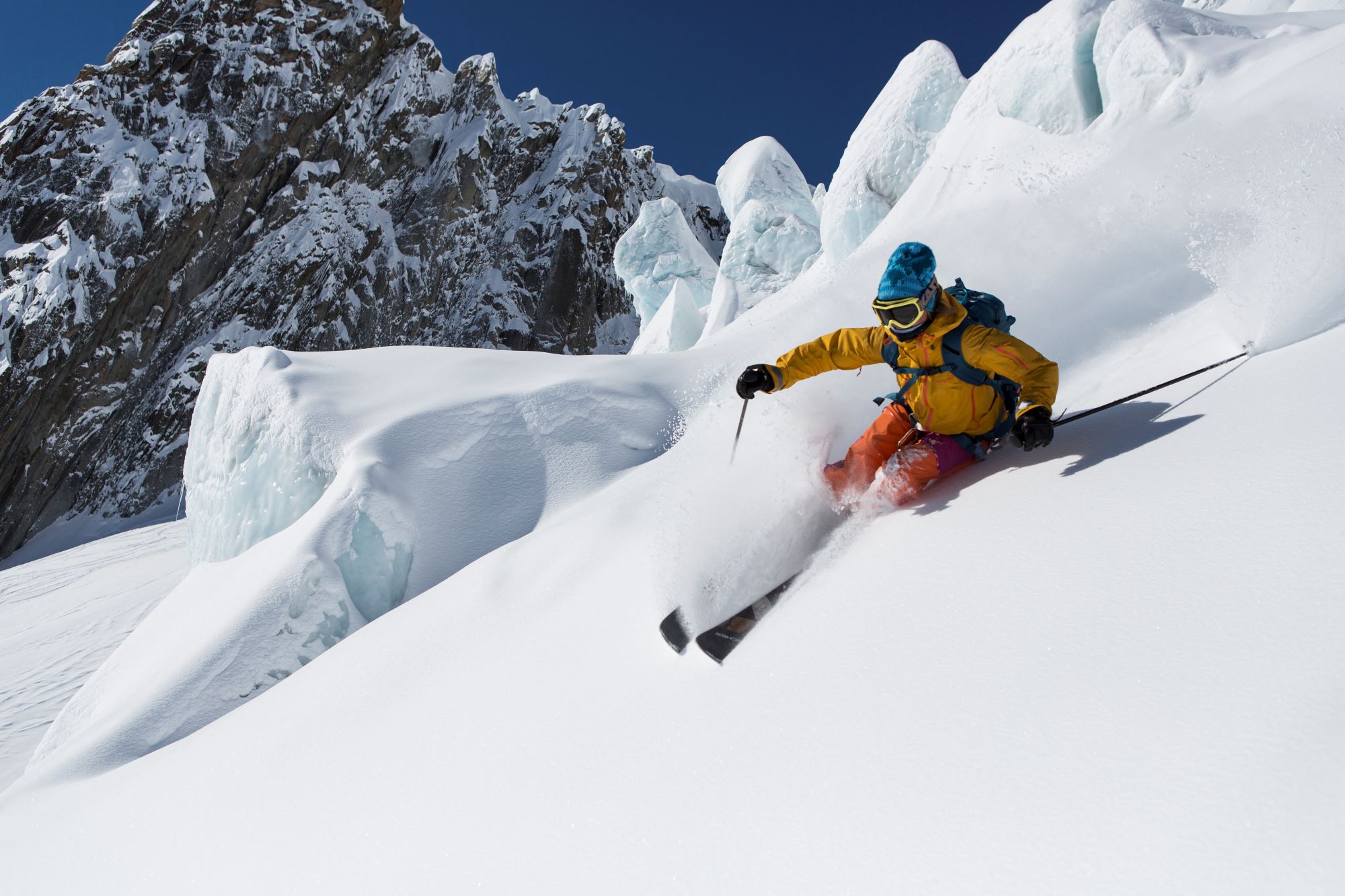 The Haute Route: Chamonix-Zermatt ski tour
When the eminent Dr. Michel Payot and his friends made the first ski crossing from Chamonix to Zermatt in 1903, little did they suspect it would become a great classic. Only a few years after the wooden planks had been  imported from Scandinavia, did they become an important means of travel and recreation. The local doctor adopted the skis for visiting his patients and soon began to pioneer this new sporting activity.
The 'Haute Route' or high-level route is a six day traverse across glaciers and high passes, though the very heart of the Alps. It takes in such peaks as the Rosablanche and Pigne d'Arolla and offers constantly changing views of Mont Blanc, Matterhorn, Grand Combin and Monte Rosa.
This is ski touring at its best, travelling from hut to hut, with long climbs and superb descents. Once again there are many variants, but the main itinerary is : Grands Montets, Col du Chardonnet, Cab Trient, Verbier, Rosablanche, Pigne d'Arolla, cab Bertol, Tête Blanche. Best period: March and April.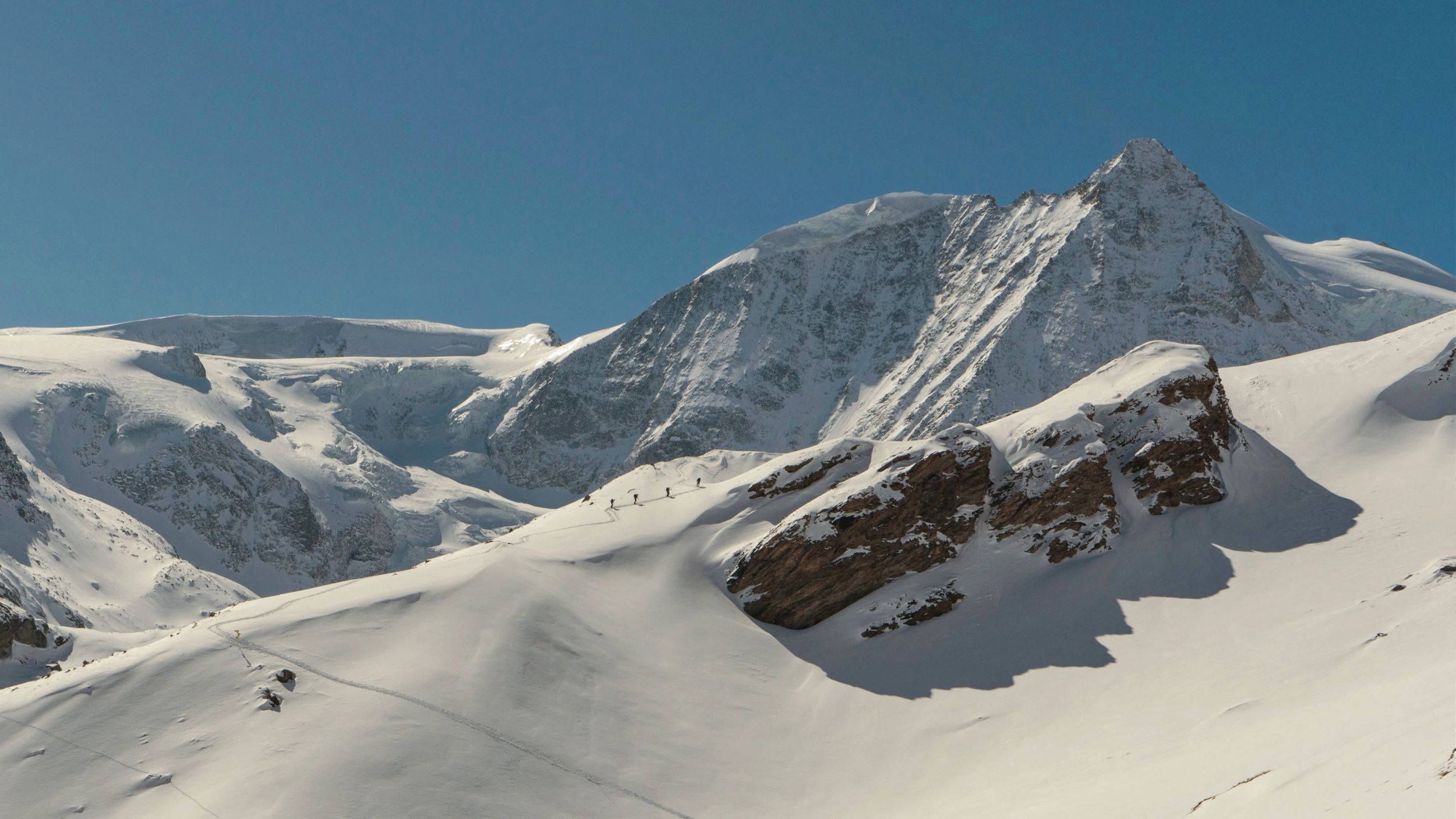 Youth mountaineering schemes
Pushing the limits, be it in the mountains or elsewhere, is particularly appealing to young people. For this reason, two recent training schemes have been set up in Chamonix to give youngsters the opportunity to acquire basic mountaineering skills and knowledge. It doesn't suffice to be an amazing skier or climber...
The first is organised by the Chamoniarde and is entitled  STEEP BY STEP
It is led by steep skier and mountain guide Vivian Bruchez, in collaboration with guides from the Chamoniarde
These training sessions are for 18 to 25 year olds, who must be both skilled and polyvalent skiers.The objectives are to familiarize participants with the high mountain winter environment, to acquire the knowledge and techniques necessary for the practice of mountain skiing in safety.
Registration on a first come, first served basis: https://www.chamoniarde.com/en/training-courses/steep-by-step#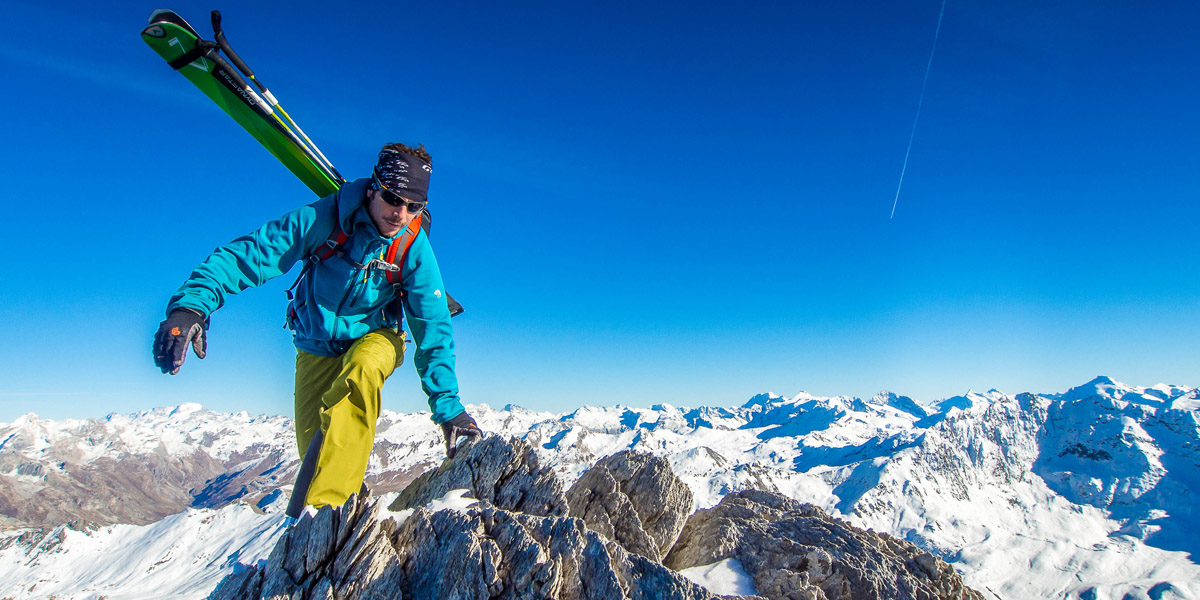 Vivian Bruchez is committed to education and sharing. At the age of 35 and, for the record, over 55 new ski descents on the steepest faces and couloirs in the Alps, Vivian Bruchez is already a legend. Mountain guide, ENSA instructor, professional skier and father of two little girls, he fortunately has a lot of energy and focus.
In a recent interview When asked what he wanted the legacy of his career to be, he replied:
"I want to share things, not show things. I'm not worried about big jumps, huge lines or races anymore. My work is about education. I work as both a guide and professional skier, trying to balance the two. For now, I'm focused on films that inspire and educate."
The second training scheme is organised by members of the Compagnie des Guides and is financed by Chamonix municipality and the Compagnie des Guides.
It is entitled GROUPE JEUNE ALPINISME
This is a training course lasting over a period of 2 years, reserved to 18 to 25 year olds from the upper Arve Valley (from Cluses to Vallorcine). It includes a minimum 22 days of training in the mountains, many of which take place during the winter months. The entire course costs participants a minimal 200€, but they must be totally committed. It finishes with an expedition.
This initiative was set up in 2018 by mountain guide Fanny Schmutz, one of the seven female mountain guides who are members of the Compagnie des Guides.
Fanny Schmutz is a born teacher. When she qualified as a high-mountain guide in 2017 she was aware that trainee guides from the Chamonix Valley were scarce! This is paradoxal, given that there are many young "chamoniards" pushing the boundaries in the Mont Blanc Massif! The daughter of an ENSA instructor, and with an initial career as a teacher, Fanny proposed to set up a training programme for young locals to give them the knowledge and skills to stay safe.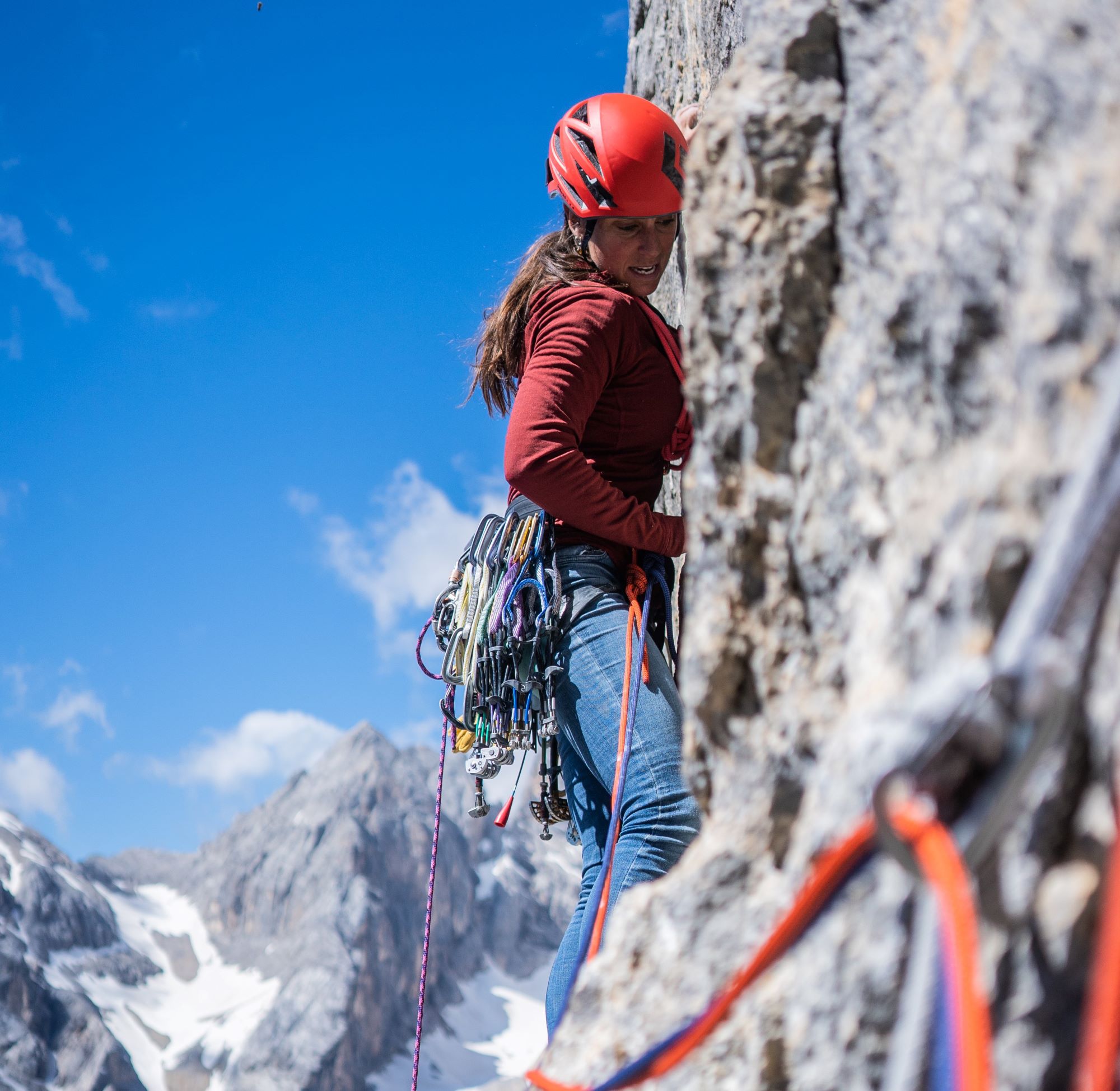 When asked whether she is happy with her students, Fanny beams with pride!
"They are incredible! It is so gratifying to see the progress they make over a two year period. Those that have finished their training still call me for advice and we all keep in touch. We have become a fraternity!. Some are now training to be mountain guides which is great, but ultimately, the goal is to give them the fundamentals of safe mountaineering practices, whatever the season, wherever they are."
La Trace des Grands - a ski touring event for all levels and all ages
You are already a keen ski mountaineer, or you'd simply like to take part in a fun day on the mountain? Take a look at the Trace des Grands, back for the second year on 4th and 5th March, following the huge success of the first edition.
https://www.latracedesgrands.com/  Read about the first edition here
As the 2022/23 season kicks-off, find all information on lift openings here
Other articles in this category
Latest articles